As rest of West loads up, Nuggets stay the course
The Denver Nuggets bucked the trend this offseason. While the rest of the Western Conference's elite made splashy signings or big trade acquisitions, Michael Malone's team returns almost intact and led by burgeoning superstar Nikola Jokic and Kitchener, Ont.'s Jamal Murray. As the West loads up, can the Nuggets run it back and contend again?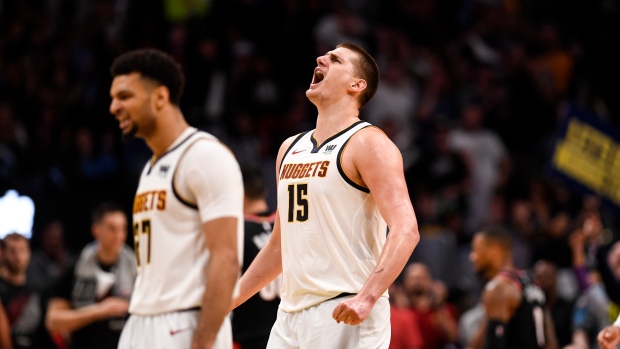 In a new-look Western Conference, what the Denver Nuggets are doing is kind of revolutionary in its own way.
As the Los Angeles Lakers acquired Anthony Davis, the Los Angeles Clippers loaded up with Kawhi Leonard and Paul George, the Houston Rockets added Russell Westbrook, Mike Conley joined the Utah Jazz and D'Angelo Russell became a Golden State Warrior after Kevin Durant's departure, Nuggets general manager Arturas Kanisovas took a decidedly different tack – he's running it back.
Barring a few complementary additions, the Nuggets team that won 54 games and finished as the No. 2 seed in the West is back intact and looking to improve on a dream season from a year ago that ended a game short of the Conference Finals. It might be easier said than done, but Michael Malone's Nuggets team has the horses and is loaded with talent, led by a pair of emerging stars.
One half of Denver's deadly duo is Kitchener, Ont.'s Jamal Murray, set to embark on his fourth NBA campaign, one that carries with it different expectations than past seasons. Murray, still a developing commodity, is about to be paid like a star. The Kentucky product signed a five-year, $170 million extension – set to kick in next season – with the Nuggets in the summer. The fact that the team was proactive with its offer to Murray demonstrates how highly it values the young guard, but also shows that it expects Murray to make good on that commitment and sustain the flashes of game-changing brilliance put on display during the playoffs.
Growth will obviously be key to both Murray's and the Nuggets' success. With each season in the pros, Murray has seen an uptick in playing time (32.6 minutes a night last season) and that has been accompanied by improved numbers across virtually every metric (Murray averaged a career-high 18.2 points, 4.8 assists and 4.2 boards a night). It will need to continue this season.
A glaring defiency in Murray's game in his inability to get to the line. Murray's 223 free-throw attempts (3.0 per game) were 76th most in the NBA last year, tying him with New York Knicks guard Allonzo Trier. Consider, though, that Murray appeared in 12 more games than Trier and played 988 more minutes.
What compounds the issue with Murray is that he has not hit from three at the same clip he did in school. Coming out of John Calipari's Wildcats, Murray shot .408 from three in his sole NCAA year. He's never been better than .378 in the NBA (2017-2018) and only shot .362 last season.
To help ameliorate those deficiencies, Murray's off-season training included attending Kobe Bryant's invite-only camp in the summer where he worked alongside some of the game's elite including Leonard, George and the Nets' Kyrie Irving.
"That was a very, very good experience to have that much talent in the gym, watching film, weight room, playing scrimmages with those guys, getting a feel for them, getting a feel for Kobe's mentality," Murray said at Nuggets media day. "I asked him a lot of questions. It was one of my favourite highlights this summer."
With a mostly returning roster, Murray believes cohesion will give the Nuggets an edge over clubs tasked with trying to make new faces fit.
"You don't want to have a team where all the pieces go all over the place," Murray said. "I think it's good that we have a stable core and we continue to grow and have trust in each other."
It's easy to see why the Nuggets would have deep confidence in one another when they have Nikola Jokic wearing their colours. The other of the team's young stars, the 24-year-old Serbian centre is a burgeoning superstar and one of the league's most exciting players. In his fourth season last year, the 2014 second-round pick did it all for the Nuggets, leading the team in points (20.1), rebounds (10.8) and assists (7.3). He was rewarded with a fifth-place finish in MVP voting and a place in the conversation about the best young bigs in the NBA.
Playing in Denver means that Jokic is often overlooked by national audiences (especially on the East Coast), but his exploits make the Nuggets must-see viewing. While Giannis Antetokounmpo – who won the MVP last season as a small-market player, which should buoy Jokic's hopes of getting a fair shot despite not playing in a media hotbed – routinely finds himself on highlight reels with big finishes and Euro-steps, Jokic's playmaking is the most remarkable facet of his game. It's rare to see a big man with as deft a touch as Jokic possesses, the seemingly preternatural ability to spot an open man whether he's looking at him or not.
There's also a bit of a comical aspect to Jokic's prowess in that he's not what you would call athletic, per se. Squint at Jokic and you could be looking at Bryant 'Big Country' Reeves on the court. So to see this kinda doughy dude cook in the post can be jarring because players that look like Jokic aren't supposed to be able to do that. And the rest of the NBA has taken notice. In the league's annual general managers' survey, 48 per cent of GMs named Jokic the Association's best centre, while seven per cent of responders had him as their MVP favourite for the upcoming season.
While Murray and Jokic will anchor the Nuggets' hopes, the supporting cast around them is a good one. Murray's backcourt mate, Gary Harris, remains unheralded, but is a stalwart defender and capable of holding his own against any assignment thrown his way. The knock on Harris over the course of his five-year NBA career has been his inability to stay healthy. The Michigan State product has missed on average nearly 20 games a season over his Nuggets tenure, missing 25 regular-season contests a year ago.
He hopes an off-season of an improved diet will lead to more durability.
"[The coaching staff] always made fun of me when I came back [from the summer] because I weigh too much," Harris said at media day. "This summer I stayed at my playing weight, the whole summer I tried to stay around 210. My body feels great. I've cleaned up my eating and we really put an emphasis on that this summer."
Up in the frontcourt with Jokic is the ever consistent Paul Millsap. Heading into the 15th season of his career, the four-time All-Star is no longer at his peak, but can still be relied upon on both sides of the ball for an honest effort. The incumbent to join them is Will Barton, another player whose season was railroaded by injuries.