Nine questions with CFL commissioner Randy Ambrosie
Ambrosie sat down with TSN.ca to talk about Wally Buono's legacy heading into his final year coaching in BC, Duron Carter's impact as a two-way player with the Roughriders, Ricky Ray's continued excellence with the Argos, and more.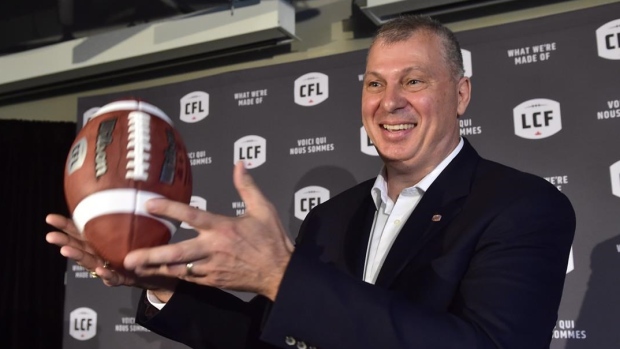 CFL commissioner Randy Ambrosie sat down with TSN.ca to talk about the upcoming season.
How can Wally Buono cap off his CFL legacy in his last season coaching the Lions?
You just have to know a Wally Buono-coached team in his last season will have to be accounted for because coach Buono has been, if not the greatest coach in the history of our league, one of them. What Wally has done is truly special and in addition to being a great coach – he's a CFL record holder for wins – he is one of the coolest people you will ever meet. Just being around him makes you feel better about yourself. He has wisdom and thoughtfulness, but he just loves people. I think it's going to be a great season in B.C. and I'm looking forward to what Wally brings to the table.
After falling just short the past two seasons, what do the Stampeders have to do this year to get over the hump and win the Grey Cup?
They start by just having great players. Bo Levi Mitchell has been and will continue to be one of this league's great players. Dave Dickenson is a great coach. John Hufnagel, as president and general manager, everything about them is about winning. They've been the most successful team in the league the past two decades. I'm expecting a lot from them. And the thing is, if you get to know John and coach Dickenson and I've spent a little time with Bo Levi, these are winners. Winners will bounce back, that's the way they're built. And that organization is built right. So I think we should expect Calgary to be right in the thick of things all season long.
How big would a Grey Cup win at home be for the city of Edmonton and Mike Reilly's all-time standing with the Eskimos?
The first pre-season game of the year was in Edmonton, and on the second series Mike threw a touchdown pass (to D'haquille Williams) and I'm not sure you could have physically dropped the ball into the hand of the receiver more gently than Mike threw it in. It was just a beautiful over the shoulder throw and catch.
I think that city is going to take what happened in Ottawa, which was an amazing Grey Cup, and I think they're going to set a new standard for Grey Cups, and the Cinderella magical part of it all would of course for them be to have their home team play in the game. But I think regardless of that, the Eskimos are going to have a great season. They're going to be competitive.
How exciting is it for the league to have a throwback, two-way player like Duron Carter looking to make an impact on both offence and defence?
What we know about modern-day fandom is it is in some ways as much about the connectivity to the players on a personal level. Knowing their stories and feeling that connection to them – in Duron Carter you have that. You have a guy fans can get to know. He is in some ways larger than life. He's certainly no shrinking violet, and I think it's going to be good for the CFL.
With Andrew Harris looking to make the record books with a 1,000-yard rushing and 1,000-yard receiving season, how exciting can the Blue Bombers offence be this season?
The nice thing is that not only is Harris a great player but he's a great person too. They've got Matt Nichols at QB. The way this league works, you get your best performance when you can do both things – when you can throw and run – because then you can get that defence on their heels a little bit. I would expect that Matt's going to have a great season and open things up for their running game, which will be good.
Most of the preseason talk has been focused around Johnny Manziel, but what do you expect from Jeremiah Masoli now that he finally enters the season as a full-time starter?
If you watched him perform in the back half of the season last year, this young man is a winner and we should expect great things from him. He clearly took command of that team. My sense, just from watching him, is that he has a lot of respect from the players. I think he has a quiet leadership model that the players really like and respect. He's playing for June Jones – they've got a great organization and a great coaching staff. I think that team's going to come together.
Ricky Ray proved he still has a lot of football left in him last year. What do you expect from the 38-year-old as he continues to climb the league's all-time passing lists?
I think that Marc Trestman just has a way of putting people in a position to do their best. The combination of Ricky Ray and coach Trestman has been magical. The coach brings out the best in his players, and I think he demands a lot from them too which is good, that's what football is all about. But I think the two of them have really established a rhythm, and I expect that coach Trestman spent the winter figuring out how to put Ricky in the best position to lead that team to another Grey Cup. We should all expect a lot from the Argos this summer.
Coming on the heels of another solid season for the Redblacks, how important is it for the league to have a solid franchise in Ottawa both on and off the field?
What they have done is special. It starts with a great ownership group. I've come to admire everything about the way they've handled their business. But what they've done is created an engagement with their fans so you see these young millennial fans all decked out in plaid…there's a feeling of energy and excitement in that stadium because the fans love their Redblacks. I think the fans feel it's really their team and they've created that personal connection. And with Rick Campbell and Marcel Desjardins, we should expect a lot from them and I do. I think that they're going to come out this year and fire on all cylinders.
After a tough season last year, can the numerous big-name free agents the Alouettes brought in in the off-season help turn the team's fortunes around?
I'm excited for them. What they've done is decided they're going to come back and be the force we've always known them to be. They went through a big era. Anthony Calvillo, he creates a big shadow, and it's hard to go from Anthony Calvillo to the next person overnight but I like what they're doing as an organization from top to bottom. All through the organization there's an attitude about reconnecting with their fan base, reconnecting with the community, putting a great team on the field. I think we should see a significant improvement from the Alouettes this year.