No. 5 Notre Dame stays unbeaten; tops Pitt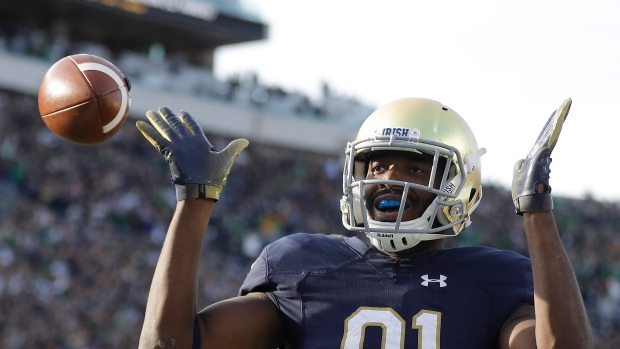 SOUTH BEND, Ind. (AP) — Ian Book threw a 35-yard touchdown pass to Miles Boykin with 5:43 remaining and No. 5 Notre Dame remained unbeaten, holding off Pittsburgh 19-14 on Saturday.
The Fighting Irish are 7-0 for the first time since 2012, the year they went to the BCS title game.
Pitt (3-4) led 14-12 thanks to a long first-quarter touchdown drive and Maurice Ffrench's 99-yard kickoff return to start the second half.
Pat Narduzzi's Panthers were looking to upset an Associated Press top-five team for the third straight season after knocking off No. 3 Clemson in Death Valley during the 2016 season and No. 2 Miami last November in Pittsburgh. But the Irish, who were held to 80 yards rushing, prevailed behind Book, who is 4-0 as a starter since replacing Brandon Wimbush. Book threw two interceptions, and had 264 yards passing.
Kenny Pickett was 19 for 28 for 126 yards, and was sacked by Khalid Kareem — Notre Dame's only sack of the game — for a loss of 14 yards on Pitt's final possession to set up a fourth-and-long the Panthers could not convert. Pitt also failed on a fake punt on its second-to-last drive.
NO. 3 OHIO STATE 30, MINNESOTA 14
COLUMBUS, Ohio (AP) — Dwayne Haskins threw for 412 yards and three touchdowns and Ohio State held off persistent Minnesota.
The Buckeyes (7-0, 4-0 Big Ten) needed Blake Haubiel's two second-half field goals and Haskins' late touchdown pass from K.J. Hill to put away the Gophers (3-3, 0-3).
Hill made the play of the game with a turn-around, one-hand grab that he turned into a touchdown in the second quarter. He had a career-high nine catches for 187 yards.
For the second straight week, a heavy underdog came into Ohio Stadium and shut down the Buckeyes' running game. The Gophers held tailbacks J.K. Dobbins and Mike Weber to a total of 86 yards, without a single carry longer than 11. Minnesota's Mohamed Ibrahim ran 23 times for 157 yards and two scores.
NO. 14 FLORIDA 37, VANDERBILT 27
NASHVILLE, Tenn. (AP) — Jordan Scarlett ran 48 yards for the go-ahead touchdown on the first play of the fourth quarter, and Florida rallied from an 18-point deficit to beat Vanderbilt in a game marred by a near brawl, with both head coaches yelling as each team spilled onto the field.
An official held back Florida coach Dahn Mullen as he yelled at Vanderbilt coach Derek Mason, who was near the Gators' sideline after checking on the Commodores defender whose helmet was knocked off by a hit by linebacker James Houston IV. Both teams spilled onto the field, drawing unsportsmanlike conduct penalties. The penalty cost the Gators their leading tackler, with Vosean Joseph ejected for his second such penalty of the first half. Two people escorted an emotional Joseph off the field.
Mullen and Mason hugged each other at midfield after the game.
That overshadowed the Gators (6-1, 4-1 Southeastern Conference) scoring 24 straight points after Vanderbilt jumped out to a 21-3 lead midway through the second quarter. The Gators beat Vanderbilt (3-4, 0-3) for the fifth straight year and 27th time in 28 games in this series.
TENNESSEE 30, NO. 21 AUBURN 24
AUBURN, Ala. (AP) — Jarrett Guarantano passed for 328 yards and two touchdowns and Tennessee snapped an 11-game Southeastern Conference losing streak.
The Volunteers (3-3, 1-2) forced three turnovers from Auburn's lackluster offense, intercepting two of Jarrett Stidham's passes and getting a strip sack that resulted in touchdown by Alontae Taylor.
The Tigers (4-3, 1-3) are off to their worst SEC start since also going 1-3 in 2015.