No surgery required for Raptors' Wright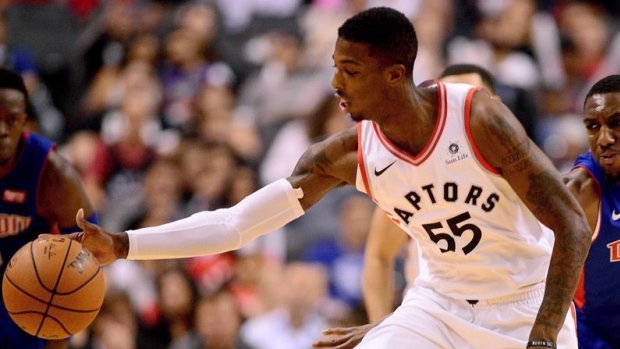 While injuries are never a good thing, it certainly seems like Delon Wright and the Raptors may have caught a break.
With the team in New York to face the Knicks on Wednesday, Wright visited a specialist to get a second opinion on his dislocated right shoulder and it was determined that the point guard would not require surgery at this time, Toronto announced.
Wright, 25, sustained the injury a week earlier after colliding with DeMarcus Cousins in the second quarter of the Raptors' win over New Orleans.
It was the same shoulder he dislocated in August of 2016, which sidelined him for six months - including the first half of last season - hence the cause for concern. However, that previous injury required arthroscopic surgery to repair a torn labrum.
Although the team didn't issue a timetable for Wright's return, ESPN's Adrian Wojnarowski reported he is only expected to miss a month – great news for the player and team, all things considered.
The third-year point guard had been playing the best basketball of his young career after taking over as Kyle Lowry's primary backup following the off-season trade of Cory Joseph. In 13 games prior to his injury, Wright was averaging 8.2 points, 2.5 rebounds and 2.5 assists in 21.7 minutes – all career-bests.
Fred VanVleet has filled in admirably, averaging 9.0 points and 3.3 assists while shooting 48 per cent from the field and 50 per cent from three-point range in 21.2 minutes over the last three games. He'll continue to inherit the bulk of the backup point guard duties for as long as the incumbent is out with two-way player Lorenzo Brown also seeing time off the bench.