Nurmagomedov captures lightweight title at UFC 223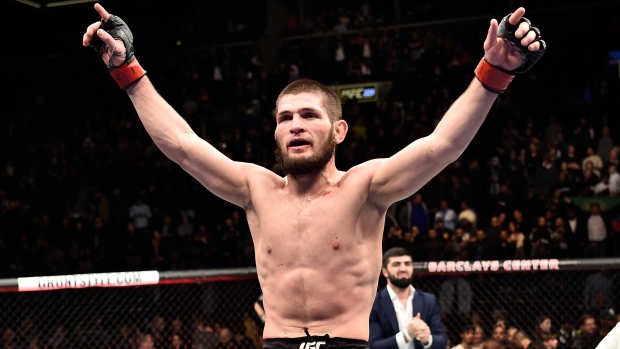 NEW YORK — Khabib Nurmagomedov battered and bloodied Al Iaquinta and won the UFC 155-pound championship by unanimous decision in the main event of UFC 223 on Saturday night.
Nurmagomedov improved to 26-0 and in a path to the lightweight championship much more laborious than his time in the ring at Barclays Center. He won 50-43 on two scorecards and 50-44 on the third.
Nurmagomedov had four fights against Tony Ferguson fall through — the latest led to Max Holloway getting the call on six days' notice. Holloway was ruled medically unfit to compete on Friday, which forced UFC to bump Iaquinta from an undercard bout to the main event.
Nurmagomedov, a Russian, won the belt that had been stripped this week from Conor McGregor because the tempestuous Irishman — who ignited a loading dock melee that puts his career in doubt — had not fought for UFC in 17 months.
The 29-year-old Nurmagomedov wrestled a bear as a child. He had no trouble busting open a clearly overmatched Iaquinta and used takedowns in the first, second and fifth rounds that led to repeated blows to the back of the head that cleared the way to his first UFC title.
Nurmagomedov was the clear fan favourite — fans dotted the arena wearing papakhas, a hat that that looks like a powdered wig native to his homeland in Dagestan — and chanted "Khabib! Khabib! Khabib!"
Nurmagomedov had a papakha on his head as the title belt was wrapped around his waist