Nurse on facing 76ers: 'They're big all over'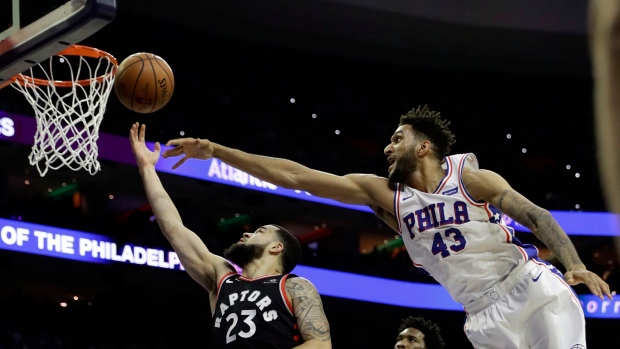 The Toronto Raptors advanced to the second round of the NBA playoffs on Tuesday when they dispatched the Orlando Magic in five games with a 115-96 victory.
The Raptors will now face the Philadelphia 76ers, who likewise advanced on Tuesday with their Game 5 win over the Brooklyn Nets. Toronto went 3-1 against the 76ers in the regular season, with a combined score of 462-447.
Raptors head coach Nick Nurse said Tuesday the size of Philadelphia's roster stands out ahead of the matchup.
"Should be a great series, man," Nurse said. "Obviously, it's a team with tremendous size, starting right off the bat with [Joel] Embiid inside. But they're big all over."
Embiid averaged 24.8 points and 13.5 rebounds per game in four games during the 76ers first-round series and was confident of the 76ers chances after the win.
"We think we can win it all," Embiid said.
Philadelphia's Jonah Bolden and Greg Monroe were both ejected in Tuesday's win and 76ers point guard Ben Simmons wants to the team to move forward with the same mindset from their heated first-round series.
"Our team was physical the whole time," Simmons said. "I think we need to take that up to Toronto."
The Raptors were swept in the second round of the postseason last year at the hands of LeBron James and the Cleveland Cavaliers. They have a new-look roster this year, with All-Star Kawhi Leonard in the fold. Leonard is averaging 27.8 points per game in the playoffs with 6.6 rebounds and three assists.
"That's the goal. We're trying to get to the Finals and we feel like we've got a group that can do it," Leonard said Tuesday. "We just want to go out every game and leave it all on the floor so [that] whatever happens we won't look back and say, 'We could've gave a better effort.'"
The 76ers were also eliminated in the second round of the postseason last year, falling in five games against the Boston Celtics.