Nylander 'not frustrated', Leafs just need to move puck behind Bruins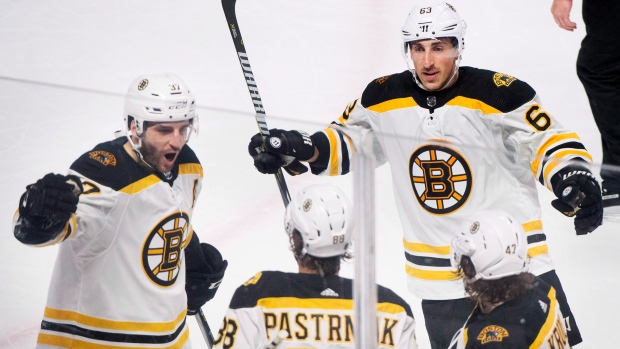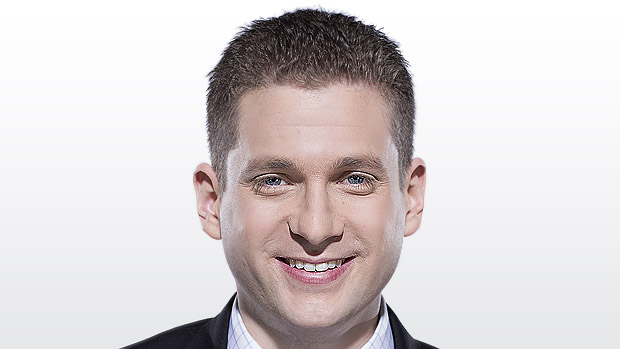 TSN Toronto reporter Mark Masters checks in daily with news and notes from Maple Leafs practices and game-day skates. The Toronto Maple Leafs and Boston Bruins held morning skates at the Air Canada Centre on Monday.
Toronto Maple Leafs winger William Nylander and Boston Bruins winger David Pastrnak became close friends when they played together with Södertälje in the Swedish Hockey League back in 2012. Now, they're facing off in a playoff series for the first time and sharing the ice on many shifts.
"He's been amazing," Nylander said of Pastrnak on Monday morning. "He's been able to get to the front of the net and score those goals. He's been playing really well."
That may be an understatement. Pastrnak has nine points in two games while riding shotgun with Patrice Bergeron and Brad Marchand.
"It's awesome, obviously," Pastrnak said of playing against his pal. "It's a little sad that one of us has to be done."
Right now, it looks like the Leafs will be done if they don't get more from Nylander and their top line. Frustration seemed to boil over on Saturday night when Auston Matthews said, "Sh— happens," when asked post-game about his line being outscored badly by Bergeron's line.
"I'm not frustrated, it's just, I mean, this happens," Nylander said, "you got to cope with it. It's part of the game. It's not always going to go the way you want it to go. We were able to create more stuff last game, so we want to build off that and get more O-zone time by moving the puck a little bit more."
Boston's top line has generated a whopping 20 points while helping shut down Toronto's top tandem. Matthews and Nylander have no points thus far. Tonight they will be reunited with left winger Zach Hyman, who has a goal and an assist.
"A couple bounces have just gone our way," said Marchand, who has a goal and five assists. "I don't think we've done any better than any other line except a couple good bo​unces, especially last game. They played really hard and had a lot more zone time, I felt."
It certainly feels like more than just a few bounces, but in the playoffs the margins are that slim.
"A little bit is bounces and luck and, you know, it's just the playoffs are hard," Marchand explained. "The games ramp up a bit, a little less space out there, but they compete hard. They've had some chances, it's been a good battle both ways."
Nylander's first, and to this point, only NHL hat trick came in Boston last season (Feb. 4, 2017) and on that night at TD Garden Mike Babcock was quick to point out that the slick Swede loves to battle his buddy. Later in the season, the Leafs coach joked about putting a stuffed No. 88 Pastrnak doll in Nylander's stall to get him pumped up all the time.
And maybe there's something Nylander, the eighth pick in 2014, can learn from Pastrnak's development. The Czech native, picked 25th overall that same year, has certainly benefitted from playing alongside Bergeron, a four-time Selke Trophy winner.
"He's obviously really skilled when he's got it and he's making some tremendous plays," observed Bergeron, "but when he's away from it now, he wants it back. He hunts it, but he also positions himself really well defensively to get back on the attack. That's something we've talked about a lot with him and our line and he's really taken a big step with that."
As for tonight's game, the message from Babcock to Nylander is simple.
"You really got to dig in and you got to get determined," he said. "And you don't have to change your game, per se, but you have to be physical on offence when you're an offensive player. That means checking the puck back. That means getting under sticks, that means getting on the inside or else you're just on the outside and not much is happening for you."
"We have to get the puck behind their goal line," Nylander said, "and keep it down there and make them turn their heads, that's a big thing we can do more. We haven't really put the puck behind them."
Faceoff calls frustrate Bruins
It seems like everything has gone Boston's way so far in the series, but apparently that's not the case. The Bruins are fuming about the way the linesmen have been handling faceoffs, with Bergeron and Marchand getting tossed from the circle plenty of times.
"It's just frustrating, because it takes away a lot from the game," Marchand said. "I mean, there was one play there where we must've been sitting in the faceoff circle for a minute last game going back and forth. So, you know, it's a tough rule the way they're enforcing, but it's part of the game. I guess guys will adapt ... in five to six years."
Bergeron, who is 21-18 on draws in the series, was also unamused.
"It's up to me to just get back at it and be better," he said. "There's no way around it. I have my opinion about it but, that being said, there's not much I can really do. It seems like it's been a little different. I guess I call it adversity for me to be better and that's it."
The Leafs have won 55.5 per cent of the faceoffs in the series.
---
When you break a record held by The Great One, you're going to hear about it from your teammates. On Saturday night, Pastrnak, 21, became the youngest player to ever register a six-point night in the NHL playoffs. Wayne Gretzky did it at age 22.
Who's giving Pastrnak a hard time?
"Yeah, obviously, you get a couple guys in the room who love to be all around me. I won't name them," he said before pausing and breaking into a big grin. "Marchy, haha."
What did Marchand say?
"He came up to me and said, 'Did I have six points tonight?' And I was like, 'Yeah, I did.' And he was like, 'No big deal, eh.' It's just Marchy. He's all over you."
---
Dominic Moore will draw in as the fourth-line centre between Andreas Johnsson and Kasperi Kapanen. He has only played three games since March 1 and has struggled to earn the trust of Babcock. He played just 5:31 in his last game on March 30 against the New York Islanders.
Leo Komarov is expected to skate on Tuesday and Babcock hopes he'll be a game-time decision on Thursday. Meanwhile, the second unit will include Tomas Plekanec, who has two points in 19 games with the Leafs, skating between Patrick Marleau and Mitch Marner as Nazem Kadri serves the second game of his three-game suspension.
---
Leafs lines at Monday morning skate:
Forwards
Hyman-Matthews-Nylander
Marleau-Plekanec-Marner
van Riemsdyk-Bozak-Brown
Johnsson-Moore-Kapanen
Leivo, Kadri
Defencemen
Rielly-Hainsey
Gardiner-Zaitsev
Dermott-Polak
Martin-Carrick
Goaltenders
Andersen
McElhinney
Absent: C Leo Komarov (lower body)
Bruins lines at Monday morning skate:
Forwards
Marchand-Bergeron-Pastrnak
DeBrusk-Krejci-Rick Nash
Heinen-Riley Nash-Backes
Schaller-Kuraly-Acciari
Donato-Gionta-Wingels
Defencemen
Chara-McAvoy
Krug-Miller
Holden-McQuaid
Goaltenders
Rask
Khudobin
Absent: D Matt Grzelcyk (lower body)