O'Ree hopes call from the Hall comes Tuesday
The first player to break hockey's colour barrier deserves an invitation to join the game's all-time greats in the builder category, Frank Seravalli writes.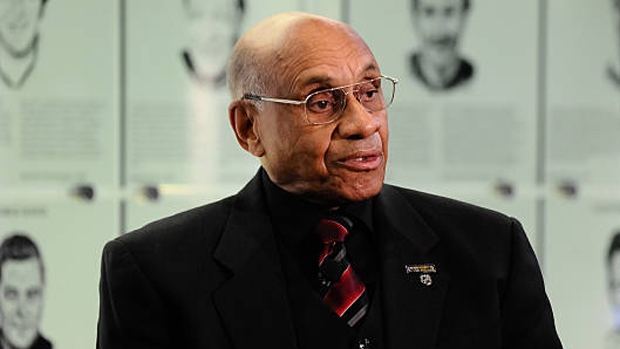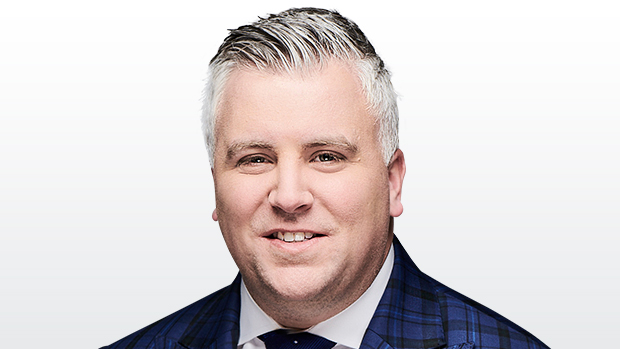 Willie O'Ree meets a group of longtime friends for breakfast almost daily near his home in San Diego, Calif., but he hasn't told them that Tuesday could be a moment 60 years in the making.
The first player to break hockey's colour barrier is hoping for a call from the Hockey Hall of Fame with an invitation to join the game's all-time greats in the builder category, but he isn't holding his breath.
Those same friends just presumed, like many, that he is already an honoured member because of his important place in hockey history.
"A lot of people assume," O'Ree, who joined the NHL in 1958, said in an interview earlier this month. "But I know only playing 45 games that there was no way. I didn't play in the league that long. It would have to be as a builder."
O'Ree, now 82, is believed to be one of the candidates for the Hockey Hall of Fame's Class of 2018, which will be deliberated and decided on Tuesday. He will likely receive consideration alongside first-ballot players Martin Brodeur and Martin St. Louis, as well as holdovers Daniel Alfredsson, Alexander Mogilny, Jeremy Roenick, Curtis Joseph and Sergei Zubov, among others.
"Oh man, it'd be great," O'Ree said of the possibility. "There are not enough words that could express what a feeling it would be. It's something I wish my mom and dad would be alive to see, because they supported me all the years that I played. They wanted me to stay involved in the game in some capacity."
There has been a groundswell of support for O'Ree in recent months. Retired NHL player Anson Carter wrote a formal letter of public submission to the Hall in March supporting O'Ree, but then one of the 17 members on the selection committee must submit him as an official nominee. That official nomination process and voting proceedings are confidential.
"It's time for Willie O'Ree to find his rightful place in the Hockey Hall of Fame," Carter said. "He made it possible for me and others like me to play. Then to see all of the kids that he has helped along the way, it has been incredible."
Put aside O'Ree's incredible groundbreaking career and it is that work with children, opening the eyes of those who would not normally view hockey as a possibility as part of the NHL's Hockey is for Everyone program, that makes him Hall worthy.
The NHL established the Willie O'Ree Community Hero Award to honour his legacy this year, awarded to late Humboldt Broncos coach Darcy Haugan last week in Las Vegas.
"Let's be clear so that everybody knows, I have nothing to do with selections to the Hockey Hall of Fame," NHL commissioner Gary Bettman said in March. "Willie O'Ree is a great man. He's had a historic impact on our game and he's touched the lives of more than 100,000 young people. He deserves all the accolades and recognition that anyone could bring his way."
O'Ree joined the NHL as an ambassador in 1996 and has logged more than a million miles on the road. Wearing that trademark hat, he still travels 120 days per year at age 82, but hasn't tired of it yet.
"It's not a grind," O'Ree said. "I always get pumped up if I know I'm going to visit a school, a juvenile detention facility, or Boys and Girls clubs and youth organizations - it's just letting them know that hockey is another sport that they can play if they want to. It doesn't feel like a job."
His message: "Set goals. Work for your goals. Don't let anyone tell you that you can't attain them if you feel strongly within your heart."
It's calls like the one he received from a 13-year-old girl not that long ago that keep him going. She said, "You probably don't remember me, but you came to my school, talked about how important it was to like yourself and feel good about yourself. I just wanted to thank you."
"I'll probably never see her again," O'Ree said. "But it was the phone call that let me know I've really touched someone."
There have been dozens of those calls over the last 22 years.
There has been dozens of similar messages from black players who skated in his same path because he made it possible, from Mike Marson – who became the next one some 16 years later in 1974 – to Grant Fuhr, Jarome Iginla, Carter and P.K. Subban.
Carter, whose NHL career spanned from 1996-2007, said he needed to change his name at hotels on road trips because the abuse and epithets were so bad. That was nearly 50 years after O'Ree made his mark.
"Could you imagine what it was like for him?" Carter said.
"I faced a lot of racism, prejudice, bigotry and ignorance," O'Ree said. "It went in one ear and out the other. I grew up as a young black boy and all I wanted to do was play hockey. My older brother told me, 'Willie, if people can't accept you for the individual that you are don't worry about them. It's their problem, not yours.'"
It's something that people somehow still have a hard time accepting 60 years later.
Stanley Cup hero Devante Smith-Pelly was taunted in early February in Chicago with fans yelling "Basketball!" at him in the penalty box. Smith-Pelly hoisted the Cup alongside biracial teammate Madison Bowey, who wore No. 22 in honour of O'Ree all season long.
Many have referred to O'Ree as the "Jackie Robinson of Hockey." They both broke the colour barrier in their sport, but it's not quite an equal comparison, given Robinson's 1,382-game career that included a National League MVP in 1949.
The sad part of O'Ree's story is that he could have made a bigger impact on the ice if not for an unfortunate accident. He lost total vision in his right eye in 1954 during his second year of junior hockey when his retina was shattered by a puck. He still remembers the doctor's name - Dr. Henderson - who came into his hospital room and said: "I'm sorry to inform you that you'll never play hockey again."
He still made it to the NHL four years later with one eye. Punch Imlach gave him his first shot with the Quebec Hockey League's Quebec Aces in 1956.
"I was a left-hand shot, a left wing," O'Ree said. "To compensate, I had to turn all the way around to see out of my right to make a play with the puck. I was overskating the puck a lot, missing the net. I was getting hit a lot. I just couldn't see out of my blind side.
"I just said to myself, 'Willie, forget about what you can't see and focus on what you can see.' I was fearful of failing. I'd have to go back to my hometown [Fredericton, N.B.] and say I didn't make it."
The youngest of 13 brothers and sisters, O'Ree made it. He carved out a 21-year pro career, mostly in Los Angeles and San Diego in the Western Hockey League, and that's where he met his wife, Deljeet, while playing in 1969. They will celebrate their 48th wedding anniversary later this year with their two grown sons and daughter.
What a life, one deserving of hockey's ultimate honour.
"It's been really good. I've been blessed," O'Ree said. "I'll try and work another two or three years. It doesn't feel like a job. More people are playing hockey than ever before, but we still have a lot of work to do."
Contact Frank Seravalli on Twitter: @frank_seravalli​