Odds stacked against McDavid winning Calder
Edmonton's rookie phenom returns to the ice Tuesday night after three-month injury layoff. Does he still have a chance to win the Calder Trophy?
By Steve Dryden, Sr. Managing Editor Hockey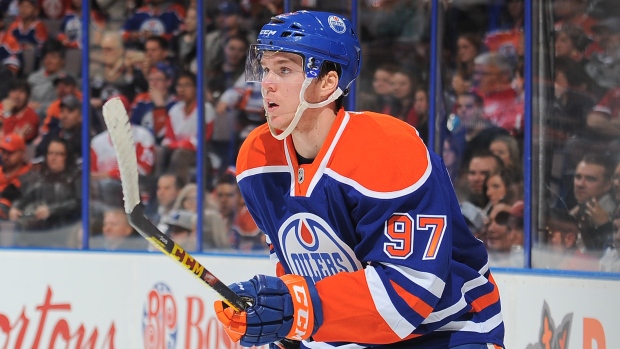 Mc-mania is back on and he hasn't played a game in three months.
There is a spasm of debate about what the 19-year-old phenom's chances are of winning the Calder Trophy.
The answer: historically low.
Can Connor McDavid win the Calder? Sure. Anything is possible. Particularly for the best prospect since Sidney Crosby and a player who may one day occupy the highest point on hockey's evolutionary scale.
But to win the Calder playing only 45 games – his personal maximum – means McDavid will outstrip two of the greatest players the world has ever seen – Bobby Orr, the man who changed the way the game was played, and Mario Lemieux, whom Orr has called the most physically gifted player in hockey history.
Orr and Lemieux (plus long-forgotten Russ Blinco) set the standard for winning voted-upon major awards against the highest odds.
Between them they played the lowest percentage of games of any Hart, Norris or Calder winner.
Orr led defencemen in points per game and won the 1967-68 Norris Trophy despite playing just 62 per cent of Boston's games (46/74) that season. Lemieux claimed the scoring title and won the 1992-93 Hart Trophy playing just 71 per cent of Pittsburgh games (60/84).
According to Randy Robles of Elias Sports, Blinco won the 1933-34 Calder playing just 65 per cent of the Montreal Maroons' games (31/48).
For McDavid, 45 games represent a mere 55 per cent of Edmonton's 82 games this season.
If McDavid were to win the Calder playing as many as 37 fewer games than frontrunners Artemi Panarin, Jack Eichel and Dylan Larkin, it would be the very definition of winning a fight with one (gloved) hand tied behind his back.
McDavid (5-7-12) returns to action 12 goals and 34 points behind Panarin (17-29-46) – whose linemate, Patrick Kane, is running away with the scoring race. Eichel (16-18-34) has averaged more than a point per game since Dec. 17 with 20 points. Larkin (15-18-33) recorded the fastest skating time in all-star history during the skills competition, and then owned the ice surface in the actual three-part 3-on-3 game.
It's hard to imagine what McDavid will HAVE to do – and Panarin, Eichel and Larkin NOT do – for No. 97 to win the Calder.
Can McDavid win the Calder? Yes. Will he win the Calder? Hockey history awaits the answer.