Odrick a fan of Toronto and NFL expansion
It's not often you see an NFL player on the streets of Toronto, but for Jared Odrick, coming to Canada is a regular summer occurrence.
Dalton Finkbeiner, TSN.ca Staff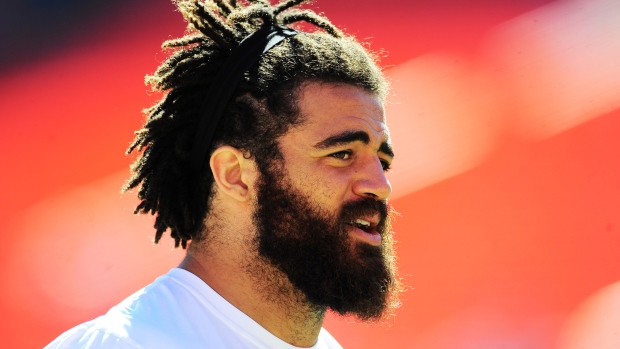 It's not often you see an NFL player on the streets of Toronto, but for Jared Odrick, coming to Canada is a regular summer occurrence.
The Jacksonville Jaguars defensive tackle conducts his off-season training at Reach Personal Training in Toronto, a place he credits for improving his diet and workout regimen. A native of Lebanon, Penn., Odrick has quickly become a fan of Canada's largest city.
"It's a fun city," he said. "I really like being here in the summer because everyone is out, everyone is doing something. There is always something to do, eat, or whatever. It's great."
Since beginning his work with Reach Personal Training, Odrick has had the chance to better understand the city and appreciate the people and the lifestyle.
"It seems to be a conscious city," he said. "It's sports conscious, health conscious - just conscious in general. It's a fashion-forward city, which I enjoy".
Odrick is in the middle of a busy off-season. He'll soon leave Toronto to return to his hometown to attend his annual charity golf tournament. The event supports both Autism Speaks and Operation Giveback, an organization that raises awareness for wounded veterans and their families.
"It's great to be able to come back and not just give back to a specific cause, but to be able to create some kind of positivity for my hometown," he said. "My mom worked in the VA medical centre for 27 years, so veterans, and taking care of them, was something that was special for me because I grew up watching my mom do it for so long."
Odrick is also spending his off-season adjusting to life with his new team. He spent five seasons with the Miami Dolphins, who drafted him 28th overall in 2010, before signing a five-year deal with the Jaguars. The Jaguars have struggled the last few seasons, failing to finish over .500 since 2007.
"Jacksonville had some success early, but it's something we're trying to get back to," he said. "There is so much positive support from fans and people in the organization."
The move to Jacksonville gives Odrick a chance to do play another game at Wembley Stadium in London, England. The Jaguars will play a regular-season game there October 25th against the Buffalo Bills.
Since the league's first trip to Europe in 2007, there have been many debates about whether an NFL team could survive in an international market. Odrick thinks it could work.
"I think it would, I really do," he said. "It [the NFL] is a high-end product. I think we have the best athletes in the world in the NFL.
"It definitely seems like the NFL is trying to build a fan base [in Europe] and trying to get people involved. They are putting footballs in little kids' hands over there. I can understand if it is eventually a thing, whether it's five years from now or 20 years from now."
There are many obstacles that need to be figured out before the NFL could think about expanding to Europe, topped by scheduling and transaction issues. Even if the logistics could be ironed out, would NFL players want to play for a team based in Europe? Odrick seems to think so.
"I think if there able to play football, and money is there, I think they'd be willing to do that," he said. "I think guys are willing to do some things to play under the NFL shield. That's the dream for a lot of people.
"I'd definitely be willing to, and I know a bunch of people who'd be willing. It would be interesting."