Off-Season Watch: Galchenyuk still available
TSN Hockey Insider Bob McKenzie said Montreal Canadiens GM Marc Bergevin is still looking for a centre and defencemen, and Alex Galchenyuk's name is still out there in trade talks.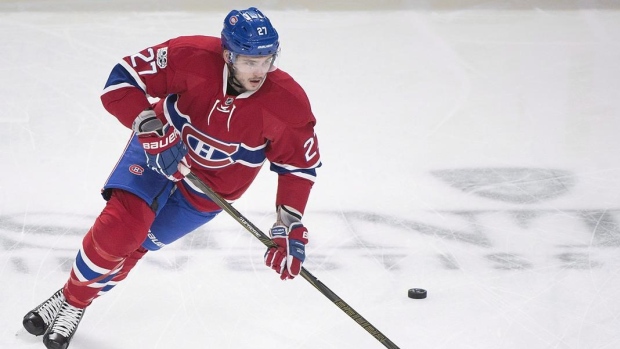 Each day leading up to free agency on July 1, TSN.ca breaks down the latest news and rumours around the NHL.
Floating names
The Montreal Canadiens still have some needs after the NHL Draft and TSN Hockey Insider Bob McKenzie reported Habs GM Marc Bergevin could still be in on a lot of trade discussions.
McKenzie said forward Alex Galchenyuk's name is still out there, and the 23-year-old is still available as the Canadiens try to land a centre, and more players on the blue line.
"Bergevin left the draft here without getting a lot of what he wanted to accomplish done," McKenzie said. "He's still looking for a centre, he's still looking for more people on defence. Alex Galchenyuk's name is still out there, lots of teams still talking. I think Bergevin's in on a lot of stuff now."
McKenzie did add however, that rumours linking Philadelphia Flyers centre Claude Giroux to the Canadiens are simply that, rumours.
Galchenyuk finished with 17 goals and 27 assists in 61 games for Montreal last season.
--
Defenceman deal?
After buying out Dan Girardi earlier this off-season, the New York Rangers are looking for a top four defenceman.
Larry Brooks of the New York Post wrote the team would have to split with one of their top forwards – J.T. Miller or Chris Kreider – to land an impact defenceman.
"I left the season with the sense the Blueshirts likely would have to deal J.T. Miller or Chris Kreider in order to get a top-pair right defenseman, and later thought Stepan might be enough to do the trick, but his contract proved to be a non-starter for everyone other than the Coyotes."
Brooks went on to question whether it would make sense to trade Miller given the team's lack of depth at centre. Miller could start the season at centre or move over from the wing if injury strikes.
--
Bolts in the mix for Shattenkirk?
Veteran defenceman Kevin Shattenkirk is No. 1 on TSN's list of the Top 25 Free Agents slated to hit the open market on July 1.
Joe Smith of the Tampa Bay Times says the Lightning are just one of the many teams interested in the 28-year-old.
Shattenkirk made the biggest splash prior to the 2017 trade deadline on Feb. 27 when he was dealt from the St. Louis Blues to the Washington Capitals along with goaltender Phoenix Copley in exchange for forwards Zach Sanford and Brad Malone, a 2017 first-round pick and a conditional second-round pick in 2019.
The 28-year-old tallied 13 goals and 43 assists for a career-high 56 points in 80 games between the Blues and Caps. He added one goal and five assists in 13 games for the Capitals in the playoffs.
Shattenkirk was in the final year of a four-year, $17 million contract signed with the Blues in the 2013 offseason.
He was drafted in the first round (14th overall) of the 2007 NHL Entry Draft by the Colorado Avalanche.