Off-Season Watch: Who's got a deal with Vegas?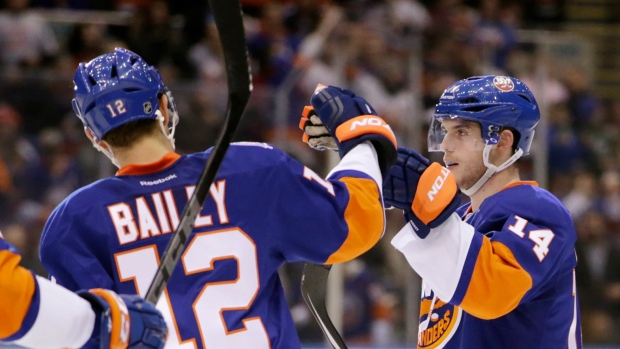 Each day through the Vegas expansion draft and up until free agency on July 1, TSN.ca breaks down the latest news and rumours around the NHL.
Who's Got a Deal?
NHL general managers were told not to leak the details of any trades made with the Vegas Golden Knights involving the expansion draft. However, while exact details have been scarce, it's become clear who has a deal in place, and who does not.
TSN Hockey Insider Pierre LeBrun reports the Florida Panthers, Ottawa Senators, Nashville Predators and Minnesota Wild have all been talks with the Golden Knights to protect players beyond their protected lists, but have been unable to strike a deal.
Larry Brooks of the New York Post reports the Rangers also don't have a deal in place, but seem resigned to losing player. Goaltender Antti Raanta could be that player.
The New York Islanders (reported to be parting with a first-round pick), Anaheim Ducks, Columbus Blue Jackets (also reportedly giving up a first-round pick) and Chicago Blackhawks (sending Marcus Kruger and Trevor van Riemsdyk to Vegas) all are reported to have deals in place with the Golden Knights.
LeBrun believes the Panthers, Senators, Predators and Wild will all continue to try to make a trade.
UPDATE: McPhee gave team's a Monday deadline to make trades and said the team will conduct their expansion draft on Tuesday.
--
A Lacking Return?
Last week, David Staples of the Edmonton Journal wrote that in summary of Jordan Eberle rumours from NHL Insiders, one could deduce that the return for Eberle will not be a top-six forward or a top-four defenecman.
Instead, the Oilers are likely to receive a cheaper forward, likely a winger, who possesses less skill than Eberle.
Jim Matheson of the Journal believes that Dallas Stars centre Cody Eakin makes sense for the Oilers in return for Eberle, if the team is indeed looking for a cheaper option for their roster.
Eakin, 26, scored three goals and added nine assists in 60 games this season with the Stars. His offensive production dipped significantly after posting 16 goals and 35 points last season and 19 goals and 40 points in 2014-15.
The 2009 third-round pick is signed for three more years with an annual cap hit of $3.85 million.
With Leon Draisaitl becoming a restricted free agent on July 1 and Connor McDavid eligible to sign an extension, the Oilers are looking to add cap space, possibly at the expense of a stronger return.
Eberle. 27, scored 20 goals and added 31 assists over 82 games with the Oilers in 2016-17, his seventh year with the organization. He owns an annual cap hit of $6 million for the next two seasons.
--
In the Goalie Market
The Arizona Coyotes parted ways with veteran goaltender Mike Smith over the weekend leaving Louis Domingue as the lone netminder under contract for next season.
Domingue, 25, started 31 games this season, posting an 11-15-1 record with a .908 save percentage and a 3.03 goals against average. He was left unprotected in the expansion draft, as the Coyotes only goaltender who met the requirements to be exposed.
Coyotes general manager John Chayka said the team will be the market for a new No. 1 goaltender when free agency opens on July 1.
"I think there's a lot of options out there and it's something we're very active in right now," Chayka told Arizona Sports 98.7FM.
Chayka added that's Smith's age played a major role in the team's decision to move the team's six-year starter.
"The reality is, Mike Smith is a 35-year-old goaltender and when some of our players are reaching their prime years then he's probably on the wrong side of his career," Chayka said. "He was an expensive option that, in my mind, came at the expense of the ability to add some players around our young players to help stabilize them, help put them in the proper positions, help support this growth that we're after."
Craig Morgan of Arizona Sports notes the Coyotes now sit below the cap floor and could have interest in taking on the contracts of either Nathan Horton or David Clarkson to reach the cap floor.
--
Ready for a Youth Movement?
Sam Carchidi of Philly.com believes that upon adding either Nico Hischier or Nolan Patrick, depending on who's available with the No. 2 overall pick, the Philadelphia Flyers could have as many as six rookies ready to become full-time NHL players in 2017-18.
Along with the second overall pick, Carchidi lists Sam Morin, Robert Hagg, Oskar Lindblom, Mike Vecchione and goalie Anthony Stolarz as rookies who could crack the team's roster.
Flyers general manager Ron Hextall said Friday that while it's nice to keep the team's roster young, six rookies may just be too many and said the No. 2 overall pick is not a lock to play in Year 1.
"Well, I don't quite see it like you do," Hextall told Philly.com. "But in a perfect world, you have two, three rookies on your team every year. There's a certain excitement, a certain influx of youth, that they infect the team with. It's kind of what you want every year. If we put two, three rookies in the lineup every year, that's terrific."
"Six is a little much. But if they're the best players and will make you a better team. I'm not afraid of having young players in my lineup," Hextall said. "You guys know how I operate. I don't put a guy in because he is a first-round pick."
--