Off-Season Watch: Wild willing to lose player to Vegas over bad trade
Teams have until Monday at 5pm et to ask players who own no-move clauses to waive them for the Vegas expansion draft. One player who could be asked before that is Lightning forward Ryan Callahan.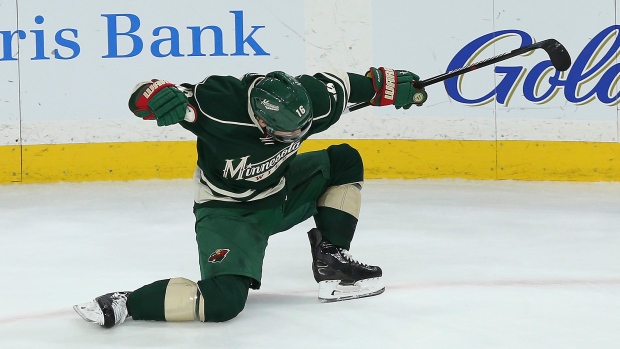 Each day through the Vegas expansion draft and up until free agency on July 1, TSN.ca breaks down the latest news and rumours around the NHL.
--
Not Better Than Nothing?
The Minnesota Wild have been expected to be sellers ahead of the Vegas expansion draft to acquire assets for their exposed players rather than lose them to the Golden Knights for nothing.
However, that may not be the case as Wild senior vice president of hockey operations Brent Flahr says the team will not take below market value for a player in a trade.
"You'd just rather lose a player than make a bad trade," Flahr told the Minnesota Star-Tribune on Wednesday.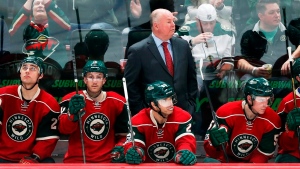 If the team stands pat before the expansion draft - Flahr to the Star-Tribune it's "doubtful" the team makes a big splash - defencemen Jared Spurgeon, Marco Scandella and forwards Jason Zucker and Eric Haula are all projected to be available for the Knights.
Jonas Brodin and Matt Dumba, both projected by TSN to be protected, are ranked at two and three, respectively, on the TSN Trade Bait list.
Spurgeon ranked second on the team in average ice time this season while posting 10 goals and 38 points. Zucker, 25, finished fourth on the team in goals with 22 and added 25 assists in 79 games.
Flahr said the team is looking into making a deal with the Golden Knights to keep players for a price, rather than shipping them off.
"We've talked to other teams," Flahr said. "If we want to move players, we can certainly move players, but at the same time, we're hoping maybe we can get something done with Vegas. We'd obviously have to pay a price of some kind (to make a trade with Vegas), but the reality is we're going to lose a player (to expansion). We have to figure out what's best for us, not only next year, but moving forward."
One problem for the Wild in making a deal with the Golden Knights is their lack of draft picks. Minnesota is without a pick in the first two rounds of this year's draft and have already traded away their second-round pick in 2018.
Flahr said a lot can change between now and expansion draft and noted the team could even use the Golden Knights to acquire a player off another team's roster.
"I wouldn't say we've made any decisions (on which players we're protecting and exposing)," Flahr said. "There's lots of different trade scenarios out there that could affect our list. We can just sit back and expose the players we want to expose, we can pay a price to get a certain player off a different team through (Vegas), we can pay a price to get them not to take a player. There's lots of different variables."
--
The Big Question
Teams have until Monday at 5pm et to ask players who own no-move clauses to waive them for the Vegas expansion draft, if the player doesn't agree too, then he'll be automatically protected in the draft.
One such player some might be asked to waive his no-move is Tampa Bay Lightning forward Ryan Callahan after he played just 18 games last season due to a hip injury.
Joe Smith of the Tampa Bay Times reports Callahan has not yet been asked to waive his no-move and is therefore expected to be protected by Lightning. Smith says Callahan could still be approached by Lightning general manager Steve Yzerman but it appears unlikely.
As Smith notes, Callahan has three years remaining on his contract at a cap hit of $5.8 million. Now two years removed from his last 20-goal season, Callahan would not appear to be a target for the Golden Knights if left exposed.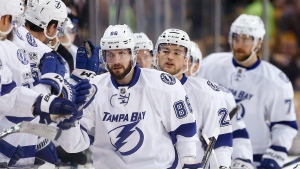 The 32-year-old scored two goals and added two assists in 18 games last season, the last of which came on January 7 before underwent hip surgery.
With Callahan protected, the Lightning are projected by TSN to expose Alex Killorn, JT Brown and Eric Condra at forward. Smith believes the final protected spot will come down to Killorn and centre Vladislav Namestnikov.
Callahan is expected to be ready for training camp in September.
--
Not Asking
Like the Lightning, the New York Islanders have two veterans with no-move clauses who could be asked waive them to protect younger players.
Forward Andrew Ladd, 31, and defenceman Johnny Boychuk, 33, both own no-movement clauses and Boychuk's could force the Islanders to move Travis Hamonic or risk losing him for nothing to Vegas.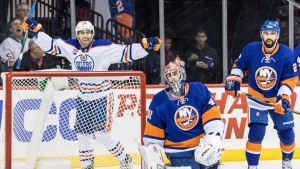 Islanders general manager Garth Snow told Newsday this week the team has no plans to ask either veteran to waive their no-move, though he left the door slightly open for that to change.
"That's not our thinking at this time," Snow said.
Ladd scored 23 goals and added eight assists in 78 games last season, his first with the Islanders. He signed a seven-year, $38.5 million deal with the Islanders last July.
Boychuk scored six goals and added 17 assists while averaging 20:44 per contest in 66 games. He is entering the third year of a seven-year $42 million deal and owns a cap hit of $6 million.
--
Another Name on the List
Kevin McGran of the Toronto Star weighed the pros and cons of the Toronto Maple Leafs adding Ilya Kovalchuk this week. He wrote the Maple Leafs have the cap space to bring on the Russian winger and it could allow them to trade James van Riemsdyk to acquire a top-four defenceman.
TSN Hockey Insider Darren Dreger has shot down such talk and reports the Maple Leafs are not interested in adding Kovalchuk and have not reached out.
One team that is interested, however, is the Florida Panthers, according to McGran. He listed the Panthers among a group of teams previously linked to Kovalchuk in the St. Louis Blues and San Jose Sharks. The Columbus Blue Jackets and New York Rangers are also believed to have inquired.
The Panthers are projected to have $10.6 million in cap space to work with this summer with three unrestricted free agents and three restricted free agents hitting the market. The Panthers could be in the market for scoring help after finishing last season 23rd in goals for.
--