Offence isn't the only issue in Montreal
Carey Price is off to a weirdly ineffective start and the Canadiens are giving up far too many goals, Travis Yost writes.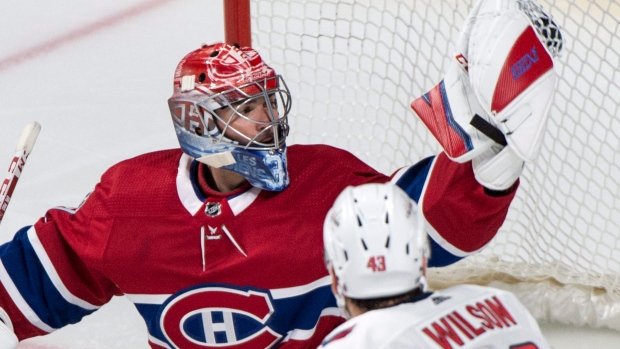 Just about everything is going wrong right now in Montreal. The Canadiens are off to a 1-5-1 start, which slots them comfortably into last place in the Atlantic Division.
A lot of the discussion – understandably, considering how rough last year was – has focused on the team's anemic offence. The Canadiens have just 11 goals in seven games, which is the worst goal-per-game rate of any team in the league. Only one player, Jonathan Drouin, has more than a single goal right now.
But offence isn't the only issue in Montreal. The Canadiens are also giving up 3.9 goals per game, which is comfortably in the bottom third of the league. Perhaps that statistic is more concerning, since the organization's two core players – goalie Carey Price and defenceman Shea Weber – are paid to keep pucks out of their own net.
The Canadiens have been brutally tough to score against since Price came into his own as one of the league's preeminent puck-stoppers. Price's save percentages in the last four years: 92.7, 93.3, 93.4 in an injury-shortened 2015-16 season, and 92.3 per cent. He's been a perennial Vezina Trophy nominee and won it for the first time in 2014-15. By any measure, he's been one of the best goalies in the game. That was even true last season when Montreal couldn't get out of its own way – Price, with little help, finished third in the Vezina voting.
But his start to the 2017-18 campaign has been weirdly ineffective. In six appearances, Price has stopped just 88.5 per cent of his shots, which is well below even replacement-level expectations for a modern-era goaltender. It's even worse when you subset that data down to just 5-on-5 – he's stopped just 87.9 per cent of shots there, which is abysmal.
How much is Price to blame? I don't think there's a smoking gun answer to this question, but there are a couple of things to keep in mind. One: most expected goal measures (which take into account both volume of shots and the likelihood of each shot finding the back of the net) would assume Price to have a much better save percentage than he currently has. Corsica's estimate, as one example, would have expected Price to stop 91.3 per cent of shots faced at 5-on-5. That's more than a three percentage point swing!
Two: Price rarely has bad games. When he does, he usually follows them up with good or great games. It's uncommon to see Price in a funk for an extended period of time.
This raises the question: Is Price's rough start to the season just an outlier, or is something more going on? And, how unlikely is this sort of performance from such a superstar goaltender?
Thankfully, we have quite the log of Price games. We can measure them in six-game intervals to see if Price's start is really some sort of anomaly, or if Price has had similar underwhelming performances in the past.
As you might have guessed, this run is pretty rare. But it has happened before!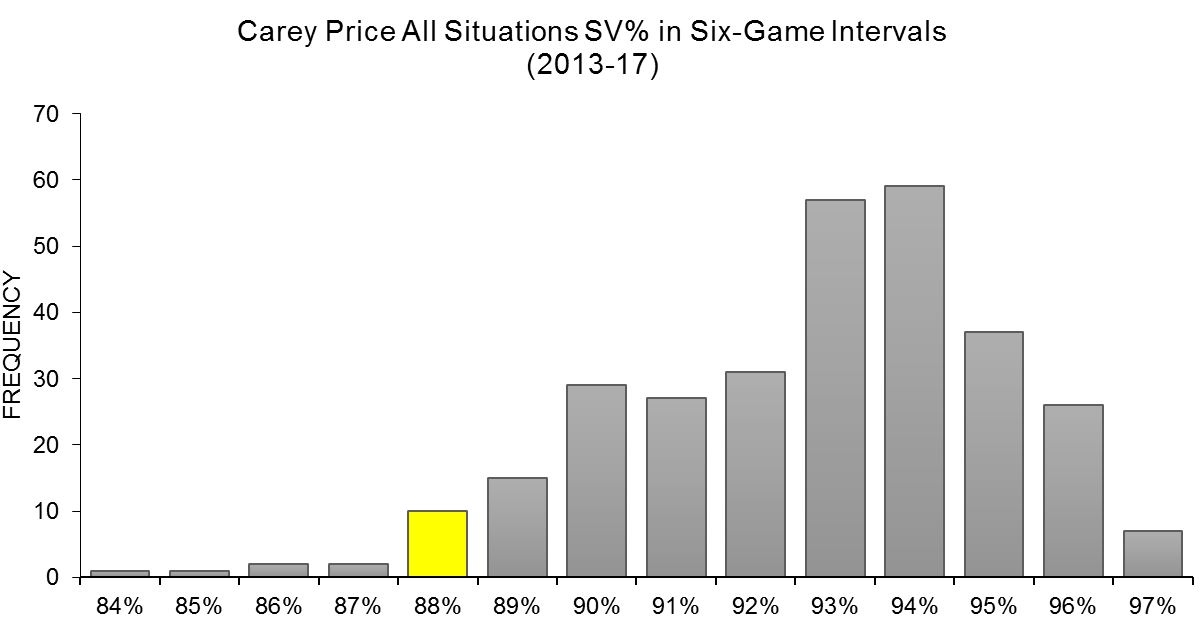 Price has established himself as a goaltender whose true talent is stopping between 93 and 94 per cent of all shots faced. We know this because over hundreds and hundreds of games sampled, his average stop rate consistently sits around that number. Occasionally he'll have a great run or a sub-par run and move towards the poles.
And once every blue moon, Price plays unconsciously well – like stopping 97 per cent of shots over a six-game interval seven different times – or rather poorly. To that end, Price is no different than any other goaltender around the league. He has good nights and bad nights, and the real measure of his effectiveness is how well he thwarts attackers over entire seasons. This opening stretch has been pretty poor by Price's measures, but it's not uncharted territory across his career.
So what's the conclusion? Montreal's having a worst-case scenario start to the season. Their offence, which was the obvious team weakness, has been comically ineffective in 2017-18. But Price hasn't played well either, which happens from time to time.
The unfortunate reality for Montreal is that they simply cannot afford to have their goaltending go through any rough stretch because of the way they have built their roster. The defence and goaltending can bail out the offence. But the offence rarely, if ever, returns the favour.
Price will bounce back. I know this because we have seen this happen over a dozen times and every time he regresses back toward his natural (dominant) talent level.
As for the rest of the team? Let's just say I have less confidence.