Officiating clouding playoffs seemingly more than ever before
It's difficult to remember a Stanley Cup playoffs that has been clouded more by polarizing calls from officials than this one, including the minor penalty given to Charlie McAvoy for his blatant illegal check to the head of Columbus' Josh Anderson during Monday's Game 6 that eliminated the Blue Jackets, Frank Seravalli writes.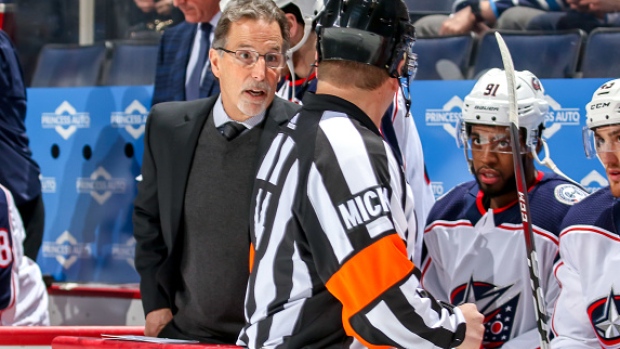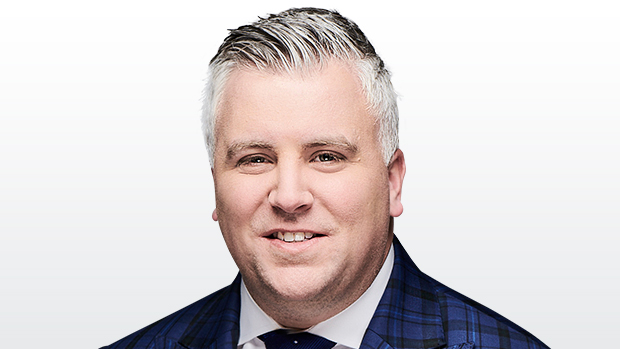 COLUMBUS, Ohio — Nick Foligno pleaded his case, to the point that he had to be restrained by a linesman so referee Kelly Sutherlund could announce his call to the cauldron that had become Nationwide Arena.
An incensed Blue Jackets fan threw a bag of popcorn on the ice in protest to the two-minute minor penalty for Charlie McAvoy's blatant illegal check to the head of Columbus' Josh Anderson.
The ensuing cleanup allowed Foligno more time to offer his opinion — all to no avail.
The damage was done. Now, after a hit that could now cost McAvoy as many games as minutes served, the Blue Jackets are left to a different kind of cleanup on Wednesday. Their lockers.
Yes, there was no guarantee the Blue Jackets would have scored on extended power play if it was called differently, not with Tuukka Rask stopping all 11 shots he faced with Columbus (0-for-4) on the man-advantage.
But it certainly changed the momentum in a one-goal elimination game. Marcus Johansson delivered the dagger six minutes after the Bruins killed it off, sending Boston to their first Eastern Conference final since 2013.
"It sucks," Foligno said. "Kelly is a good ref. I don't want to get into it. He had a tough call to make. I just think when your player is injured, it's an automatic five minutes."
It's difficult to remember a Stanley Cup playoffs that has been clouded more by polarizing calls from officials than this one. With the speed of today's NHL, there is no question hockey is the most difficult of the four major professional sports to call. There are always going to be mistakes, even for the best officials in the world.
But one series to the next, from Cody Eakin's season-changing botched major to Ben Bishop getting scored upon while he's on his back and injured, there have seemingly been more nights with controversy than clean hockey.
McAvoy's headshot wasn't nearly the only controversial call of this series. Brad Marchand punched Scott Harrington in the back of the head at the end of Game 3 and it went unpenalized.
Remember when Artemi Panarin scored a goal in Game 4 that clearly bounced off the mesh netting above the goal?
That play should have been blown dead, but it was not correctable with the help of video because a puck out of play is not reviewable.
"In this day and age, I think it's crazy," Rask said after Game 3. "I mean what if that's in overtime? … It didn't cost us but I think it's just funny that they can look at a lot of other goals and call them back from the offices so why not that?… I didn't know what happened. I didn't see it hit the [netting]. If I saw it then I probably would have slammed the stick and chased the refs. It was probably better I didn't see it."
Monday night's pivotal call in Game 6 was also not reviewable. NHL general managers shot down a proposal to make major penalty calls reviewable at their last meeting in March. These playoffs may put that decision up for debate again at their next meeting in June.
In this case, Anderson remained in the game. So did McAvoy – even after Sutherland initially seemed to indicate he would be tossed by touching his head and then signalling to the bench.
According to Rule 48.1, an illegal check to the head may only be assessed either a minor penalty or a match penalty. There is no provision for a major penalty or a game misconduct penalty. In other words, so long as an illegal check to the head was the call, the Blue Jackets could not enjoy a power play longer than two minutes.
Blue Jackets GM Jarmo Kekalainen said he did not receive any explanation from the NHL on the call.
"I think the video was very self-explanatory what happened there," Kekalainen said.
McAvoy stated his case postgame saying it was "a hockey play."
"I thought it was a hockey play," McAvoy said. "I mean I put my shoulder into it. When I hit I do my very best to keep my elbow tucked so I don't get it out there. I hit with my shoulder. I try to hit with as much power as possible. He's a bigger guy, it was a hockey play."
The NHL declined to make series supervisor Bill McCreary available to the media or even a pool reporter. The NHL's Situation Room also did not respond to a request for explanation or insight.
(Meanwhile, the NBA – itself a lightning rod for officiating at times ­– has created a Twitter account for its officials to explain and add context to almost every call in the playoffs.)
Columbus coach John Tortorella would not elaborate on the explanation he was given.
"Yeah, I'm not going to discuss that," Tortorella said. "It's a huge moment. But I'm not going to discuss what was told to me."
Ultimately, Foligno said he believes the referees got it right.
"At the end of the day, he probably makes the right call, but at the time you probably want to see it be a five," Foligno said. "Then again, we got a two-minute power play and we didn't make anything of it. We got another power play after that and we didn't make anything of it."
But Foligno said he was "confused" based on what transpired in Game 7 between the Vegas Golden Knights and San Jose Sharks in Round 1.
"I don't understand, especially with the other series that went on, that just confused me," Foligno said. "You see your teammate laying on the ground from a hit that's right to the head and really just unnecessary. The guy [Zdeno Chara] is already on him, he's playing him one-on-one, there's no reason to come across like that."​
You know the story. Sharks captain Joe Pavelski left Game 7 with a significant head injury after an awkward but routine and mostly innocent cross-check from Eakin. Referees Dan O'Halloran and Eric Furlatt huddled and assessed a five-minute major.
The rest is now history. The Sharks, down 3-0, scored four goals on the major and won in overtime to advance to Round 2.
Pavelski himself said this week that Eakin's call should not have been a major.
"Was it a five-minute penalty? No, I don't think it was," Pavelski said Sunday. "Am I glad they called it that way? Heck, yeah."
Like the Golden Knights, O'Halloran and Furlatt did not make it to Round 2. Knowing that history, and that their own playoffs might be on the line, did Sutherland and Kozari shy away from a different call in Columbus that could have resulted in a major?
In this case, Sutherland and Kozari punted on a potentially series-changing call for McAvoy, leaving discipline now ultimately to the Department of Player Safety.
That's too little, too late for the Blue Jackets, who will have all summer to wonder what could have been. They aren't alone.
"It's tough," Foligno said, "because who knows what happens."
Contact Frank Seravalli on Twitter: @frank_seravalli