Oilers' Draisaitl avoids suspension for spear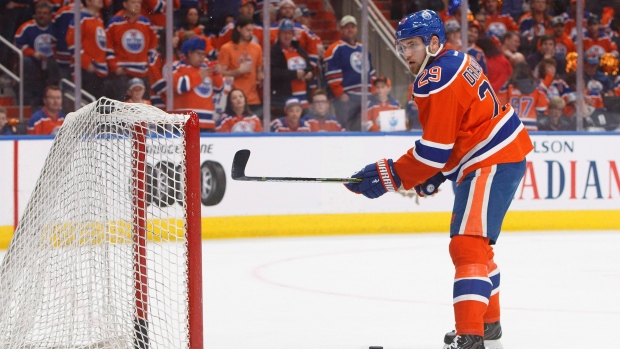 Edmonton Oilers forward Leon Draisaitl will not face a suspension for his spear on San Jose Sharks forward Chris Tierney on Tuesday night in Game 4 of their series, the NHL Department of Player Safety announced Wednesday. The German forward will be fined $2,569.44 for the infraction - the maximum amount allowed under the CBA.
The money will go to the Players' Emergency Assistance Fund.
The incident occurred in the second period with the Oilers already down 5-0. Draisaitl raised his stick under the legs of Tierney after the Sharks forward moved the puck behind the Oilers' net.
Draisaitl, 21, was given a five-minute major penalty for spearing and a game misconduct. The Sharks made the score 6-0 on the ensuing power play. Tierney did not return to action.
"Just feel a stick in my groin, so obviously it doesn't feel well at the time," Tierney told the Mercury News after the game. "Just kind of dropped and went to shake it off. Takes a couple minutes to recover from something like that. But felt OK the rest of the game."
The 2-2 series heads back to Edmonton for Game 5 Thursday night.