Oilers extend McDavid on massive eight-year, $100M contract
The Edmonton Oilers announced Wednesday that the team and 20-year-old league MVP, Connor McDavid, have agreed to an eight-year extension worth US$100 million.
TSN.ca Staff with Canadian Press files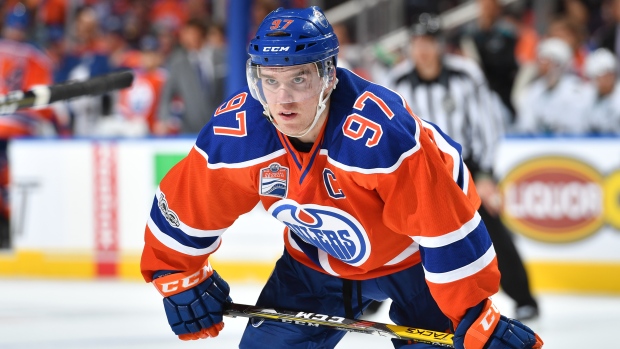 EDMONTON — The Edmonton Oilers paid a huge price to lock up superstar captain Connor McDavid, but it could have been even higher.
The Oilers announced Wednesday that the team and McDavid have agreed to an eight-year extension with an average annual value of US$12.5 million. That makes the 20-year-old league MVP the highest paid player in the NHL on an annual basis, but it's about $750,000 a year less than what reports last week figured he would be getting.
"It easily could have been a lot higher in value and shorter in term," Oilers general manager Peter Chiarelli said.
McDavid's extension kicks in after he finishes the final year of his entry-level deal next season. If the NHL's salary cap stays at its current level of $75 million, McDavid's salary alone would take up 16.6 per cent of the Oilers' allowed salary.
But any cap relief would be welcome to Edmonton. The Oilers are also working to re-sign rising star Leon Draisaitl, who is a restricted free agent after finishing his entry-level deal and due a big raise.
"Part of this partnership was talking about building a team, and Connor was emphatic as was I about keeping this team competitive," Chiarelli said. "There are challenges at every juncture when you are building a winning team in the salary cap era. Connor recognizes that, Jeff Jackson (McDavid's agent) recognizes that and we're confident we'll be able to ice a winning team, one that can contend and win the Cup."
McDavid led the NHL in scoring with 100 points last season, en route to winning the Hart Trophy as league MVP. In just his second season he helped the Oilers transition form league doormat to a potential rising power in the Western Conference. Edmonton made the playoffs for the first time in a decade last season ad advanced to the conference semifinal, where they took the veteran-laden Anaheim Ducks to seven games.
"I'm so excited to be able to wear the Oilers jersey for the next nine years of my life and play with some of the greatest guys that I know," McDavid said. "I can't wait to get back at it.
"I wanted to show that I'm in it for the long haul, and I want to win here."
Drafted first overall by the Oilers in 2015, McDavid became the youngest captain in NHL history last season. Barely out of his teens, he proved his leadership qualities in the playoffs by helping the young Oilers overcome potentially crushing losses.
"We showed a lot of resiliency," he said. "We got some big blowout losses, some tough losses, some games that we definitely should have won and they were heartbreakers, but we always found a way to bounce back and get a win play our best hockey, and I think that's a good sign moving forward. That's something that winning teams do."
Winning wasn't part of the Oilers' vocabulary when McDavid first joined the team. Edmonton had missed the playoffs in nine straight seasons, often finishing at or near the bottom of the conference standings. McDavid's first season in Edmonton was more of the same, with the star rookie missing significant time with a broken collarbone and the Oilers finishing at the bottom of the West standings.
Things turned around quickly last season with a full year of McDavid, plus the emergence of Draisaitl and goaltender Cam Talbot and some much needed back-end help from newly acquired defenceman Adam Larsson.
"Day 1 of being an Oiler, there was a lot of questions," McDavid said. "We just hired a new GM (Chiarelli) and a new coach (Todd McLellan) and the team was a little bit in pieces. But with the great work of Peter and his management team and the system that Todd's put in place we've developed a good team here. Sure it's just been one year but we're definitely on the right track."
A generational talent, McDavid is worth his mammoth contract, though the Oilers will need to be creative with their remaining cap space. However, Chicago was able to have success building around Patrik Kane and Jonathan Toews. The their cap hits of $10.5 million per season each were the previous league high before McDavid's extension.
The Pittsburgh Penguins, back-to-back Stanley Cup winners, had to work around the large contracts of superstars Sidney Crosby and Evgeni Malkin.
"There's challenges in this salary cap world. Some teams have succeeded and some teams haven't," Chiarelli said. "Chicago has succeeded up to a point, and other teams like Pittsburgh have made it work and we have confidence in Connor and his ability on the ice to lead, as he has confidence in us to ice a winning team."
For his part, McDavid seemed uninterested at all the talk of figures and cap space at his big press conference.
"It really doesn't matter how we got to a number, the important thing is I'm going to be here for the next nine years," he said.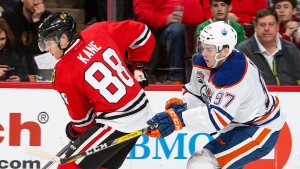 Jonathan Toews and Patrick Kane currently own the league's highest cap hits at $10.5 million each and will be joined by Montreal's Carey Price after next season. Anze Kopitar is the only other player with an eight-figure cap hit at $10 million.
To date, Alexander Ovechkin's 13-year, $124 million contract remains the highest total contract, with Shea Weber's 14-year, $110 million deal behind him. Ilya Kovalchuk also signed a $100 million contract in 2010. Eight years is the maximum term a team is allowed when signing its own player under the terms of the current collective bargaining agreement.