Oilers G Talbot set to face Wild on Saturday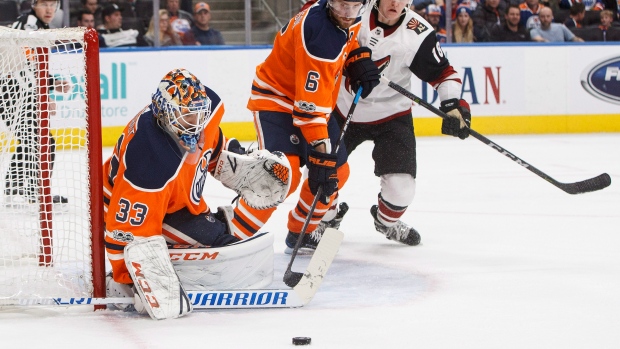 The Edmonton Oilers have activated goaltender Cam Talbot off of injured reserve and he is expected to start Saturday against the Minnesota Wild.
The 30-year-old netminder has not played since Nov. 28, when he made 29 saves in a 3-2 win over the Arizona Coyotes.
Oilers head coach Todd McLellan said the team has Talbot scheduled to start Saturday and the is excited to have him back.
The Oilers have gone 3-4 since Talbot's injury and backup Laurent Brossoit struggled in Thursday's loss to Nashville Predators, allowing all four goals on nine shots in the second period. Overall, Brossoit is 3-7-1 this season with an .886 save percentage and a 3.22 goals-against average.
"We can't disrespect the job LB did for us," McLellan said Friday.
In 22 starts this season, Talbot owns a 10-10-1 record with .903 save percentage and a 3.00 goals-against average.
Talbot said he would be ready to return at less than 100 per cent as long as there was not a chance of re-injury.
"I want to be back and they want me to be back and play, but at the same time, if I aggravate it or something like that then I'm out for an extended period again," said Talbot. "We're just trying to find that fine line. Maybe I'm not 100 per cent when I come back, maybe it's 95, but as long as there is no risk of aggravating it I'll be ready to go."
To make room for Talbot on the 23-man roster, goaltender Nick Ellis was assigned to the AHL.