Oilers' Klefbom: 'There's a lot of hockey left'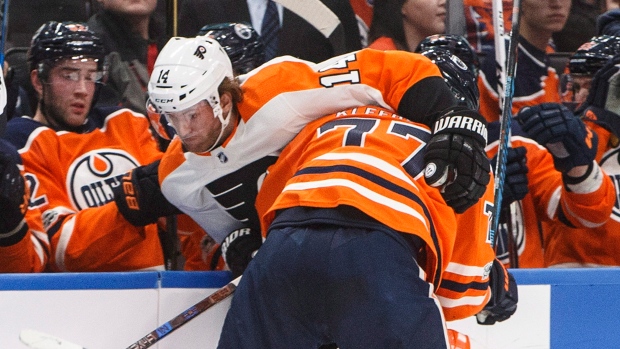 The Edmonton Oilers dropped to 11-15-2 with the their loss to the Philadelphia Flyers on Wednesday night, leaving the Oilers as one of five teams yet to cross the 25-point mark this season.
The Oilers, who reached the second round of the playoffs last season, have been arguably the league's biggest disappointment two months into the 2017-18 campaign.
Defenceman Oscar Klefbom argued Wednesday, however, that the team still has plenty of time to turn their season around.
"A lot can happen," Klefbom said after the 4-2 loss to the Flyers. "There is a lot of hockey left to play, a lot of games. The road is getting tougher and tougher but we have to keep our head high. We don't have time to be grumpy, that's only going to make it tougher."
Forward Leon Draisaitl opened the scoring on Wednesday night, but expressed his frustration after the team went down 2-1 in the second period and never regained the lead.
"We can't seem to start two good games in a row," Draisaitl said. "It is setting us back. We always have to come back in games and it takes a lot of energy to do that. I thought we had some good looks in the third, but couldn't capitalize."
The Oilers, who defeated the Calgary Flames 7-5 on Saturday, have posted back-to-back wins just twice this season. Head Todd McLellan said the team is still searching for as to why they've struggled to repeat their success after wins this season.
"It is extremely frustrating," McLellan said. "I'd prefer not to be being asked those questions and I would really like to give you an answer that made sense, but we've been struggling to find those answers. The last two days in practice I thought we were crisp, we skated well, the competiveness was there, the attention to detail – we got more done in practice than we did in the game. And the game is supposed to be the reward.
"So, I don't have the answers for that."