Oilers trade Hall to Devils for Larsson
The Edmonton Oilers and New Jersey Devils have completed a blockbuster. Left wing Taylor Hall is on his way to the Garden State in exchange for defenceman Adam Larsson.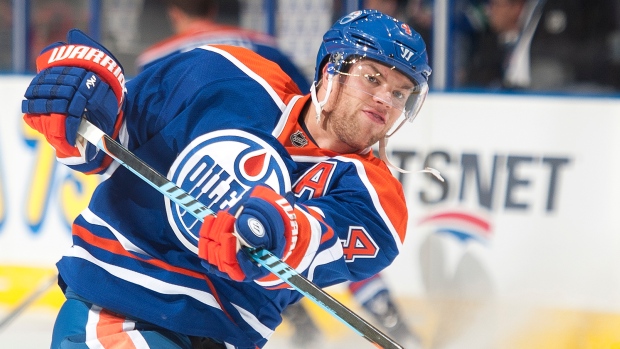 The Edmonton Oilers finally shook up their core and dealt for help on defence.
The Oilers sent former No. 1 overall pick Taylor Hall to New Jersey in exchange for 23-year-old Adam Larsson, the fourth overall pick of the 2011 draft.
It was long thought that the Oilers would deal at least one longstanding core piece — Hall, Jordan Eberle and Ryan Nugent-Hopkins leading the speculation — to beef up a blue line that's wobbled through a string of empty seasons.
In the end, the Oilers rebuild that started with the drafting of Hall in 2010 will continue without him.
"I spoke with Taylor about the trade earlier today, and he was very disappointed," Oilers general manager and president of hockey operations Peter Chiarelli said. "(He) felt that he was part of the solution, and I didn't disagree with him. I just said this is a business, you have to make hard decisions.
"My roots aren't as deep in this organization as Taylor's, so I respect his emotion. I've always respected his play and his competitiveness, and he'll have a real good career going forward."
Hall admitted he was caught off guard by the news.
"It's tough," an emotional Hall said in a conference call. "I have a pretty deep connection to the city of Edmonton. I felt I did everything I could there so it's pretty hard not to feel slighted, not to feel a little disappointed with the way everything shook out. That's hockey."
What seemed to bother Hall most was that he felt that the trade focused the blame on him for the team's losing seasons.
Hall said he expressed his disappointment to Chiarelli after being informed of the trade.
"I don't want to sound like I am not excited to join New Jersey," Hall said. "That's not the case. I'm a proud person and I take this as an indictment of me as a hockey player. I don't think there is any other way to treat it. I think it's safe to say I am a very motivated player right now."
The Oilers paid a high price, but the need for an improved blue line was evident in Edmonton. The Oilers have missed the playoffs in 10 straight seasons, last appearing in 2006. The club remained one of the league's worst defensively last season despite stability in goal with first-year starter Cam Talbot.
Still just 24, Hall has become one of the league's top left wingers, an explosive talent who's produced 183 points over the past three seasons, trailing only Alex Ovechkin, Max Pacioretty and Daniel Sedin at the position in that span.
He scored 26 goals and 65 points last season, falling off some in the second half.
Hall, who has four years remaining on a reasonable contract with a cap hit of $6 million, immediately infuses the Devils with some needed offensive pep. Rebuilding under general manager Ray Shero, New Jersey was the lowest scoring team in the league last season, though they did boast a pair of 30-goal-scorers in Kyle Palmieri and Adam Henrique.
Hall will now front their attack.
Stocked with young forwards, including Connor McDavid and Jesse Puljujarvi, the surprise fourth overall pick at last week's draft, the Oilers could afford to part with Hall. The club is gambling though on the future of Larsson, a large, easy-skating defenceman who's yet to find a groove in the NHL.
Larsson entered the league as a 19-year-old, mostly stumbling through his first five NHL seasons. He's not produced much offence (his career-high is 24 points in 64 games) and owned anemic-looking puck possession numbers last season, while notably starting a majority of shifts in the defensive zone.
Chiarelli preferred to look at Larsson's upside on Wednesday.
"It took him a while to get going but he had a terrific year this past year," Chiarelli said."He moves the puck, he defends well, he can log a lot of minutes."
Edmonton is betting on him fulfilling his potential as a former top-five pick and evolving into a top-pairing defenceman, much as fellow Swedish countryman Victor Hedman did for Tampa. Hedman was deemed a bust early in his career, before breaking out as a 23-year-old with 13 goals and 55 points.
He's now a regular contender in the Norris Trophy conversation.
That's a large leap though. Edmonton would likely be happy with Larsson evolving into a capable piece of their top-four on defence.
"I'm pretty shocked right now, but my overall feeling is excited to come to Edmonton," Larsson told local radio station 630CHED from Sweden. "I know a couple of Swedes there. . . They've got a lot of good things going and a lot of young, exciting players."