Oladipo: Gilbert remarks 'added fuel to the fire'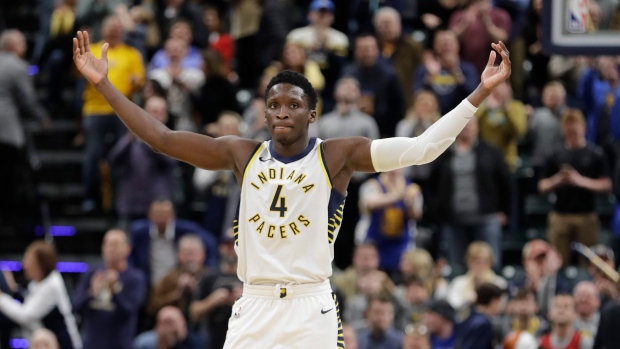 Indiana Pacers shooting guard Victor Oladipo says he was well aware of Cleveland Cavaliers owner Dan Gilbert's comments ahead of Game 1 on Sunday in which the third-year pro dropped 32 points in a lopsided 98-80 victory.
Gilbert remarked that the Pacers "could have done better" than receiving Oladipo and Domantas Sabonis in the trade of Paul George to the Oklahoma City Thunder last offseason.
"I already had fuel," Oladipo said in his postgame availability on Sunday. "You could say it added fuel to the fire...that was so long ago. It came up recently, obviously, because we're playing the Cavs in the series. I'm aware of what he said. Can't control his opinion. All I'm focused on is myself and becoming the best Victor Oladipo possible."
Oladipo added six rebounds, four assists and four steals in the victory.
While a lopsided victory over the three-time defending Eastern Conference champions might have been eye-opening for some, Oladipo says people shouldn't have been surprised if they had watched the Pacers this season.
"We've been playing like this all year," Oladipo said. "Been playing hard on both ends all year. It just hasn't been magnified. So it's the playoffs now, we've been doing this all year. Now everybody sees, so it's like, it's kind of shocking to everybody, I guess you could say. But we've been playing hard. We've been playing our butts off on both ends of the floor all year."
Game 2 in the series goes Wednesday night at the Quicken Loans Arena.