Olney: Jays chances for Ohtani are 'slight'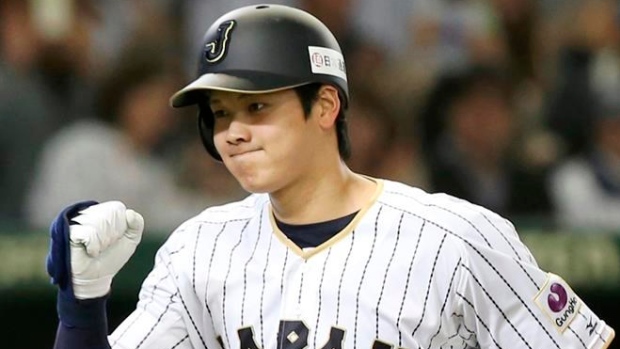 The Shohei Ohtani sweepstakes are heating up but it doesn't look like the Toronto Blue Jays are at the top of the list according to ESPN's Buster Olney.
"[The Blue Jays' chances] are probably very slight. Every general manager given the circumstances with the bidding on Ohtani should be saying the same thing. If you don't come out and say you want the player, you're prepared to pay for the player, then it's like the general manager equivalent of not running out a ground ball," Olney told TSN's Landsberg in the Morning.
The Blue Jays are one of those teams that have announced a desire to pursue Ohtani.
"We are extremely prepared," Atkins told TSN's Scott Mitchell Monday at the GM meetings in Orlando. "He fits about as well as anybody could fit for our team right now. He's an incredible talent."
"The expectation is in the industry that he's going to land with, big surprise, the Yankees or the Dodgers," Olney said.
He added that being able to both pitch and hit is expected to be a factor for Ohtani, but not much else is known when it comes to deciding between teams.
The Seattle Mariners are also expected to make a push. General manager Jerry DiPoto and and vice president of scouting Tom Allison went to Japan to scout Ohtani and other Japanese prospects.
"I don't know if I'll be given the chance to be able to do it, so first of all, I'll have to listen to what they say," Ohtani told reporters at a news conference last week last week regarding a potential role as both a pitcher and a hitter.
Ohtani will fall under bonus pool restrictions, leveling the playing field in terms of the amount of money teams are able to offer the two-way superstar.
According to Olney, Ohtani is a dual-threat with a fastball exceeding 100 MPH with great speed and a middle-of-the-order bat who would be capable of a $200-$300 million deal if he decided to wait until his 25th birthday to come to North American as an unrestricted free agent.
Last week, the MLB reached a "tentative understanding" with Japan's top league on a one-year extension on the current posting system that expired last month. The Nippon Ham Fighters, Ohtani's team in Japan, have agreed to post the 23-year-old phenom.
ESPN's Jerry Crasnick polled 40 MLB general managers, assistant general managers, scouts and baseball operations people on a variety of questions, including where they expect Ohtani to land. The results are as follows:
1. New York Yankees: 7.5
2. Los Angeles Dodgers: 7.5
3. Texas Rangers: 5
4. Nippon Ham Fighters: 4
5. Seattle Mariners: 4
6. San Diego Padres: 1
7. Chicago Cubs: 1
8. Houston Astros: 1
9. San Francisco Giants: 1
10. Boston Red Sox: 1
The remaining respondents had no prediction.