Olney: Jays think Vlad Jr. is big-league ready, but will hold him out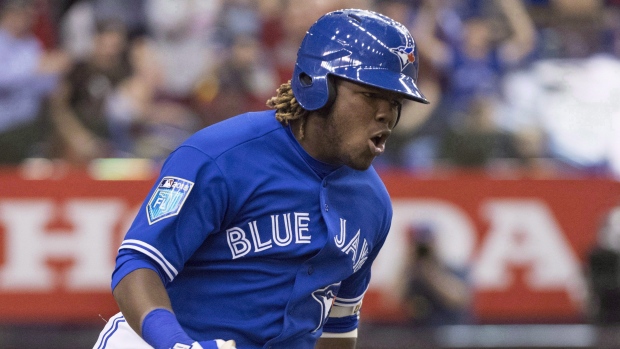 There has been a lot of debate about when the Toronto Blue Jays should allow prized prospect Vlad Guerrero Jr. to make his major-league debut.

Guerrero Jr. isn't expected to be on the Blue Jays' Opening Day roster, but ESPN's Buster Olney doesn't believe it will be long before the stud 19-year-old is playing with the big-league roster this season.

"I think you'll see him in mid-April after enough time passes during the regular season where free agency has been deferred by a year," Olney said Tuesday morning on TSN 1050 Toronto's First UP. "Within baseball that's standard operating procedure. A lot of players, agents, the union are unhappy with that and I think that's absolutely legitimate. But if the Blue Jays didn't handle it like that then they would be at a competitive disadvantage because that's the way for years that teams have been doing it.

"So I would expect that after he gets a couple of weeks of seasoning in Triple-A to refine his swing – however [Blue Jays GM] Ross Atkins will describe it – he'll be in the big leagues because in talking with evaluators, they think he's ready for the big leagues right now and that he's absolutely a high-impact hitter."

Guerrero Jr. hit 20 combined home runs and 78 RBIs between Double-A and Triple-A last season en route to being named the Baseball America Minor League Player of the Year.

Another prevalent topic of discussion surrounding the Blue Jays is the displeasure starting pitcher Marcus Stroman expressed Sunday about his lack of a long-term offer from the Blue Jays.

Olney, who says the Blue Jays are definitely currently in a rebuild, said he's surprised that the team didn't trade Stroman this off-season.

"It does feel like the [the Blue Jays] are trying to turn things over and have a different type of atmosphere, and, let's face it, in the past Marcus [Stroman] has made it clear that he's unhappy with specific situations. I was surprised by the timing of what he said the other day because he's coming off a down year, and if he was going to get a long-term multi-year deal now, he'd be selling himself short.

"…I do wonder if all of this will accelerate the Jays desire to make a move, because I did hear from other teams that [Stroman] was absolutely available during the off-season. The [Blue Jays] may have felt like they just weren't going to get equal value in return in a trade coming off last year. "

Stroman, 27, posted a 5.54 ERA last season, which was the worst of his five-year career.

The Blue Jays play their first exhibition game of the spring on Feb. 23 against the Detroit Tigers.