Olympic brass scouting Canada's juniors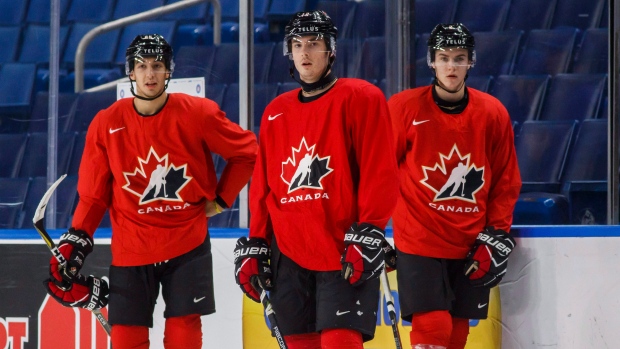 Members of Hockey Canada's Men's Olympic program, including general manager Sean Burke, will be in Buffalo on Tuesday to scout members of the Canadian World Junior team.
Canada is taking on Switzerland Tuesday in their quarter-final matchup after finishing round-robin play at 3-0-1. TSN Hockey Insider Bob McKenzie reports Olympic head coach Willie Desjardins, vice president Scott Salmond and assistant coach Scott Walker will also be in attendance.
TSN Hockey Insider Pierre LeBrun reported last month the CHL and Hockey Canada are set to meet after the World Junior tournament to determine if junior players will be allowed to join Canada for PyeongChang 2018.
Defenceman Victor Mete is one player believed to be drawing interest for the Olympic tournament. Mete has appeared in 27 games with the Montreal Canadiens this season but was loaned to Canada for the World Juniors.
If the Canadiens elect to return him to the OHL after the tournament, he could be eligible to play for Canada. He owns two assists through four games at the World Juniors and will play Tuesday despite an injury.
Hockey Canada is expected to name the Olympic roster next week.