Only number Johnson needs to know is No. 1​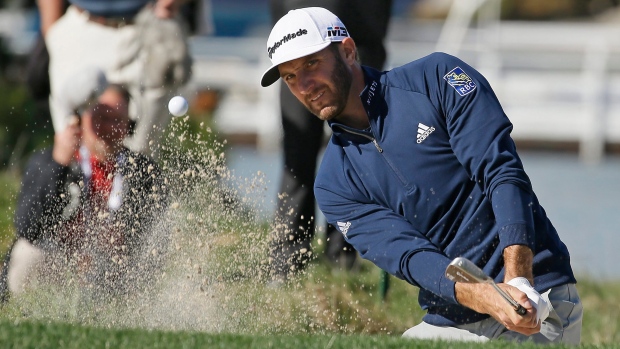 LOS ANGELES, Calif. – On Wednesday, Dustin Johnson admitted that he isn't very good at math, so just how they compile the Official World Golf Rankings might be a bit beyond him. But he does know exactly where he sits.
"I really don't understand them," Johnson admitted after his pro-am round at the Genesis Open, "but I could read 'one.' "
That's the number that's been beside 33-year-old's name for a year now and, with his recent form, it doesn't seem as if it's going to go anywhere in the near future. Since the world rankings were established in 1986, Johnson's run is just the ninth time a golfer has managed to hold on to the top spot for 52 weeks (or longer) consecutively.
While a crop of chasers – including Jon Rahm, Jordan Spieth and Justin Thomas – tries to narrow the gap, Johnson keeps pushing his name out in front. So far, he's played three events this season, winning one and finishing second in the other two.
"The guys out here are very, very good and there's a lot of very talented players," said Johnson, who won the Sentry Tournament of Champions in January. "But, for me, I use it as motivation to keep working harder and keep doing the things that I'm doing."
Last year at this time, it seemed as if the six-foot-three Johnson was going to run the table. He won this tournament at Riviera by five shots and followed it up with titles at two World Golf Championship events. Heading into the Masters, he was the overwhelming favourite to win the Green Jacket.
That, of course, was before he slipped on the front step of his rental house and injured his back, which not only took him out of the tournament, but onto the sidelines for some time. He really didn't feel fully recovered until late summer, when he won his fourth tournament of the year, the Northern Trust.
Just as a precaution, he's moved to a different rental home for this year's Masters.
"It's got bad juju," he said of the old one, "so I'm not going there."
It is somewhat remarkable that despite missing a month of play and being hobbled by the bruised back, Johnson was still able to hold on to top spot, especially in such a competitive period on the PGA Tour.
"It's not surprising that I'm No. 1 all year," he said. "I feel like I played well enough to get there. But struggling a little bit through the summer to hold on to it was maybe a little bit [of a surprise]. But like I said, I don't understand how the rankings work."
To be fair, not many players on the PGA Tour could pass a math test on how the players get sorted into their slots on the world ranking each week. But few have any doubts as to who has played the best golf over the past year.
As he closes in on a return to the Masters, Johnson feels good about where his game is compared to a year ago, even if he can't quite quantify it.
When asked the difference between last year and this one, he gave a number of .5. Then things got a bit confusing.
Question: ".5 difference?"
Johnson: "Yeah, difference"
Question: "Or .5 total?"
Johnson: "Difference. Total. How am I supposed to rate that? I don't know. I feel just as good as I did last year, how about that?"
We told you math wasn't his strong point, right?
So why has Johnson been able to stay on top? He's always been a beast off the tee, that much we know. He currently sits first in the Stokes Gained: Off The Tee category.
But what has genuinely lofted his game to the place it is now is his wedge play. In Strokes Gained: Around The Green, he sits 16th. In 2015 he was 160th in that stat.
Much of the difference can be attributed to hard work with his wedges as well as his relentless use of the Trackman, a radar measurement and analysis device that tracks shots. Johnson will hit wedges and attempt to dial in shots to specific yardages, building a feel with each swing. The improvement has been close to staggering and made his game almost bullet-proof.
Right now, the only numbers Johnson really needs to worry about are the ones he puts on the scorecard. If he can keep those straight and add them up at the end of 18 holes, there's a good chance he can hang on to that top spot and raise more trophies.