Oshie, Gardiner pay tribute to family's military sacrifice
Inside T.J. Oshie's stall in the locker room the Navy Midshipmen call home, a photo of the USS Saint Paul battleship was propped up next to a puck. TSN's Frank Seravalli has more on the special connection Oshie and Jake Gardiner have with Saturday's outdoor game at Navy-Marine Corps Memorial Stadium.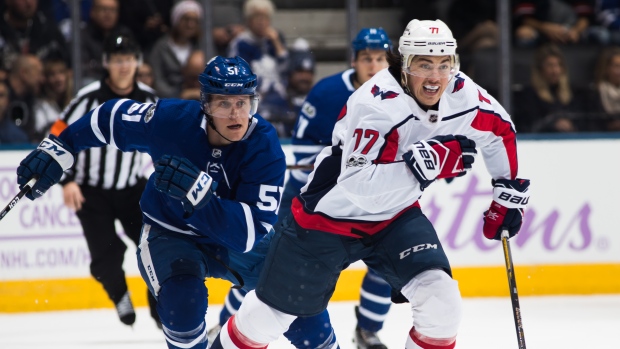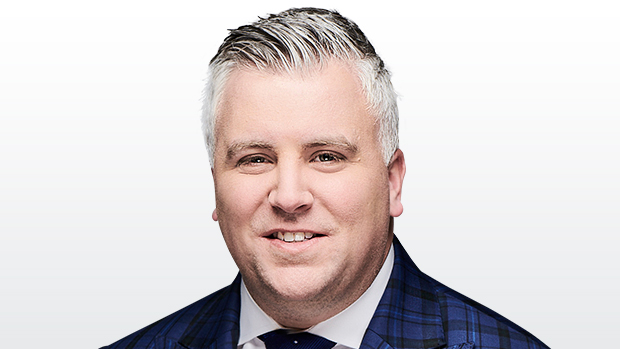 ANNAPOLIS, Md. — Inside T.J. Oshie's stall in the locker room the Navy Midshipmen call home, a photo of the USS Saint Paul battleship was propped up next to a puck.
Nearly 700 players and coaches have now participated in at least one of the NHL's 24 regular season outdoor games, but for Oshie, it was fitting that his first waited for the 2018 Stadium Series at the United States Naval Academy.
Both of Oshie's grandfathers served together on the heavily armed Saint Paul, the muscle for aircraft carriers - but didn't make the connection after until his parents started dating.
"They were good buddies on the ship together and then their kids ended up getting married without them knowing," Oshie told reporters this week. "My mom told her dad, my grandpa Dexter, who she was dating, and sure enough he was like 'Oh, one my best friends in the Navy was a Richard Oshie.' And she said, 'Yeah, that's his dad.' It kind of came full circle there."
Everywhere you look at Navy-Marine Corps Memorial Stadium, it's hard not to be captivated by the setting that will make this the most unique outdoor game yet.
The rink itself is surrounded by a water backdrop on the field, made to look like it is part of an aircraft carrier. A green buoy sits just off one of the corners of the rink.
Nearly 38,000 fans will fill seats individually dedicated to fallen sailors by classmates, friends and family members. The names of famous Navy battles dot the stands.
Some 500 Midshipmen will make their way over from campus in this small seaside state capital to take in the game. Members of Navy's club hockey team chatted with Maple Leafs coach Mike Babcock after practice on Friday.
High winds prevented both the Maple Leafs and Capitals from holding morning skates on Saturday, but the puck will drop at 8 p.m. ET as schedule. Of course, there will be all of the pomp and circumstance - with a pre-game flyover from Naval aviators - to kick off the night.
"That always gets you going," Leafs forward James van Riemsdyk said.
Maple Leafs defenceman and Minnesota native Jake Gardiner shared the story of how his grandfather, Del Jensen, nearly made the ultimate sacrifice in an accident onboard the USS Bennington in 1954. Gardiner's grandfather overslept that day, but should have been in a portion of the ship where an explosion happened and killed 103 crewmen.
"Just lucky, I guess," Gardiner said Friday. "He's pretty excited about this game, to have us play in this setting. It's pretty cool. Both my grandparents fought in two different wars. People who defend our country every day, it's cool to be in the same area they are."
Oshie, Gardiner and van Riemsdyk are among the eight American-born players who will skate in Annapolis, while perhaps the most prominent, Auston Matthews, continues to rehab a shoulder injury back in Toronto.
But even for the Canadian-born or non-North Americans, they say this game holds special meaning because of the scene. The NHL hopes hold other outdoor games at American military academies in future years.
"I'm obviously partial to Canada … This one is, if you're a North American, this one's more special just because of the men and women that look after you and give you all the privileges you have in your life by keeping you safe and living in a democracy," Leafs coach Mike Babcock said. "So, to me, it's a special, special thing."
Oshie will be thinking of both of his grandparents on Saturday night, with that photo serving as a gentle reminder, while 15 family members flew in from the Seattle area for the game.
"It's a huge honour," Oshie said. "I try to say it as much as I can, but you can't thank the military enough, you can't appreciate them enough for the sacrifices them and their family make. So for us to come to these facilities and these stadiums and play these games, you just feel like you're in a part of history here."
Contact Frank Seravalli on Twitter: @frank_seravalli