Outdoor game on Parliament Hill could be in works for Senators, Canadiens
Could the Ottawa Senators and Montreal Canadiens play an outdoor game on the grounds in front of Parliament Hill in 2017? The mayor of Ottawa certainly seems to think so. Ian Mendes of TSN 1200 Radio explains that a pop-up stadium is a possibility at the iconic venue.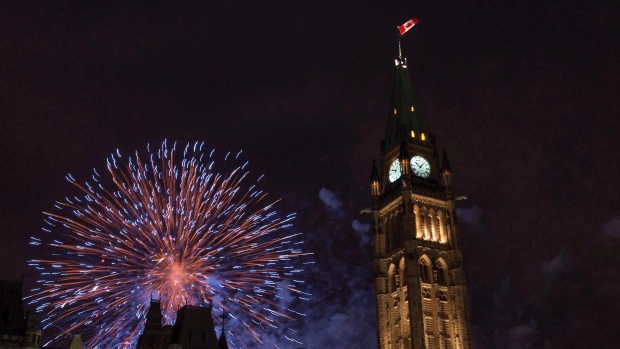 Could the Ottawa Senators and Montreal Canadiens play an outdoor game on the grounds in front of Parliament Hill in 2017?
The mayor of Ottawa certainly seems to think so.
Speaking to TSN 1200 on Tuesday, mayor Jim Watson said that the wheels could already be in motion to see the game played on Parliament Hill.
"There's been a number of discussions that have gone on between the federal government and the NHL about having it on the Hill," said Watson. "And it's not a far-fetched idea - it's physically possible. You probably wouldn't be able to have as many spectators because you wouldn't have the space and there are obviously security concerns, but my understanding is that the federal groups that are responsible have said it is a possibility."
The Ottawa Senators went on the record on Tuesday to say they have not been actively involved in any formal discussions at this point.
"A pop-up stadium concept is something we've talked about in the past. Parliament Hill would be a unique backdrop if you could do it, but we haven't done any work on that," Senators president Cyril Leeder told TSN 1200.
The logical choice for an outdoor game in Ottawa would be the newly renovated football stadium TD Place, which is expected to host the Grey Cup in November of 2017. The CFL's title game would likely take place just a couple of weeks before the proposed outdoor NHL game in Ottawa, meaning some of the logistical hurdles - such as adding extra seating to the stadium - could already be in place for a potential Senators-Canadiens game.
The obvious concern with hosting a game on Parliament HIll, as they mayor noted, is the lack of space to set up an NHL arena and seating for tens of thousands of spectators. But Watson is convinced this idea could still work within the tight confines of the Parliament Hill lawn.
"It's a very big piece of real estate. It's a large area and obviously an artificial ice surface would have to be installed and temporary seating because there's no seating at all there," said Watson. "But these are things that have been done in other jurisdictions, so it's not out of the question. I think just from a patriotic point of view and with a wow factor to have the Peace Tower and the Parliament buildings and a rink nestled between the East Block and the West Block would be fantastic."
Leeder did acknowledge that a Montreal-based company that set up an 80,000-seat temporary venue for a U2 concert in that city has been in discussions with the NHL about possibly working on pop-up stadium models for outdoor hockey games. Leeder also said the league will start looking at outdoor venues for 2017 in the next couple of months, now that the World Cup of Hockey details have been ironed out. And the Senators president was quick to point out that it would be the NHL's decision - not the hockey club's - about where any outdoor game would ultimately be staged.
"I've said before the outdoor game, we just want to get a game here. We've been working on it, whether it's played at Lansdowne or another location - that is the league's decision. They pick the venue," added Leeder.
The idea of hosting an outdoor NHL game at another one of Ottawa's iconic spots - the Rideau Canal - has essentially been ruled out by officials due to weather concerns. The ice surface on the world's longest skating rink often doesn't freeze over until the middle of January, which would not line up with the December timeline for the proposed 2017 game.
But at this point, it seems like officials are willing to seriously explore the possibility of hosting an outdoor NHL game on the grounds of Parliament Hill.