Ovechkin reaches 1,000 points in Caps' victory over Penguins
Frank Seravalli, TSN Senior Hockey Reporter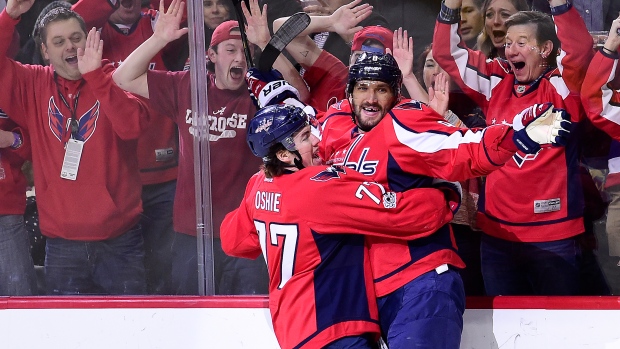 No one can say Alex Ovechkin lacks a flair for the dramatic.
With the hockey world tracking his assault on history, Ovechkin needed just 35 seconds. The Great Eight seized the spotlight once again and carved his name into the record books when he became the first Washington Capital to hit the 1,000-point plateau on Wednesday night.
That Ovechkin did it on Verizon Center ice against the Pittsburgh Penguins and Sidney Crosby, whose shadow he has skated in since 2005, made his milestone moment the more memorable. His first period strike gave him 545 goals and 455 assists.
"I kind of think about it before the game, everybody's here and it will be nice to get 1,000th point at home," Ovechkin told reporters postgame. "Pretty excited that it happened. It's a big moment for organization, for myself and the fans."
Ovechkin scored again in the second period as his Capitals rolled to a 5-2 victory over the Penguins. The goals were his 20th and 21st of the season.
Ovechkin, 31, became the 24th-fastest player in NHL history to hit 1,000 points, accomplishing the feat in 880 career games. That's 58 fewer than hockey luminary Gordie Howe - the first NHL player to hit that mark in 1960. Among active players, only 44-year-old Jaromir Jagr reached it quicker (763), doing so back on Dec. 30, 2000.
Ovechkin is the 84th player to hit the millennium mark among the more than 7,000 men who have laced up the skates for at least one NHL game. Only eight of the previous 83 netted more goals than assists in their career, like Ovechkin. Last season, Ovechkin became the fifth-fastest player to notch 500 goals - a total that is climbing almost as consistently as it has in his career.
Fittingly, Crosby is closing in Ovechkin - nearing the same 1,000-point milestone, but he could require nearly 130 fewer games to do it.
Crosby, 29, has missed 202 games in his NHL career, hit with multiple concussions in his prime. Ovechkin's watershed night serves as a nod to both his consistency and durability. Both players ushered the NHL into the post-lockout era in 2005-06 but Ovechkin has played in 139 more games - never missing more than 10 in any season despite a myriad of bumps and bruises.
Aside from Crosby, only three other active players are within striking distance of 1,000: Henrik Sedin (996), Daniel Sedin (965) and Shane Doan (956). Eight players have retired within 50 points of the plateau.
Similar to when Jagr passed Mark Messier for second on the NHL's all-time points list last month, Ovechkin's benchmark moment is a reminder of Wayne Gretzky's staggering achievements. Gretzky netted his first 1,000 points by the age of 23 - and 2,000 at 29, younger than Ovechkin is now. He remains the fastest player to both his first 1,000 points (424 games) and both his second 1,000 points (433 games).
Yet, Ovechkin has an outside chance to knock Gretzky down a peg. If Ovechkin continues to score at his current career pace of 0.62 points - which is unlikely - he would score his 895th goal to pass Gretzky for most all-time in his 1,444th career game.
To get to 1,444 games, Ovechkin would need to play approximately seven more seasons - which would bring him to the age of 38. That isn't unreasonable, not with Ovechkin's drive, hunger and passion - and sense of the moment.
Contact Frank Seravalli on Twitter: @frank_seravalli