Ovechkin wills Capitals over Golden Knights to take series lead
Alex Ovechkin waited 4,623 days for Saturday night, his first Stanley Cup Final game on home ice, and he didn't need 22 minutes to leave his mark. No, on this night, Ovechkin was not going to be denied. Ovechkin was the Capitals' 235-pound wrecking ball on skates, flying at peak Ovie level to will Washington to within two wins of Lord Stanley's chalice, TSN's Frank Seravalli writes.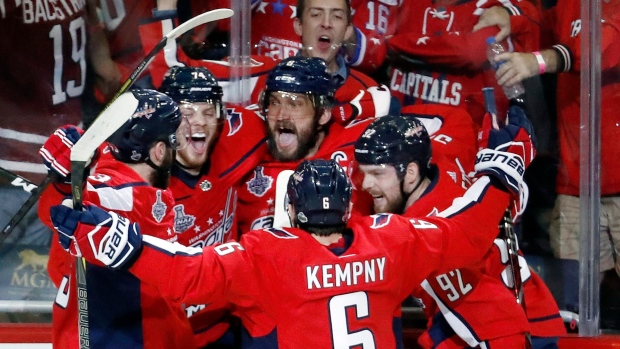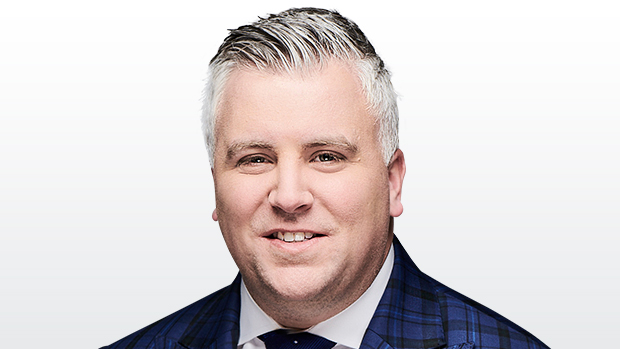 WASHINGTON — If Boston has Bobby Orr flying in "The Goal" in 1970, then Alex Ovechkin leaping over Brayden McNabb to poke in the first Capitals home ice Stanley Cup Final goal since 1998 is Washington's millennial equivalent.
This one was iconic, drenched in colour and 4,623 days in the making since Ovechkin first took the NHL by storm on Oct. 5, 2005.
"I thought it was just sort of the right thing in our first victory in the final at home that Alex would score the goal," coach Barry Trotz said. "I thought that was a little bit of poetic justice, if you will, for all the tough times."
On this night, the Great Eight was not going to be denied. He was the Capitals' 235-pound wrecking ball on skates, flying at peak Ovie level.
"He was possessed out there," John Carlson said.
This was Ovechkin's moment on the big stage. Even the Vegas Golden Knights knew it.
Ovechkin leapt to the top of the Conn Smythe Trophy conn-versation as the force behind the Capitals' stirring 3-1 victory over the Golden Knights in Game 3. For the first time ever, the Capitals have a lead in the Stanley Cup Final.
"It's the Stanley Cup Final," Ovechkin said. "It's all-in for everybody."
From the first shift, when Ovechkin tested Marc-Andre Fleury - the man who blocked his path to glory so many times over the last nine failed playoff runs - you could almost feel Ovechkin was not going to let this once-in-a-career opportunity slip away.
"As a coach, you want your top players to set the tone," Trotz said. "He set the tone with intensity, with physicality. He did all the details along with what he does, he scores at a massive rate. You add all those things to his game and you've got a whole team that is going to follow that."
Ovechkin etched his name into the Capitals' record book again, tying John Druce for the most goals in one playoff (14), while also matching Winnipeg's Mark Scheifele for the lead this spring.
Watching Ovechkin zoom all over the ice like a kid on Christmas, it wasn't all that difficult to imagine the Caps' captain hoisting the Stanley Cup he has so long chased.
If you could bottle up Ovechkin in the Stanley Cup Final, he would be like a White Russian flavoured 5-Hour Energy shot.
And all of Washington, rocking the red, was drunk on him on Saturday night.
"He's on another level," Carlson said. "He's always been that brash celebrator. It's great to see and he's as engaged as anyone could ever be, I think. It shows in his game and it shows in the effect that it has on the rest of us."
The odds are in Washington's favour now. The winner of Game 3 in a tied Stanley Cup Final has claimed the prize more than 77 per cent of the time - though the last three times that's happened, the team in the lead has lost: Tampa Bay (2015), Boston (2013) and Calgary (2004).
The Capitals can take a commanding 3-1 edge in this best-of-seven series with Game 4 on Monday night. The Golden Knights, who have only trailed once in these playoffs, looked like a team running on empty - if not low on magic.
"We had twice as much time off as they have in the playoffs. We should have a lot in the tank," Vegas defenceman Deryk Engelland said. "I just think we're not playing our identity. We're trying to make too many plays."
All the Capitals' stars did was make plays in Game 3, the clear difference over the Golden Knights. Vegas' once hot top line, led by Jonathan Marchessault, has scored just three of their nine goals this series. It was fourth liner Tomas Nosek that netted the Golden Knights' only tally.
Meanwhile, Ovechkin's linemate and stalking horse in the Conn Smythe - Evgeny Kuznetsov - collected the game-winner. The Capitals are just the fourth team in the last 20 postseasons to feature two scorers with at least 12 goals apiece.
They are the new Big Red Machine.
Kuznetsov returned to the lineup after missing the bulk of Game 2. The playoffs' leading scorer with 27 points compared himself to Michael Jordan playing hurt in his prime.
"I mean when you're hurt, you play a little better always," Kuznetsov said.
Ovechkin has been playing this way nearly the entire playoffs. He was quiet in Game 1, but he explained part of that as energy expended on nervousness.
Instead, Ovechkin - the face of the franchise - continues to be the face of these playoffs with his pure exuberance and unbridled joy on the ice. He played Game 3 like it was a Game 7.
He roared in his own celebration, then screamed louder on the Capitals' bench with Devante Smith-Pelly added the insurance goal. For Ovechkin, there is no acting for the camera. He wears his emotions on his sleeve.
"It's just automatic," Ovechkin said. "You just get excited. It's huge moments for us. You just want to give emotion to your teammates and to yourself as well."
It's emotion that he passed on to the city of Washington, which has been waiting even longer than he has over these two decades between hosting Cup Final games.
"We've had a lot of moments, not as many good ones as we'd like," Trotz said. "In past failures you'd feel a lot of anxiety even before you started the playoffs. I think we've gotten past that as a group. We've gotten past that hopefully as a community. Hopefully we can continue on and hopefully bring something here."
They are two wins away.
Contact Frank Seravalli on Twitter: @frank_seravalli