Pacers' Copeland issues apology after being stabbed
Indiana Pacers forward Chris Copeland is apologizing for making a "bad choice" and promised to work toward a full recovery after being stabbed outside a New York nightclub early Wednesday.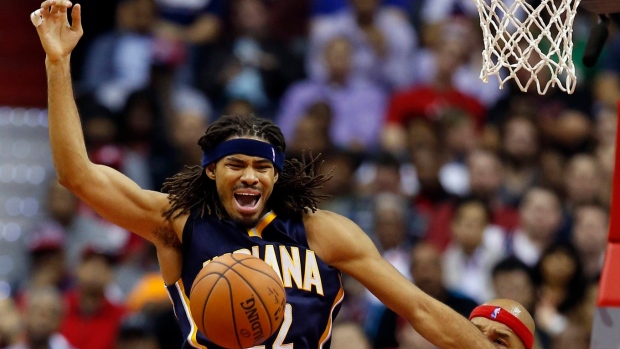 INDIANAPOLIS - Indiana Pacers forward Chris Copeland apologized Thursday for making a "bad choice" by staying out too late before a game and promised to work hard to make a full recovery after he was stabbed outside a New York nightclub.
The team said Copeland is in stable condition following surgery on his abdomen and left elbow. The Pacers say there is no timetable for Copeland to be released.
Copeland's girlfriend and another woman were also stabbed early Wednesday morning. A 22-year-old suspect was in custody. Two Atlanta Hawks players, Pero Antic and Thabo Sefolosha, were arrested for allegedly obstructing authorities. Their attorney expects charges to be dismissed.
"I want to thank all the fans, friends, teammates, coaches and the Pacers organization for their support and prayers during this time," Copeland said in the statement provided by the Pacers. "I also want to apologize to everyone, particularly the NBA and the Pacers for my bad choice at being out at that time. I am doing as well as can be expected and I will work hard to make a full recovery."
Copeland's teammates wore blue headbands in his honour during Wednesday night's 102-86 victory over the Knicks at Madison Square Garden.
Copeland's future with the Pacers is unclear. He is expected to become a restricted free agent this summer.
He was averaging 6.2 points in 16.6 minutes this season and was expected to lose even more playing with the return of two-time All-Star Paul George, who made his season debut Sunday after missing eight months with a broken right leg. Copeland, a former Knicks player, might not play again this season unless the Pacers make a deeper-than-expected playoff run.
The Pacers visit Detroit on Friday, host Oklahoma City on Sunday and Washington on Tuesday and close out the regular season Wednesday at Memphis. Indiana is currently tied with Miami for ninth in the Eastern Conference, one game behind Boston in the chase for the eighth and final playoff spot.
Police said Wednesday's violence broke out when a man eavesdropping on Copeland's conversation started arguing with ball player, then pulled a knife. Copeland's driver grabbed the suspect and held him until police arrived outside the trendy Manhattan nightclub 1Oak.
Police said the two Hawks players had been at the club but were not with Copeland. They were released without bail and did not play against the Nets on Wednesday at the Barclays Center. Atlanta still beat Brooklyn 114-111.
Antic and Sefolosha said in a joint statement they were sorry for any embarrassment they caused.
"As members of the Atlanta Hawks, we hold ourselves to a high standard and take our roles as professionals very seriously," the statement said. "We will contest these charges and look forward to communicating the facts of the situation at the appropriate time."
___
Associated Press writer Colleen Long in New York City also contributed to this report.