Packers LB Peppers returns to Chicago with no hard feelings
Julius Peppers is short and direct when talking in front of the cameras. Not even a looming trip to Chicago to face his old team Sunday will get the Green Bay Packers' even-keeled pass rusher to show some emotion.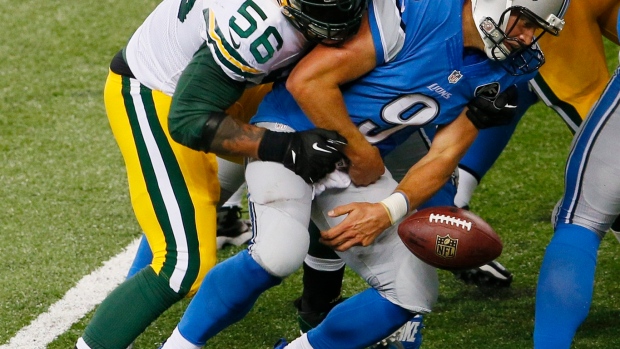 GREEN BAY, Wis. - Julius Peppers is short and direct when talking in front of the cameras.
Not even a looming trip to Chicago to face his old team Sunday will get the Green Bay Packers' even-keeled pass rusher to show some emotion.
This is just business, Peppers said Thursday. He would know after getting cut by the Bears in the off-season as a salary cap hit.
"Never hard feelings. It's the business," the 34-year-old Peppers said. "People might not go from Green Bay to Chicago, or from Chicago to Green Bay, all the time, but people change teams all the time. It's nothing really extraordinary about this situation."
It's also not often that a team gets to add a 6-foot-7 pass rusher who entered the season with 118 1/2 sacks.
"Yes, I foresee a little extra motivation, but I hopefully don't foresee him having a bigger game against us," Bears running back Matt Forte said. "He definitely has found new life over there with a change of scenery and a new team and a new defence."
It could have been different had the outcome of the last game between the fierce NFC North rivals gone the Bears' way.
Fourth-and-8 from the 48 with 46 seconds left. Peppers, with Chicago, rushes free off the right edge.
Fullback John Kuhn slides over at the last second and chips Peppers just long enough to allow quarterback Aaron Rodgers to take a step free left. Rodgers finds receiver Randall Cobb down the field with 38 seconds left for a touchdown.
Packers win 33-28 to take the division title.
"If I would've made the play, I probably wouldn't be here now," Peppers said.
"It's kind of like one of those things like, at the time it was the worst thing that could've happened," he added. "But now it's like the best thing that could've happened."
Playing mainly right defensive end, Peppers had 175 sacks in his four years in Chicago. His arrival in Green Bay fit with coach Mike McCarthy's plan to punch up the pass rush and get more big plays.
The Packers, who primarily played a 3-4 defence in recent years, have used more four-linemen looks with Peppers. He has also been asked to cover more than he has had in the past.
McCarthy said Peppers is growing more and more comfortable. Last week, Peppers got his first sack with Green Bay, forcing Detroit's Matthew Stafford to fumble in the process.
"They're doing a good job of resting him and then playing him so he's staying fresh," Bears offensive co-ordinator Aaron Kromer said. "And their defensive line, they're rotating guys keeping them fresh and that's where you see the difference — he's not playing every down so when he comes in he can give it everything."
On the field is where Peppers is at his vocal, animated best, Packers defensive lineman Datone Jones said. Midweek in practice, he's a second coach on the field.
Jones, a second-year pro, spoke of how Peppers has taught him ways to shed blockers. To Jones, Peppers is a role model.
"Just how he's studying in meetings, how he's taking notes down and those are some of the things I do every day," Jones said. "It's all about the little things, you know you do the little things, you have a bigger payout."
Jones said he thought Peppers was "going to be very emotional going back to Chicago."
If that's the case, Peppers is doing a good job of not letting on.
"I have nothing but respect for that whole organization, from the ownership to the coaches to the players," Peppers said. "This is a business trip. I'm a Green Bay Packer now, so that's what it is."
But returning with Chicago for the first time to Carolina — the team that drafted him in 2002 — was different.
Going back to Chicago — that appears more to be more about business.
"It was the first time playing against a former team. It's just a little bit different. Carolina is home. So that was the main thing; it was home," Peppers said. "Chicago wasn't really home. It was more of a place ... it wasn't home. So, that's the difference."
Note: Matthews (groin) was limited for a second straight day in practice, though he said afterward that he would be "out there" on Sunday. Fellow LBs Nick Perry (wrist) and Brad Jones (quad) were also limited.
___
AP freelance writer Gene Chamberlain in Lake Forest, Illinois, contributed to this report.
___
AP NFL website: www.pro32.ap.org and www.twitter.com/AP_NFL
___
Follow Genaro Armas at http://twitter.com/GArmasAP