Packers' Montgomery has multiple broken ribs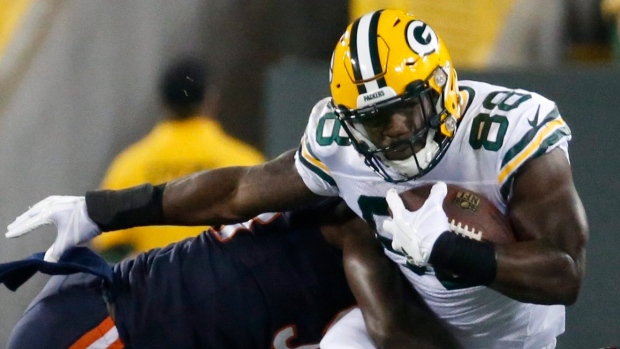 Green Bay Packers running back Ty Montgomery said Monday he hopes to dress against the Dallas Cowboys this week, but is making no promises after breaking multiple ribs in Thursday's win over the Chicago Bears.
Montgomery co-hosted USA Today's Clubhouse Live with teammate Aaron Jones, revealing the full extent of the injury that forced him to leave against the Bears.
"I'm going to do my best to try to be out there (against the Cowboys)," Montgomery said. "But of course, I have to be wary of risking something more serious. I don't want to puncture any internal organs. We all know how serious that can be. It's also kind of frustrating when an injury happens - obviously it's in the public eye and everybody wants to know what's going on. But I wish I could have some privacy on my own injuries sometimes. And I wish the people that are reporting things from anonymous sources could be held accountable for the things that they report.
"It is what it is. But I will say that (the ribs) are broken. Multiple. And I'll be fine. I'm feeling a lot better than I felt on Thursday. I can laugh now, I can sleep now. My movement's fine. It's just a matter of, is it going to be safe enough for me to be out there and not risk internal injury? That's the conversation I'm trying to have now."
The 24-year-old converted wide receiver left Thursday's game in the first quarter after posting five carries for 28 yards. He owns 46 carries for 152 yards and two touchdowns this season. He also has 129 receiving yards this season on 18 catches with one touchdown.
Montgomery was replaced on Thursday by rookie Jamaal Williams but he left the game shortly after with a knee injury. Jones then served as the feature back, posting 49 yards and a touchdown on 13 carries.
"It was awesome because basically we have an entire team of versatile football players," Montgomery said of seeing the depth of the Packers. "I think it's really cool. And Aaron coming in and doing what he does, and he's going to continue to be successful. Aaron's a stud. Dude's really fast. If you haven't had a chance to watch his highlight tape from UTEP, please go do yourself a favor. It's phenomenal. ... Just the focus and the resiliency to handle all the injuries. To handle guys stepping up and playing in multiple positions. The defense getting turnovers. We needed a win like that at home, especially against a division rival."
The Packers (3-1) visit the Cowboys (2-2) on Sunday.