Packers take top spot in NFL Power Rankings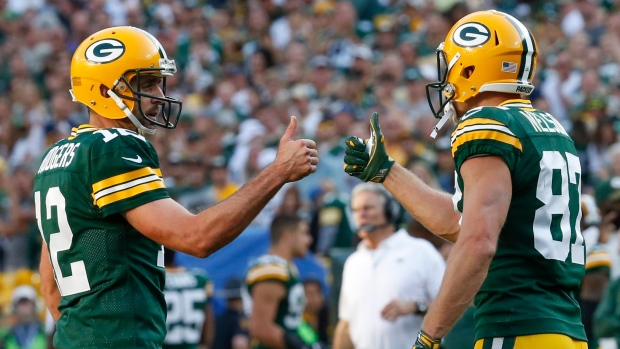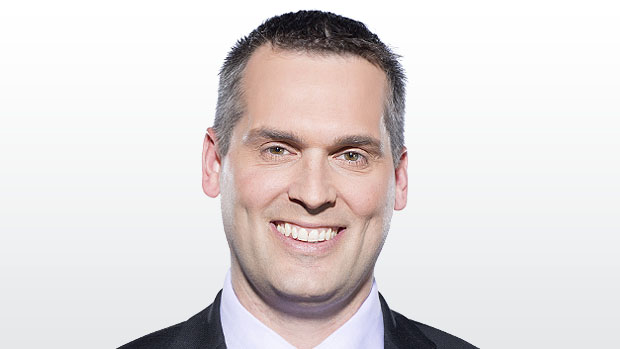 The Green Bay Packers have jumped up to take over top spot in the TSN.ca NFL Power Rankings, replacing the New England Patriots.
With only one game in the books, there shouldn't be too many dramatic shifts, but there are a few teams that surprised, which resulted in moves up. The Minnesota Vikings vault from 15 to eight, the Detroit Lions jump from 19 to 10, and the Philadelphia Eagles fly from 17 to 11.
On the other hand, some teams had disappointing Week One efforts and dropped as a result, most notably, the New York Giants dropping from 12 to 23, and the New Orleans Saints down from 14 to 24, as well as the Arizona Cardinals going from 21 to 26 after losing star running back David Johnson to injury.
GREEN BAY PACKERS
THIS WEEK: 1 LAST WEEK: 3 RECORD: 1-0
Even if the Week One win over Seattle wasn't a thrilling offensive performance, the Packers locked down the Seahawks, holding them to just 225 yards. It the defence is that sturdy, QB Aaron Rodgers should move the ball enough for Green Bay to be really good.
Key Injuries: LT Bryan Bulaga (ankle).
PITTSBURGH STEELERS
THIS WEEK: 2 LAST WEEK: 2 RECORD: 1-0
A three-point win at Cleveland was a bit underwhelming, and RB Le'Veon Bell had just 47 yards on 13 touches, so it wasn't a dominating performance, but WR Antonio Brown caught 11 passes for 182 yards and that moved the chains enough to get the job done.
Key Injuries: OLB Bud Dupree (shoulder).
NEW ENGLAND PATRIOTS
THIS WEEK: 3 LAST WEEK: 1 RECORD: 0-1
New England's fourth quarter collapse against Kansas City leaves the Pats with lots of questions to answer. Tom Brady struggled, and probably misses Julian Edelman, but that's not a serious concern yet. The defence, however, needs to tighten up significantly.
Key Injuries: WR Julian Edelman (knee), WR Danny Amendola (head).
ATLANTA FALCONS
THIS WEEK: 4 LAST WEEK: 4 RECORD: 1-0
The Falcons didn't necessarily impress in a 23-17 win at Chicago, but the result was fine. TE Austin Hooper only had two catches, but an 88-yard touchdown and a 40-yard gain offer glimpses of big-play potential.
Key Injuries: None.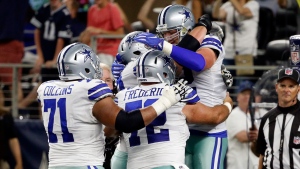 DALLAS COWBOYS
THIS WEEK: 5 LAST WEEK: 8 RECORD: 1-0
Ezekiel Elliott is playing, thanks to a judge's injunction, which makes the Cowboys a more legitimate contender, and the defence was impressive against the Giants, holding them to 233 yards and three points.
Key Injuries: MLB Anthony Hitchens (knee).
OAKLAND RAIDERS
THIS WEEK: 6 LAST WEEK: 7 RECORD: 1-0
The Raiders looked good at Tennessee, with QB Derek Carr efficiently throwing for 262 yards and a couple of touchdowns, while RB Marshawn Lynch looked to be in fine form after taking a year off, gaining 92 yards on 19 touches.
Key Injuries: None.

SEATTLE SEAHAWKS
THIS WEEK: 7 LAST WEEK: 5 RECORD: 0-1
The Seahawks offensive line couldn't protect QB Russell Wilson, and they split just 15 total carries between three running backs – rookie Chris Carson, Eddie Lacy and C.J. Prosise.
Key Injuries: None.
MINNESOTA VIKINGS
THIS WEEK: 8 LAST WEEK: 15 RECORD: 1-0
QB Sam Bradford looked really good (27 of 32, 346 YDS, 3 TD) in Monday's win over New Orleans, and RB Dalvin Cook put up 137 yards on 24 touches in his NFL debut. If that's a sign of things to come, the Vikings could be dangerous.
Key Injuries: None.
KANSAS CITY CHIEFS
THIS WEEK: 9 LAST WEEK: 12 RECORD: 1-0
Between QB Alex Smith throwing for 368 yards and four touchdowns, and rookie RB Kareem Hunt piling up 246 yards and three touchdowns on 22 touches, the Chiefs looked like world-beaters in their season-opening win at New England.
Key Injuries: RB Spencer Ware (knee), FS Eric Berry (Achilles).
DETROIT LIONS
THIS WEEK: 10 LAST WEEK: 19 RECORD: 1-0
The Lions finished strong against Arizona, with more success passing than running against the Cardinals, and scooping up four turnovers sure played a part.
Key Injuries: None.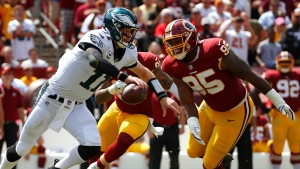 PHILADELPHIA EAGLES
THIS WEEK: 11 LAST WEEK: 17 RECORD: 1-0
There is certainly a chance that QB Carson Wentz is a difference-maker in his second NFL season, and he started strong at Washington.
Key Injuries: CB Ronald Darby (ankle).
L.A. CHARGERS
THIS WEEK: 12 LAST WEEK: 10 RECORD: 0-1
The Chargers struggled to move the ball at Denver on Monday night, yet still rallied for a couple of fourth-quarter touchdowns and were a blocked field goal away from tying the game. So, a disappointing result, but not bad altogether.
Key Injuries: WR Mike Williams (back).
TENNESSEE TITANS
THIS WEEK: 13 LAST WEEK: 6 RECORD: 0-1
The Titans had some drives stall in the red zone against Oakland, leading to threes instead of sevens, so the result wasn't good, but it was also against a quality opponent, so the loss isn't disastrous either.
Key Injuries: SS Jonathan Cyprien (hamstring).
BALTIMORE RAVENS
THIS WEEK: 14 LAST WEEK: 16 RECORD: 1-0
Taking advantage of five turnovers led to a surprising 20-0 win at Cincinnati in Week One. Not surprising that the Ravens would be competitive, but that they would have such a lopsided win with just 221 total yards offensively.
Key Injuries: RB Danny Woodhead (hamstring).
CAROLINA PANTHERS
THIS WEEK: 15 LAST WEEK: 20 RECORD: 1-0
Maybe the win at San Francisco wasn't flashy, but it was a comfortable 20-point victory with a strong defensive performance, limiting the Niners to three points and 217 total yards.
Key Injuries: None.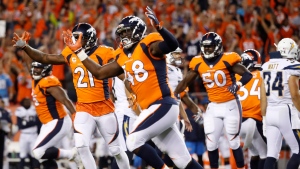 DENVER BRONCOS
THIS WEEK: 16 LAST WEEK: 23 RECORD: 1-0
QB Trevor Siemian was solid, passing for two scores and rushing in another, and RB C.J. Anderson gained 88 yards on 21 touches to lead the Broncos to a narrow win over the Chargers in Week One.
Key Injuries: RB Devontae Booker (wrist), DE Jared Crick (back).
BUFFALO BILLS
THIS WEEK: 17 LAST WEEK: 24 RECORD: 1-0
Beating the Jets doesn't earn much extra credit, but with RB LeSean McCoy piling up 159 yards from scrimmage and QB Tyrod Taylor putting forth a solid game, the Bills start the season with some cautious optimism.
Key Injuries: None.
TAMPA BAY BUCCANEERS
THIS WEEK: 18 LAST WEEK: 18 RECORD:
The Bucs got an unexpected bye due to Hurricane Irma in Week One, and in Week Two they will take on a Chicago team that was surprisingly lively against Atlanta.
Key Injuries: None.
WASHINGTON
THIS WEEK: 19 LAST WEEK: 9 RECORD: 0-1
Played close with the Eagles through three quarters, but fell flat in the fourth on the way to a 30-17 home loss, which is an ugly way to start the year. Four turnovers was too tough to overcome.
Key Injuries: None.

CINCINNATI BENGALS
THIS WEEK: 20 LAST WEEK: 11 RECORD: 0-1
There may not have been a more disappointing performance from a team in Week One than the Bengals getting blanked at home. Andy Dalton struggled, turning the ball over five times and getting sacked five times, but that also reflects trouble on the offensive line.
Key Injuries: DE Michael Johnson (concussion).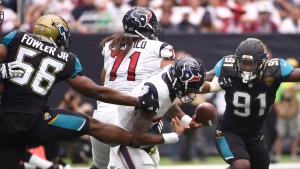 JACKSONVILLE JAGUARS
THIS WEEK: 21 LAST WEEK: 26 RECORD: 1-0
QB Blake Bortles didn't do much to ease concerns, but the Jaguars could very well build a team around RB Leonard Fournette and a tenacious defence that piled up 10 sacks at Houston.
Key Injuries: WR Allen Robinson (knee).
MIAMI DOLPHINS
THIS WEEK: 22 LAST WEEK: 22 RECORD:
The Dolphins also had an unexpected bye week to start the year and head to L.A. to play the Chargers in Week Two.
Key Injuries: QB Ryan Tannehill (knee).

NEW YORK GIANTS
THIS WEEK: 23 LAST WEEK: 13 RECORD: 0-1
With Odell Beckham Jr. unable to play, it's not a surprise that the Giants struggled offensively, but the degree to which they were beaten down by Dallas was a bit shocking. At the very least, they could have received more from WR Brandon Marshall, who had one catch for 10 yards.
Key Injuries: WR Odell Beckham Jr. (ankle).
NEW ORLEANS SAINTS
THIS WEEK: 24 LAST WEEK: 14 RECORD: 0-1
Not only did the Saints struggle defensively, allowing 470 yards against Minnesota, but defensive struggles are par for the course. The bigger concern is that New Orleans couldn't move the ball effectively, and giving Adrian Peterson six carries (18 yards) is probably not the ideal use of his talent.
Key Injuries: RT Zach Strief (knee), LT Terron Armstead (shoulder).

LOS ANGELES RAMS
THIS WEEK: 25 LAST WEEK: 28 RECORD: 1-0
It's hard to put too much value in a lopsided rout over a bad Indianapolis team, but a 46-9 win, with a strong showing from QB Jared Goff (21 of 29 for 306 yards and a touchdown) is reason for hop. Another is that superstar DL Aaron Donald ended his holdout and will play in Week Two.
Key Injuries: None.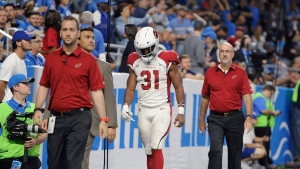 ARIZONA CARDINALS
THIS WEEK: 26 LAST WEEK: 21 RECORD: 0-1
Losing at Detroit was bad, losing RB David Johnson for 2-3 months due to a wrist injury was worse.
Key Injuries: RB David Johnson (wrist).

SAN FRANCISCO 49ERS
THIS WEEK: 27 LAST WEEK: 27 RECORD: 0-1
My expectation was for San Francisco to be more competitive this season, but they struggled to muster any kind of offence against Carolina.
Key Injuries: OLB Reuben Foster (ankle).
CLEVELAND BROWNS
THIS WEEK: 28 LAST WEEK: 30 RECORD: 0-1
The Browns battled Pittsburgh and made it a competitive game. It's still a loss, but a solid enough showing from young players like QB DeShone Kizer and WR Corey Coleman are promising signs.
Key Injuries: DE Myles Garrett (ankle).

HOUSTON TEXANS
THIS WEEK: 29 LAST WEEK: 25 RECORD: 0-1
It would be tough to have a worse week than the Texans did to start the season, getting blown out at home by Jacksonville and suffering a bunch of injuries. It looks like rookie Deshaun Watson will start in Week Two.
Key Injuries: WR Will Fuller (collarbone), TE C.J. Fiedorowicz (concussion), RG Jeff Allen (ankle), ILB Brian Cushing (concussion), TE Ryan Griffin (concussion).
CHICAGO BEARS
THIS WEEK: 30 LAST WEEK: 31 RECORD: 0-1
Despite the loss, the Bears were solid enough in Week One, and got quite a performance from rookie RB Tarik Cohen, who gained 113 yards and scored one touchdown on 13 touches, but injuries have decimated the receiving corps, which prevents them from moving up any more.
Key Injuries: WR Cameron Meredith (knee), WR Kevin White (collarbone), ILB Jerrell Freeman (pectoral, concussion), RG Kyle Long (ankle), CB Prince Amukamara (ankle), WR Markus Wheaton (finger).
INDIANAPOLIS COLTS
THIS WEEK: 31 LAST WEEK: 29 RECORD: 0-1
The Colts were expected to have problems without Andrew Luck, but Scott Tolzien really had a rough go (nine of 18 for 128 yards and two interceptions) against the Rams in the opener, so rough that Jacoby Brissett could easily take his playing time.
Key Injuries: QB Andrew Luck (shoulder), CB Vontae Davis (groin).

NEW YORK JETS
THIS WEEK: 32 LAST WEEK: 32 RECORD: 0-1
The Jets lived down to expectations in Week One. It could get ugly at Oakland in Week Two.
Key Injuries: None.
Scott Cullen can be reached at scott.cullen@bellmedia.ca