Palat has four points leading Lightning to win over Sabres
Ondrej Palat had a goal and three assists, and the Tampa Bay Lightning reclaimed the Eastern Conference lead with a 5-1 win over the Buffalo Sabres on Wednesday night. Nikita Kucherov scored twice and added an assist, and linemate Tyler Johnson set up three goals for Tampa Bay (24-11-4), which is one point ahead of the New York Islanders.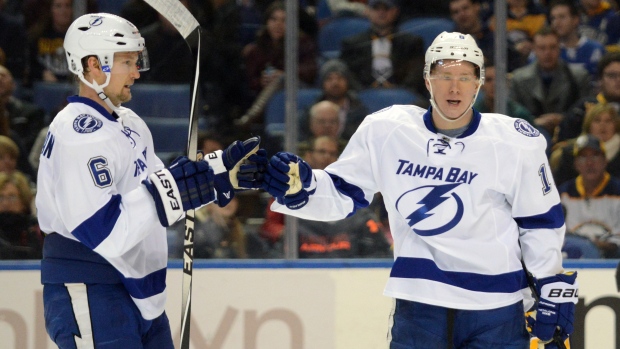 BUFFALO, N.Y. - Steven Stamkos doesn't have to carry Tampa Bay's offensive load given how the Lightning's second line is producing.
With Stamkos held off the scoresheet, Ondrej Palat and his linemates combined to score three of the Lightning's four goals in the final 21 minutes to key a 5-1 victory over the banged-up and flu-riddled Buffalo Sabres on Wednesday night.
Palat scored the go-ahead goal and added three assists. Nikita Kucherov had two goals and an assist, and centre Tyler Johnson set up three goals in helping the Lightning reclaim the Eastern Conference lead.
"Since that line's been put together, they've done some pretty magical things," Lightning coach Jon Cooper said. "When you start getting that chemistry going, hopefully the wins start to mount a little bit."
The Lightning (24-11-4) won their fourth straight and moved a point ahead of both Pittsburgh and the New York Islanders. Tampa Bay rode the momentum of winning three straight at home and improved to 2-3-2 in its past eight road games.
The Lightning's power play is starting to click again with Palat's goal coming during a man-advantage with 58 seconds left in the second period. With Johnson drawing the attention of all four Sabres defenders along the right boards, he slipped a pass across to a wide open Palat, who snapped a shot inside the near post.
They finished 1 for 3 with the man advantage, and have scored power-play goals in consecutive games after going 0 for 21 during a five-game drought.
The win came at the expense of the depleted Sabres (14-21-3), who dropped to 1-5-1 in their past seven. Captain Brian Gionta (upper body) and defencemen Tyler Myers (lower body) and Rasmus Ristolainen (illness) were among the regulars not in the lineup.
Tyler Ennis scored the lone goal in a game Buffalo was outshot 25-11 overall and 14-1 in the final period. A sarcastic cheer went up when Matt Moulson recorded Buffalo's only shot of the third with 4:41 left in the period.
"Banged up, Flu. Head colds. Everything," Sabres coach Ted Nolan said. "You walk in that locker room and that's all they're doing is coughing and sniffing. That's not an excuse. That's just fact."
Nolan couldn't excuse his team for the numerous defensive breakdowns that led to Lightning goals.
"Guys not scoring aren't even checking, so that's a bad combination," Nolan said.
The Lightning made up for a slow start in a game that wasn't decided until the third period.
Brett Connolly and Kucherov scored 3:20 apart in the third, and Kucherov finished the rout with 1:55 left.
"It was just a weird game," Cooper said. "It was like nobody wanted to take control of the game, and then that line did, and we came out on top."
Connolly's goal 5:20 into the third came as a result of a couple of fortunate bounces, and 9 seconds after the Sabres had killed a penalty.
Stralman's slap shot from the right point hit Connolly in front, and the puck ricocheted off Sabres defenceman Nikita Zadorov, who was facing the net. The puck bounced back into the crease, where Connolly stuffed it inside the left post.
Matthew Carle also scored for Tampa Bay.
Rookie goalie Andrei Vasilevskiy stopped 10 shots in his fourth NHL game, a day after being called up from AHL Syracuse. He was filling in for starter Ben Bishop, who is day to day after aggravating a lower-body injury.
NOTES: With Lightning D Radko Gudas day to day with a lower-body injury, Nikita Nesterov made his NHL debut after being called up earlier Wednesday from Syracuse. He was leading Syracuse defencemen with 14 points (three goals, 11 assists) in 32 games. ... Sabres D Tyson Strachan returned after missing five games with a lower-body injury. ... The Lighting kicked off a four-game road trip.