Palat lifts Lightning over Jets in OT
Ondrej Palat finished off a tic-tac-toe play in 3-on-3 overtime to lift the Tampa Bay Lightning over the Winnipeg Jets 4-3 on Friday night.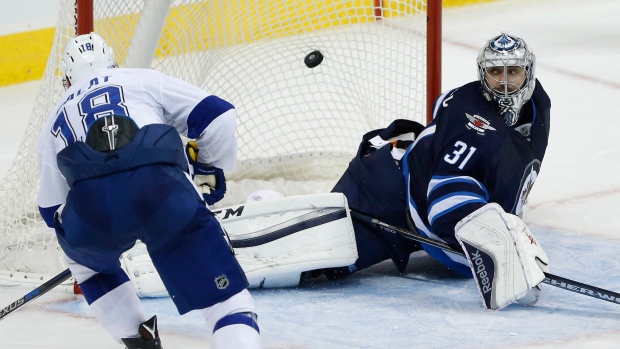 WINNIPEG - Ondrej Palat was just doing what he was told when he fired home the overtime winner to lead his Tampa Bay Lightning 4-3 over the Winnipeg Jets on Friday night.
The fourth-year winger was on the toe end of a tic-tac-toe play emanating from a 3-on-1 early in overtime, and he was only happy to oblige.
"Coach (Jon Cooper) told me to go with Stammer (Steven Stamkos) and I'm just happy to score the goal," said Palat. "We had speed and that's what you have to do on 3-on-3.
"Stammer made a nice defensive play on the other end and we went on a 3-on-1 and Heddy (Victor Hedman) and Stammer made really nice passes and I just tapped it in."
Palat and the rest of his Lightning teammates were none too pleased with their start, but felt things started to go Tampa Bay's way as the game wore on.
"I'm more concerned about our starts. We came out slow," Palat said. "They were all over us. We were a little soft, and that can't happen. I don't know what's going on, but we have to fix that. The second and third periods were better."
Brayden Coburn, Cedric Paquette and Vladislav Namestnikov all scored for the Lightning (5-2-1).
Nikolaj Ehlers, Drew Stafford and Blake Wheeler had regulation-time goals for the Jets (4-3-0).
Ben Bishop, who recorded his 100th career win on Friday, has started every game for the Lightning this season and moved to 5-2-1 on the year. Ondrej Pavelec picked up his third loss in five starts and sits at 2-3-0.
Tyler Johnson threaded a pass from behind the net to Coburn, who buried his first of the season for a 1-0 Tampa Bay lead.
Winnipeg tied the game 1-1 when Ehlers tapped home his second of the season after the Jets entered the zone three wide, with Mathieu Perreault feeding Mark Scheifele, who shuffled the puck over to Ehlers 16:28 into the first.
Ehlers came inches from his second of the night and a lead for the Jets, but his shot hit the post.
"It was a fast game, some really well executed plays for both teams," said Jets head coach Paul Maurice. "I think both teams were good for a reason. I don't think through the game one team got worse. One team was good in the first and the third, that was us. They were real good in the second period."
Tampa Bay restored its one goal advantage 7:23 into the second frame.
Paquette benefited from the Lightning forcing a Jets turnover, allowing the sophomore to snipe his first of the season top corner over Pavelec's glove hand.
The Jets briefly tied the game at 2-2 through Stafford on a partial breakaway. But 21 seconds later the Lightning struck again as Namestnikov fired home a rebound off a Hedman point shot to restore their one-goal cushion at 11:18.
Winnipeg found the equalizer once again, this time shorthanded, 1:17 into the third period as Wheeler raced behind the net, stole the puck from Bishop and scored on a wraparound.
"It's tough to pat yourself on the back after losses, especially in our division," Wheeler said. "It's going to be a tough grind all year, everyone seems to win every night."
The Jets continue their six-game homestand against the Minnesota Wild on Sunday. Tampa Bay heads to Chicago to play the Blackhawks Saturday night.
Notes: Wheeler now has a point in each of the Jets seven games to start the season, tying a franchise record set by Donald Audette back in the 2000-01 season. Wheeler has nine points in seven games … Stamkos played in his 500th game on Friday night.