Panthers' Huberdeau joins TSN Trade Bait board
Florida forward joins the list as rumours continue to swirl about the Panthers' burning desire to land both Sergei Bobrovsky and Artemi Panarin in a package deal, Frank Seravalli writes.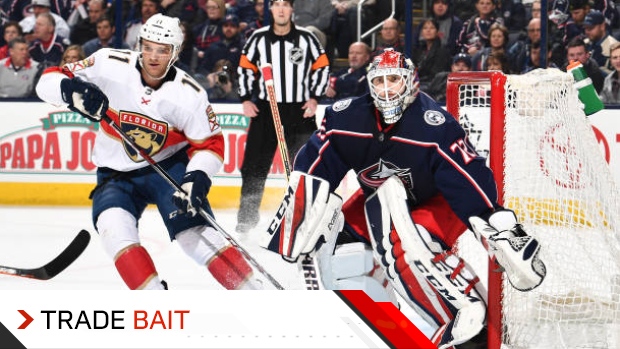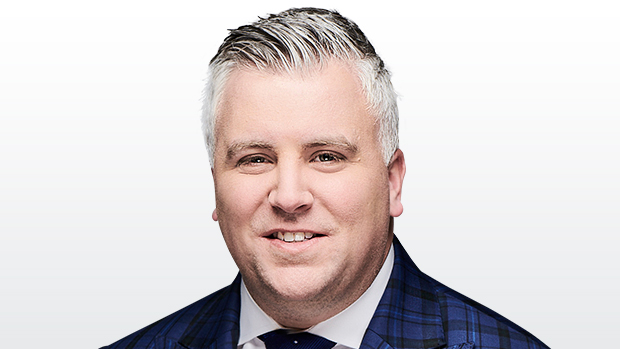 One of the worst-kept secrets in hockey has been the Florida Panthers' burning desire to land both Sergei Bobrovsky and Artemi Panarin in a package deal.
A little fuel was added to that fire last week when Panarin fired his agent and hired Paul Theofanous, who represents Bobrovsky.
But the question has been: What could the Panthers offer to pull off this blockbuster?
Panthers forward Jonathan Huberdeau could potentially be a part of that puzzle, which is why he is the latest member to join the TSN Trade Bait board at No. 20.
GM Jarmo Kekalainen and the Blue Jackets are in search of a package that allows Columbus to remain in the playoff race while also adding future assets. The belief is that it would certainly take more than a package surrounding Derick Brassard and other expiring contracts.
Huberdeau, 25, is nearly a point-per-game winger who would certainly check that box. He also comes with cost certainty, with four years remaining on his deal at $5.9 million.
Huberdeau has a no-move clause that kicks in on July 1.
What the Panthers must weigh is how heavy of a price they should pay now for two pending UFAs who will likely be available on Canada Day.
Since Panthers GM Dale Tallon already unloaded more than $5 million in commitments for next season in Nick Bjugstad and Jared McCann to Pittsburgh, there is really no need to unload a high-salaried player like Huberdeau to be able to go after Bobrovsky and Panarin.
Yes, keeping Huberdeau would certainly make for an intriguing top six with Aleksander Barkov, Vincent Trocheck, Mike Hoffman, Evgeni Dadonov and Panarin.
The key to a return like Huberdeau from the Columbus perspective may well be allowing a potential suitor like Florida permission to negotiate with Theofanous.
That is where the agent change could come in. Panarin's former agent, Dan Milstein, was not shy in saying repeatedly that they wouldn't negotiate with any team during the season because Panarin had his sights set on making it to July 1.
Does Panarin's switch to Theofanous represent a difference in that philosophy? Panarin said last week in his first interview in English that he remains intent on making it to free agency.
"It's one life, one chance for free agent and I want to test [free agency]," Panarin told reporters. "We'll see what happens in the summer, but right now I don't know what I want ... it's 10 per cent of my life, seven or eight years, you know? I want to stay happy every day and see more options."
These are all questions that could be answered in the next two weeks.
"Interesting situation," Panarin said when asked about a Bobrovsky package deal. "I really like [Bobrovsky] and we're big friends right now. But we have two different lives."
Here is TSN Hockey's latest Trade Bait board, which always seeks to blend a player's prominence with his likelihood of a trade:

The Top 50
| Trend | Player | Pos | Age | GP | G | PTS | Cap Hit | Years |
| --- | --- | --- | --- | --- | --- | --- | --- | --- |
| | 1. Artemi Panarin, CBJ | LW | 27 | 52 | 21 | 63 | $6M | UFA |
| | 2. Matt Duchene, OTT | C | 28 | 46 | 25 | 53 | $6M | UFA |
| | 3. Wayne Simmonds, PHI | RW | 30 | 55 | 16 | 24 | $3.98M | UFA |
| | 4. Jets' 1st-Round Pick | | | | | | | |
| | 5. Mark Stone, OTT | RW | 26 | 55 | 25 | 56 | $7.35M | UFA |
| | 6. Mats Zuccarello, NYR | RW | 31 | 41 | 9 | 32 | $4.5M | UFA |
| | 7. Dougie Hamilton, CAR | RD | 25 | 56 | 10 | 22 | $5.75M | 2 |
| | 8. Gustav Nyquist, DET | RW | 29 | 56 | 14 | 47 | $4.75M | UFA |
| | 9. Charlie Coyle, MIN | C | 26 | 56 | 10 | 28 | $3.2M | 1 |
| | 10. Sergei Bobrovsky, CBJ | G | 30 | 39 | 2.98 | .901 | $7.43M | UFA |
| | 11. Micheal Ferland, CAR | LW | 26 | 47 | 14 | 28 | $1.75M | UFA |
| | 12. Cam Talbot, EDM | G | 31 | 31 | 3.36 | .893 | $4.17M | UFA |
| | 13. Jimmy Howard, DET | G | 34 | 37 | 2.78 | .913 | $5.3M | UFA |
| | 14. Kevin Hayes, NYR | C | 26 | 46 | 13 | 38 | $5.18M | UFA |
| | 15. Brett Pesce, CAR | RD | 23 | 47 | 5 | 15 | $4.03M | 5 |
| | 16. Marcus Johansson, NJD | LW | 28 | 43 | 10 | 22 | $4.58M | UFA |
| | 17. Adam Henrique, ANA | C | 29 | 56 | 10 | 28 | $5.83M | 5 |
| | 18. Jack Roslovic, WPG | RW/C | 22 | 55 | 7 | 16 | $894K | 1 |
| | 19. Brayden Schenn, STL | C | 27 | 50 | 10 | 33 | $5.13M | 1 |
| | 20. Jonathan Huberdeau, FLA | LW | 25 | 54 | 13 | 52 | $5.9M | 4 |
| | 21. Artem Anisimov, CHI | C | 30 | 52 | 8 | 24 | $4.55M | 2 |
| | 22. Derick Brassard, FLA | C | 31 | 45 | 10 | 18 | $5M | UFA |
| | 23. Cody Ceci, OTT | RD | 24 | 51 | 5 | 18 | $4.3M | RFA |
| | 24. Jakub Silfverberg, ANA | RW | 28 | 47 | 12 | 20 | $3.75M | UFA |
| | 25. Luke Glendening, DET | C | 29 | 56 | 8 | 18 | $1.8M | 2 |
| | 26. Alex Chiasson, EDM | RW | 28 | 46 | 17 | 27 | $650K | UFA |
| | 27. Andre Burakovsky, WSH | LW | 23 | 49 | 7 | 15 | $3M | RFA |
| | 28. Justin Faulk, CAR | RD | 26 | 56 | 5 | 20 | $4.83M | 1 |
| | 29. Adam McQuaid, NYR | RD | 32 | 31 | 2 | 5 | $2.75M | UFA |
| | 30. Ryan Dzingel, OTT | LW | 26 | 53 | 21 | 41 | $1.8M | UFA |
| | 31. Jeff Carter, LAK | C | 33 | 51 | 10 | 25 | $5.27M | 3 |
| | 32. Chris Kreider, NYR | LW | 27 | 55 | 24 | 42 | $4.63M | 1 |
| | 33. Colton Parayko, STL | RD | 25 | 54 | 9 | 16 | $5.5M | 3 |
| | 34. Alex Steen, STL | LW | 34 | 40 | 6 | 10 | $5.75M | 2 |
| | 35. Alec Martinez, LAK | RD | 31 | 41 | 3 | 12 | $4M | 2 |
| | 36. Jay Bouwmeester, STL | LD | 35 | 50 | 2 | 12 | $5.4M | UFA |
| | 37. Carl Hagelin, LAK | LW | 30 | 34 | 2 | 8 | $4M | UFA |
| | 38. Andreas Johnsson, TOR | LW | 24 | 49 | 14 | 28 | $788K | RFA |
| | 39. Patrick Maroon, STL | LW | 30 | 46 | 4 | 14 | $1.75M | UFA |
| | 40. Alex Edler, VAN | LD | 32 | 38 | 5 | 20 | $5M | UFA |
| | 41. Ben Lovejoy, NJD | RD | 34 | 46 | 1 | 6 | $2.67M | UFA |
| | 42. Chris Tanev, VAN | RD | 29 | 51 | 2 | 12 | $4.45M | 1 |
| | 43. Vlad Namestnikov, NYR | LW | 25 | 51 | 4 | 16 | $4M | 1 |
| | 44. Nikolay Goldobin, VAN | LW | 23 | 49 | 6 | 24 | $863K | RFA |
| | 45. Nathan Beaulieu, BUF | LD | 26 | 27 | 3 | 7 | $2.4M | RFA |
| | 46. Mikkel Boedker, OTT | LW | 29 | 51 | 6 | 28 | $4M | 1 |
| | 47. Tobias Rieder, EDM | LW | 26 | 41 | 0 | 9 | $2M | RFA |
| | 48. Jamie McGinn, FLA | LW | 30 | 0 | 0 | 0 | $3.33M | UFA |
| | 49. Kasperi Kapanen, TOR | RW | 22 | 55 | 16 | 32 | $863K | RFA |
| | 50. Jeff Skinner, BUF | LW | 26 | 55 | 33 | 50 | $5.73M | UFA |
Contact Frank Seravalli on Twitter: @frank_seravalli​