Panthers trade Fleischmann to Ducks
The Florida Panthers have traded left wing Tomas Fleischmann to the Anaheim Ducks in exchange for Dany Heatley and a 2015 third-round draft pick.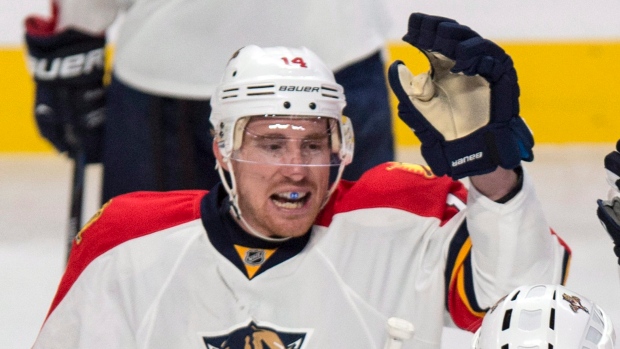 The Florida Panthers have traded left wing Tomas Fleischmann to the Anaheim Ducks in exchange for Dany Heatley and a 2015 third-round draft pick.
Fleischmann is in the final year of a four-year, $18 million deal ($4.5M AAV) he signed with the Panthers prior to the 2011-12 season.
The 30-year-old has scored seven goals and 14 assists in 52 games with the Panthers this year.
Fleischmann has played 567 career NHL games with the Washington Capitals, Colorado Avalanche and the Panthers, scoring 122 goals and 182 assists.
He was chosen in the second round (63rd overall) of the 2002 NHL Entry Draft by the Detroit Red Wings.
The Czech winger has represented his country internationally on numerous occasions, including the 2010 Olympics in Vancouver. He won a bronze medal at the 2002 World Juniors.
Heatley, 34, was held pointless in six games with the Ducks this season and has scored two goals and five assists in 25 games with the American Hockey League's Norfolk Admirals.
Miami Herald reporter George Richards tweeted Saturday that the team's intention is to assign Heatley to the AHL's San Antonio Rampage, adding that general manager Dale Tallon "hopes Dany Heatley can bring some offence to Panthers down the road."
In 869 career games with the Ducks, Atlanta Thrashers, Ottawa Senators, San Jose Sharks and Minnesota Wild, Heatley has scored 372 goals and 419 assists.
Heatley signed a one-year deal with the Ducks prior to this season worth $1 million in NHL salary. He was assigned to Norfolk on Dec. 11.
The German-born Canadian national was once one of the NHL's elite goal-scorers, scoring 50 in back-to-back seasons with the Senators in 2005-06 and 2006-07. Winner of the 2002 Calder Memorial Trophy as NHL Rookie of the Year, Heatley has been selected to four NHL All-Star Games and was named to the year-end NHL All-Star Team in 2005-06 (Second Team) and 2006-07 (First Team).
Originally selected second overall by the Atlanta Thrashers in the 2000 NHL Entry Draft, Heatley spent his first four seasons in Atlanta. However, prior to his final season in Atlanta, Heatley was involved in a car accident that claimed the life of his teammate Dan Snyder. He played only 31 games for the Thrashers in 2003-04 and was traded to Ottawa prior to the next season, which came in 2005-06 thanks to a year-long lockout.
He thrived with the Senators, helping lead the team to a berth in the 2007 Stanley Cup Final. Two years later, however, he famously demanded a trade out of Ottawa and landed in San Jose. He scored 39 in his first season with the Sharks, but his goal totals have steadily declined since.
Heatley has represented Canada on many occasions and has won Olympic Gold (Vancouver, 2010) as well as two IIHF World Championships (2003,2004) the World Cup of Hockey (2004) and a pair of World Junior Championship bronze medals (2000, 2001).