Paquette lifts Lightning over Blackhawks
Cedric Paquette scored with 3:11 left to play as the Tampa Bay Lightning edged the Chicago Blackhawks 3-2 on Monday in Game 3 of the Stanley Cup final.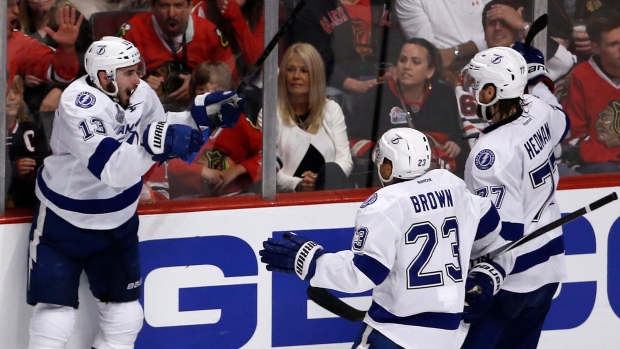 CHICAGO - If there was any question about Ben Bishop playing in Game 3 of the Stanley Cup final, he erased it in conversations with Jon Cooper.
"There wasn't a doubt in his eyes," the Tampa Bay Lightning coach said. "You can read when guys are sitting there saying, 'Coach, I'll go for you.' Or you can say, 'Give me the net, and that kid said, Give me the net.'"
Bishop took the net, battled through pain and led the Lightning to a 3-2 victory over the Chicago Blackhawks on Wednesday at United Center to take a 2-1 lead in the series. Bishop looked like he couldn't move up and down or side to side but made 36 saves in a gutsy goaltending performance.
"It's going to take a lot not to play in a Stanley Cup Final game," Bishop said. "As the game went on, I felt better, more comfortable."
The Lightning still won't reveal the nature of the injury that forced Bishop out of Game 2 and led to several discussions between him and Cooper about whether he should play in Game 3. Don't expect an answer any time soon.
But Bishop refused to let the apparent lower-body injury slow him down. After a couple of scary moments early that ended with Blackhawks players missing the net, he gutted through an 18-save first period that could have been disastrous for the Lightning.
"Just the stage he was on with all the uncertainty going on, for him to respond that way, especially in the first … he was there for us," captain Steven Stamkos said.
Even though it looked like Bishop couldn't get up and at times used his stick like a cane, he said he never had any doubt about remaining in the game. Cooper said he never considered pulling him in favour of rookie Andrei Vasilevskiy.
The long-term effects of that may come later in the Cup final or never. But Bishop was brilliant enough to make it look like the right call in the moments after the victory.
At the other end of the ice, Ryan Callahan gave the Lightning the early lead after a superb slap pass from Victor Hedman, and Ondrej Palat tied the score again in the third period just 13 seconds after Brandon Saad tied it. Hedman set up Cedric Paquette for the winner with 3:11 left to make Bishop's courageous performance stand up.
"Bish stood on his head there," Hedman said. "I think we responded well and played well the last 40 minutes."
Bishop's only blemishes came on a Brad Richards power-play goal and then Saad from the slot at the end of a long shift for his Lightning teammates. He got lucky on a couple of wide-open-net misses in the first period and didn't look 100 per cent but got the job done.
"He looks like he's got some issues," Blackhawks coach Joel Quenneville said. "But I think we still didn't put enough pucks at the net."
There was no shortage of praise for Bishop in the visiting locker-room, for his poise under pressure all season and playoffs and for playing hurt. Teammates weren't revealing anything about the injury the 28-year-old is fighting through, with Stamkos smiling and saying "I guess he's OK."
Others expressed admiration for his play in the most crucial of situations.
"He's a competitor. He's a guy when he's in the net, you know he gives it his all," centre Tyler Johnson said. "We have a lot of confidence in him to do everything he does and he never let us down."
Game 4 is Wednesday at United Center as the Blackhawks set their sights on getting to Bishop.
"We've run into really good goaltenders in important series in the past and we just chip away and keep working and eventually, we always find ways to open the floodgates a little bit," captain Jonathan Toews said. "So that is what we have to focus on."
Notes — Blackhawks defenceman Johnny Oduya left the game late in the second period shortly after being tripped by Nikita Kucherov. He returned early in the third, and Quenneville said "we'll see tomorrow" about his situation. ... The Lightning went back to 11 forwards and seven defencemen, scratching Jonathan Drouin in favour of Nikita Nesterov. ... Chicago forward Bryan Bickell and defenceman Trevor van Riemsdyk made their series debuts, replacing Kris Versteeg and David Rundblad.
___
Follow @SWhyno on Twitter