Paterson: 500 games in, the jury is still out on Canucks' Edler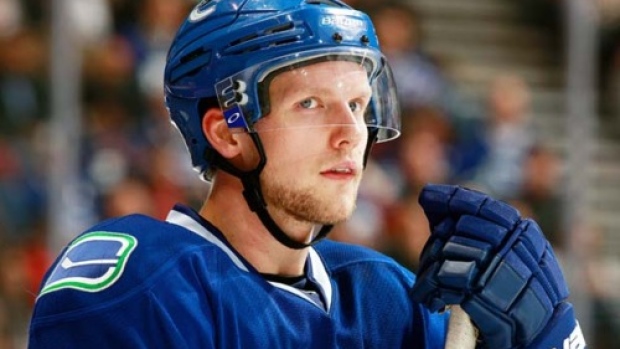 VANCOUVER, BC – Thursday night in St. Louis, Alex Edler will play his 500th National Hockey League game. Cynics would suggest the big Swedish defenseman has played 250 good games for the Vancouver Canucks and has had 249 tough ones with no middle ground. That's not entirely accurate although it does speak to the inconsistency that has plagued Edler's nine years in the NHL – from shift to shift and from season to season. So it is safe to say that while Edler will reach the 500-game milestone tomorrow, questions remain about what is possible for the 28-year-old with the tantalizing combination of size, skill and skating ability.
Throughout his career, Edler has teased the Canucks and their fans with glimpses of the kind of blueliner who can control games at both ends of the ice. When living up to his potential, he clearly has the ability to play with remarkable efficiency making quick and effective decisions with the puck. Edler has also brought a physical edge to his game leaving his mark on opposing forwards in open ice, in front of the net or in battles along the boards.
But last season, Edler was none of those things. He was a shell of his former self enduring a disastrous season in which anything that could go wrong did – and far too often. Perhaps it was a new coach or a new system, maybe it was confusion caused by an early season suspension in which he was penalized for being a touch too aggressive or it may have been the weighty expectations that accompanied his six-year $30 million dollar contract extension which kicked in last season. Whatever the reasons, Edler's 2013-14 was a write-off with just 22 points all the while saddled with the embarrassment that goes along with a league-worst -39.
Paired with reliable partner Chris Tanev from the outset of training camp and in Willie Desjardins' up-tempo system in which defenseman are encouraged to jump into the rush, Alex Edler finds himself in a situation to thrive. However, the early season results are mixed. He has a goal and two assists and leads all Canucks defensemen in scoring, but there have also been a handful of the kind of miscues that dogged him last season.
Edler doesn't have to be a super hero for the Vancouver Canucks, but given the amount he plays and the situations he finds himself in he certainly has to be an offensive contributor and a 40-point season shouldn't be out of the question. But for his offensive numbers to matter, he has to be significantly better in his own zone than he was a year ago.
The Canucks would love to see Edler take charge out on the ice, but for that to happen the soft-spoken Swede needs to ramp up his intensity. Far too often, he looks indifferent and at times as if he doesn't really care. That's probably an unfair criticism, and yet because he shies away from the media and isn't heard from often, it's hard to get a read on what's going on in Edler's mind.
Reaching the 500 game mark is an accomplishment for any NHLer – and, in this day and age, to do it with the same organization makes it that much more significant. Edler's is a remarkable story of a kid from a small town near the Arctic Circle making the big time and earning all the trappings that come along with it.
But the big question is – and it's a fascinating one – have the Vancouver Canucks already seen the best Alex Edler has to offer? Or is there still room for growth in his game? While unlikely to ever enter the Norris Trophy discussion in an era of so many elite defensemen, Edler possesses the tools to be an All-Star. But in recent years there have been too many nights where you wondered if he had forgotten how to play the game.
This is a new season and Alex Edler's trying his best to wipe the slate clean as he tries to recapture the talent he has displayed at times throughout his NHL career. Thursday in St. Louis is a milestone to be sure. The Canucks have to be hoping that it's also a stepping stone to the best hockey the big defenseman has ever played.