Patrick Burke: "NHL is ready for a gay player"
Patrick Burke, co-founder of You Can Play and son of longtime NHL executive Brian, sits down with Pierre LeBrun to discuss the changing attitudes in hockey culture.
Pierre LeBrun, ESPN Hockey Writer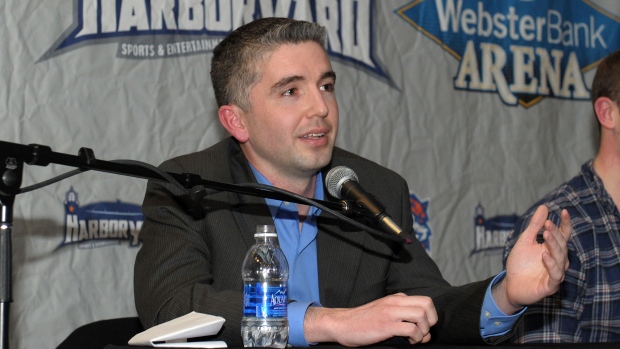 When the NHL brought on You Can Play as an official partner in the spring of 2013, the hope was that the league's first openly gay player wasn't far behind.
Two and a half years later, we are still waiting.
"It's surprising," Patrick Burke, the co-founder of You Can Play, said Tuesday. "We felt that the work the league was doing, the culture that the league had, the way our guys responded not just to our initiative, but to the LGBT community in general, I think we thought for sure by now there would be an out player in the NHL."
Burke paused before adding: "I don't want to say it's disappointing because everyone is on their own timeline and when the first guy is ready he's going to do it."
And if there was any remaining doubt about whether there were gay NHL players -- I don't know how anyone could even wonder that -- Burke says You Can Play has indeed heard from gay players in the league.
"Look, we denied it for several years because we didn't want players to feel pressure, we didn't want to kick off a witch hunt, we didn't want people trying to guess who was who," said Burke. "But yes, our organization has spoken with gay players in the National Hockey League, gay staff members, gay media members.
"If we could coordinate everyone we know in professional sports, not just hockey, to come out all at once, it would be world-changing overnight. But for a variety of different reasons, there are men and women who still don't think it's the right decision for them to come out at this time."
I suppose if there are still homophobic NHLers they're not going to come out and say so. All I can tell you is that in the dressing room of one of the NHL's most storied franchises, the captain of the team says it would be a non-issue.
"No issue at all, no issue at all," Toronto Maple Leafs captain Dion Phaneuf repeated for emphasis Wednesday. "It would be welcomed and accepted with open arms in our room. That's how I feel, I would accept it."
That feeling was echoed down the hall in the visitors' dressing room at Air Canada Centre.
"We got a good group in here, I don't think anybody would have an issue with it," said Winnipeg Jets captain Andrew Ladd. "It makes zero difference to us whatever your sexual orientation is; that's their personal life. I really don't think in this day and age it would be much of an issue."
And yet, we wait. Why hasn't it happened yet?
"I mean, it's easy for us to say, we're not in their shoes," said Ladd. "It's a choice, especially if you're the first one, it's going to be pretty magnified and it's going to take a strong person to be able to do it and go through the rigors of playing NHL hockey every day. All you can do as a teammate or friend is be supportive and accepting whenever it comes."
Burke has a few theories as to why it hasn't happened yet.
"I think it has come close," he said. "I would say that the coming-out experiences for the openly gay players in other leagues -- whether it was Jason Collins, whether it was Michael Sam -- those guys have had let's call them up and down experiences. Jason came out and was out of work for six or seven months. Mike came out and hasn't been able to find a home in the NFL. I wonder how many positive gay athletes are looking at that and thinking, 'Is that because they're gay or is that because they're both journeymen-level talent players.' How much of that is an authentic, scouting-based 'these guys just weren't good enough to help us' evaluation and how much of that is 'We don't' want a gay player on our team.'
"I suspect there's a lot of players in our league looking at the situations with other gay athletes and wondering how much of that is because they're gay."
The reality, to be fair, is that while Collins and Sam were incredibly courageous to come out, neither is a prominent player near the top of their respective food chain.
"Jason is a friend of mine so I have no problem saying that, he would be the first to admit he was a depth/bench player who played 4-5 minutes a night," said Burke. "The Michael Sam story is probably worthy of a book, the stuff that we know and have been involved on both sides of things there."
Then, Burke said, there's the question of hockey culture itself.
"Hockey is all about the team. Hockey culture hates individualism," said Burke. "Whether that's right or wrong, hockey culture is that you do not stand out. You do not make yourself different from the team. We've had players in our league that have been yelled at for high-fiving too aggressively. So I do wonder from talking to a bunch of different players in the league that this is a team sport and almost an obsessively team culture and I think there are guys out there that are nervous about the idea that them coming out would somehow be going against that."
And finally, Burke wonders about his own role in all this. The man who has done so much through his work with You Can Play wonders whether taking a job with the NHL's Player Safety Department in the spring of 2013 hasn't hindered things in terms of having players come out.
"I think we would probably be further along had I not taken a job where part of my job is suspending players. Rightly or wrongly," said Burke. "We (You Can Play) interact with players all the time, whether it's guys reaching out because they have questions or guys reaching out because they want support or whatever it might be. But I really do feel taking a job where I'm part of the group suspending players really did kind of make the lines of communication between our organization and the players a little more difficult at times."
It's why Burke has kept a lower profile with You Can Play and let the organization's executive director Wade Davis do his thing.
"What I've tried to do is distance myself from You Can Play so that they know they can reach out and talk to Wade anytime, we have two different vice-presidents there, we have great resources," said Burke. "But it's part of the reason I've done less publicly with You Can Play."
The truth, as it stands, is that no male hockey person has come out publicly since Brendan Burke, who did so while student manager of the Miami University men's hockey team in November 2009 in a piece so well written by our own John Buccigross. Brendan Burke, Patrick's brother, tragically died in February 2010 in a car crash.
"I hate to selfishly praise him again but you look back at Brendan choosing to come out back in 2009, as a student-manager of the college team but with a family association to the NHL, and that was six years ago," said Burke. "We haven't had anyone else (with NHL ties) since then, not major media, not front office, not coaching, not players. I think it speaks to how amazing Brendan was, but it also shows that there clearly needs to be done something that isn't being done, or something that needs to change for players to feel comfortable to come out."
You can sense both the frustration and compassion in Burke's voice.
"It's tough for us as an organization where we want to stand up and scream and say, 'The NHL is ready for a gay player,'" said Burke. "Because 1,000 percent in my heart I believe that. I know that the first player who comes out is going to have a positive coming-out experience. Yet on the other hand, we know how difficult it is for anybody in the public eye to talk about their sexuality in public. Forget sports for a second, you go to politics or Hollywood, any type of celebrity, it is still an issue.
"On the one hand, there are days when our entire organization is like, 'Come on, we're ready, just go ahead.'"
Burke said when he goes to NHL events, there are team executives and agents and coaches who pull him aside and ask him why a player hasn't come out yet.
"They're upset that it hasn't happened yet, which I think shows how inclusive they are," said Burke. "So, it's tough. I wish there was a magic bullet that I could fire and make the players in question ready. But it's such a delicate situation. It's so much based on the person's life experience and what he wants."
In the meantime, Burke remains hopeful that eventually gay NHLers will feel the time is right.
"All we can continue to do is make efforts to let them know that the hockey community wants everyone to be themselves and live their lives authentically and be true to who you are," said Burke. "And if you're a NHL player who happens to be in love with men off the ice, nobody in our community cares, we just want you to be happy."