Patrick hoping for hometown return from latest injury setback
Winnipeg native working his way back from a concussion – the third blow he's suffered since being drafted second overall by the Philadelphia Flyers in June.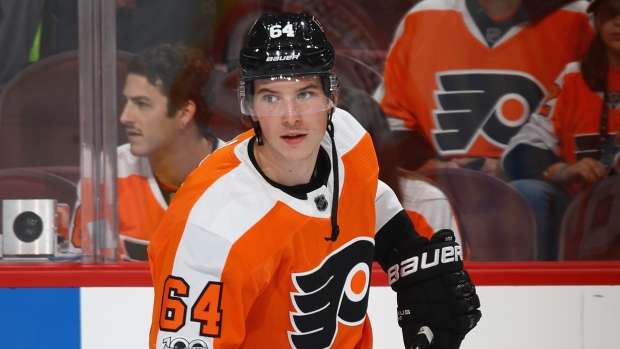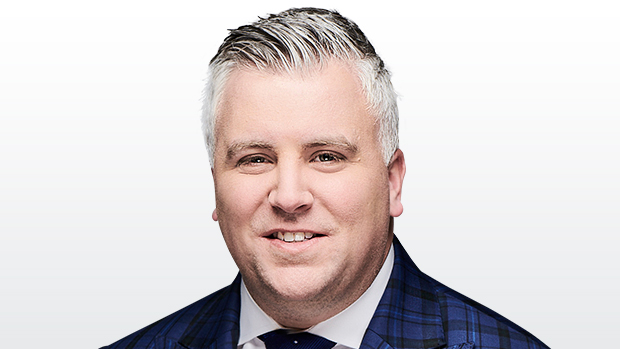 PHILADELPHIA — Nolan Patrick remembers exactly where he was when news broke that the Jets were returning to Winnipeg.
It was 2011. Patrick was in Grade 8, in home economics class – of all places – practising his sewing.
"Probably some brutal sweater," Patrick said, laughing.
Patrick, now 19, could play his first NHL game against those Jets on Thursday night at Bell MTS Place – if he's cleared by doctors to return to the Philadelphia Flyers' lineup from a concussion suffered back on Oct. 24.
But it would not be your typical feel-good, hometown hockey story, even if Patrick plays 15 minutes from where he grew up.
No, it's more than that. Thursday would mark Patrick's first game after yet another stint sidelined, as he tries to shake the notion of a star-crossed second overall pick.
"It sucks," Patrick said Monday. "I'm trying to stay positive, not really trying to think about it that way, trying to come back and contribute as much as I can.
"It's frustrating for anyone when you're injured. But getting frustrated about it is not going to make it heal any faster."
Patrick's inability to stay on the ice is bordering on cursed, if not downright bizarre. This concussion is his third blow with the Flyers – and he was drafted not even five months ago.
In fact, the Flyers revealed after the draft that Patrick underwent abdominal surgery on June 13 in Philadelphia – 10 days prior to calling his name in Round 1 – after team doctors found a previously misdiagnosed injury during a combine medical exam.
Patrick underwent surgery before the draft to maximize summer training time in preparation for his first NHL camp. Flyers GM Ron Hextall said then he was relieved, in a way, to at least find the cause of Patrick's lingering discomfort. Problem solved.
Patrick missed the Flyers' rookie camp, but was slated to begin skating again in late July – until he was sidelined with what the team called a facial abscess or "boil."
Coupled with the fact that Patrick played just 33 games in his draft season, missing out on the World Junior Championship and WHL playoffs with a related hernia/abdominal injury, and, well, that's a lot for any player in one year.
For Patrick, though, the medical history is long. He battled with a sports hernia all the way through the 2016 Memorial Cup with the Brandon Wheat Kings, racking up 41 goals and 102 points in the regular season, plus another 30 points in 21 playoff games.
He sat out a month in his Wheat Kings rookie campaign with an upper-body injury and that followed midget and bantam years in which he fractured the same collarbone twice.
Hextall does not seem to be concerned about all that, saying last week Patrick's injury history is "not that extensive."
"That was what, when he was 12 years old?" Hextall contested with reporters. "Come on. You can't count those. That's a kid still growing."
Indisputably, it has been a long time since Patrick has played at 100 per cent health – or in the case of his time with the Flyers, with a full summer training base.
Yet, Patrick improved as training camp progressed, showing flashes of the elite playmaker that earned him NHL Central Scouting's No. 1 ranking even with his games missed.
Patrick broke camp with the Flyers last month, Hextall making it clear Patrick remained not on a tryout basis, leaving him and No. 1 pick Nico Hischier as the only two players from the draft class to stick full-time in the NHL from the start of the season.
He settled into a rhythm as the Flyers' second-line centre with one goal and two assists in his first nine NHL games. Then a hard hit from Anaheim's Chris Wagner bounced his head off the glass on Oct. 24.
Tuesday in Minnesota marked his ninth straight game out of the Flyers' lineup, but Patrick returned to practice for the first time this week and remains a possibility for what would be his Winnipeg debut.
"You want to get into a rhythm and get into a flow, but you can't control it, so it is what it is," Patrick said. "Hopefully I'll be ready to go play in my hometown. See some family and see some friends."
For Patrick and the Flyers, the hope is that next game is the start of an ironman streak and a long and productive career, one that puts the questions of a Gord Kluzak-like talent betrayed by his body firmly in the rear-view mirror.
It would be a big step for Patrick ­– physically, mentally, even symbolically – his 10th NHL game officially tolling the first year of his entry-level contract.
"It's a little adversity. Nothing wrong with that," Patrick said, cracking a smile. "I have a lot of learning experience with injuries so far, so I think I've got them figured out pretty good."
Contact Frank Seravalli on Twitter: @frank_seravalli