Penguins present unique matchup problem for Senators
Pittsburgh will hope having elite centres Sidney Crosby and Evgeni Malkin on separate lines neutralizes Erik Karlsson's effectiveness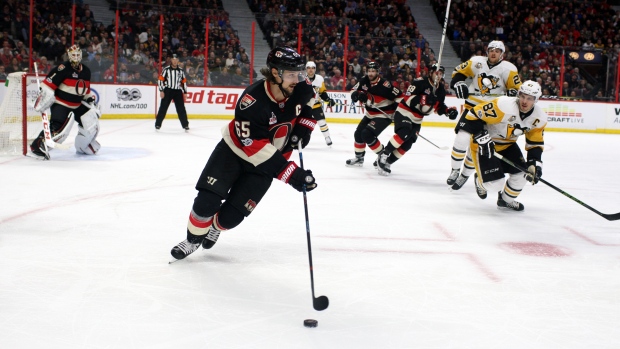 And then there were four.
I might be biased by recency, but I can't remember an NHL final four that looked as wide open as this one. There is no prohibitive favourite. Each team left has an obvious strength and an obvious weakness, and it seems reasonable to expect that an awful lot of what happens over the next two weeks is going to come down to the matchups.
The Eastern Conference final really intrigues me for this reason. Rarely is a series as simple as I'm going to make it, but so goes the story of the 2016-17 Ottawa Senators.
Ottawa, of course, has been driven by a Conn Smythe-level effort from two-time Norris Trophy winner Erik Karlsson. Both Boston and New York had the requisite talent to match this Ottawa roster, but neither had any sort of answer for how to slow him down.
Karlsson is playing about half of every single game. If Karlsson's dominating the game – like he has all postseason – your margin of error is near zero. There just aren't enough minutes to try and put goals on the scoreboard, because he simply isn't off of the ice for extended periods of time.
Those minutes are vulnerable, though. Ottawa's depth forwards, and second defensive pairing in particular, have struggled mightily against the strength of the Bruins and the speed of the Rangers. The Penguins have both of those attributes in spades. Their numbers this postseason with Karlsson on the ice versus Karlsson off of the ice are, in one word, insane:

The key for any team in beating Ottawa then becomes pretty simple: How do you keep Karlsson and whichever group of forwards he's playing with in check? Breaking even against them head-to-head would all but ensure a series victory, because Ottawa's depth has played poorly for 11 games and counting.
Pittsburgh offers a unique wrinkle here in that they have two elite centre talents in Sidney Crosby and Evgeni Malkin playing on separate lines. I emphasize the "two" here because the Boston series was a case study in why you just can't throw Patrice Bergeron at the Karlsson problem and call it a day. Bergeron simply couldn't play as many minutes as Karlsson, so at some point the Ottawa captain is going to get a real run at your second, third, and fourth lines. You need quality performance there in the worst way.
This is a recipe that has worked in the past. Pittsburgh notoriously ate Ottawa's lunch during the 2012-13 playoffs when the Karlsson era was still in its infancy. He was a younger, maybe different player then, but they did an exceptional job bottling him up by throwing waves of different forwards at him.
At most points between that series and the series in front of us, Pittsburgh has had similar success. The regular season is a bit of a different animal, but they – maybe better than any other team in the league – have done a strong job of limiting his efficacy, forcing him to spend more time in the defensive third and less time doing just about everything else.
To illustrate this, I pulled out Karlsson's head-to-head performance against every Eastern Conference team over the last five years. On the horizontal axis you have Karlsson's head-to-head Goal%, and on the vertical axis you have Karlsson's head-to-head Corsi%. The size of the bubble indicates how much ice time we have in the sample – the range of minutes is about 400 – 700, for what that's worth.
Here's how his numbers shake out: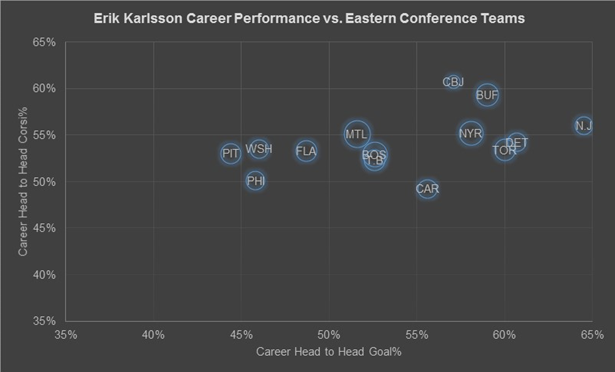 Karlsson has pretty much had the better of every single team in the East from a shot advantage and the majority of them from a goal advantage, but if there's one team that's truly "limited" his performance it's Pittsburgh – though I would be remiss to note that Philadelphia seems to have done an admirable job here as well.
Ottawa, with Karlsson on the ice, have only owned about 44 per cent of the goals and 53 per cent of the shots – reasonably decent numbers against a Penguins team that's been loaded for a decade, but still well below his career norms. This is in a little under 500 minutes of head-to-head hockey.
As for my theory that Karlsson struggles in a relative sense against Pittsburgh because of the number of minutes he has to play against one or both of Crosby/Malkin: 57 per cent of Karlsson's head-to-head ice time has come against one of the two Pittsburgh centres, which is an astoundingly high number. That's the type of luxury this Penguins team has had for years – if any one player poses an immediate threat, they can throw a pair of players at him and slow him down. Few other teams have that capability.
The story changes if Pittsburgh runs into penalty issues. Karlsson is world class at burning teams on the power play and few teams have learned that quite like the Penguins. In their matchups this regular season, Ottawa's power play clicked at a ridiculous 50 per cent rate (6-for-12), and Karlsson had a point on five of those six goals. If Pittsburgh can't stay out of the penalty box, the balance of power could very well shift the way of Ottawa.
To that end, the stage is set for what should be a thrilling Eastern Conference final. No player is playing better hockey right now than #65 in Ottawa. And no team is better equipped at checking him than Pittsburgh. If the Penguins can take Karlsson out of the game, they will be headed to the Stanley Cup final.
But as Boston and New York learned previously, that's easier said than done.