Penguins weighing options in goal
Pittsburgh Penguins coach Mike Sullivan has been stressing for weeks his team has multiple goaltenders capable of taking the franchise to the Stanley Cup. Might be time to find out if he's right.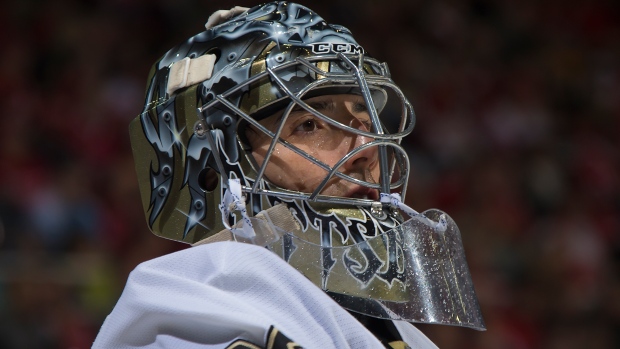 Pittsburgh Penguins coach Mike Sullivan has been stressing for weeks his team has multiple goaltenders capable of taking the franchise to the Stanley Cup.
Might be time to find out if he's right.
Rookie Matt Murray's precocious post-season play came to a sudden and abrupt halt in Game 4 of the Eastern Conference finals on Friday night. Sullivan pulled the 21-year-old after two periods in which the energized Tampa Bay Lightning forced Murray to dig the puck out of the net four times. In came well-rested Marc-Andre Fleury, playing for the first time in seven weeks, a sabbatical that began while he recovered from concussion sustained on March 31 and continued long after he was cleared thanks to Murray's steadying presence.
Fleury stopped all seven shots he faced in the third as Pittsburgh put together a frantic rally before falling 4-3 as the Lightning evened the entertaining series at 2-2 heading into Game 5 on Sunday.
Sullivan declined to name a starter on Saturday. The way he sees it, there really are no bad options. In Murray the Penguins have watched their goaltender of the future evolve into the goaltender of the present. In Fleury Pittsburgh has a goaltender whose name is already on the Cup and who handled Murray's rise with customary class.
"Marc's been a big part of this team all year,," Sullivan said. "He's really helped this team get to the position it's at with the way he's played all season. The timing of his injury down the stretch was unfortunate. It's not a perfect circumstance. But I think that's the nature of the business we're in. We just try to make the best decisions and make the most of the situation that we're in."
And as flat as Pittsburgh looked over much of the first 40 minutes on Friday to squander a chance to take firm control of things, the Penguins were just as dominant in the third while nearly pulling off a comeback that — if completed — would have delivered an emotional punch Tampa Bay would have found difficult to overcome.
It's playing with that kind of urgency Pittsburgh will focus on heading home, not who will be in net.
"We know the way we need to play at this point," forward Matt Cullen said. "We know we didn't play that way the first half of the game and that's what cost us."
And not Murray's first real statistical stumble since taking over in Game 3 of the opening-round series against the New York Rangers. He gave up four goals on 30 shots, a couple of which he attributed to crazy bounces rather than poor positioning. He's not going to sweat Sullivan's call, knowing everything at this point is a game-by-game basis.
"It's the same old thing every day," said Murray, who is 9-4 with a 2.33 goals against average during the playoffs. "My job doesn't change. I just have to be ready when my name is called."
The Penguins may have to move forward without defenceman Trevor Daley, who sustained a lower-body injury after colliding with Tampa Bay's Ryan Callahan and had to be helped to the trainer's room. Sullivan offered no update Saturday, though it seems unlikely Daley would be available on Sunday, leaving Olli Maatta — benched earlier in the series — or Derrick Pouliot as the likely options to step in.
Like Pittsburgh, the Lightning aren't too concerned whether Murray or Fleury lead the Penguins onto the ice. Like Pittsburgh, the Lightning are more focused on sticking to the style that allowed them to put together their two most dynamic periods since dispatching the New York Islanders in the second round.
"I don't think it really changes anything because ultimately they (were) playing a guy that was on fire," coach Jon Cooper said. "(Murray) has carried them to this point. I think whatever decision they make you still got to put the puck behind them. They're both really good National Hockey League goalies, so it doesn't change our mindset or outlook at all."
Tampa Bay beat Fleury twice during the regular season, scoring a combined nine goals against him and chasing him once, though Fleury made a couple of quality stops on Friday night, including a breakaway save early in the third that seemed to shift the momentum.
"I felt a lot better at the end of it than at the beginning of the period," Fleury said. "Being part of the game, being part of the speed was nice. I'd been practicing for a while. It's good to see the difference."
Speed that will likely amp up with a trip to the Cup finals two wins away for a pair of teams that have been among the league's most resilient clubs all year. The Penguins haven't dropped consecutive games since January and the Lightning put together a similar stretch that was snapped after dropping Game 2 and Game 3 of a series that in some ways is just getting started.
"Our guys, they know the formula," Sullivan said. "They know what works for us. When we go out, and we execute, we play with determination, we believe we can beat anybody."
___
AP Sports Writer Fred Goodall in Tampa contributed to this report.