Penguins were all business in Game 1 victory over Sharks
TSN Senior Hockey Reporter Frank Seravalli explains how the Pittsburgh Penguins came out swinging in a 3-2 victory over the San Jose Sharks in Game 1 of the Stanley Cup Final.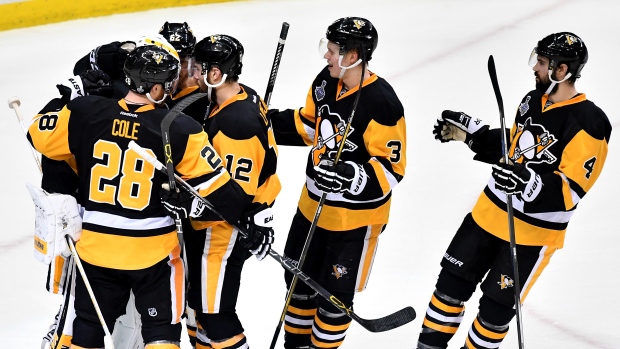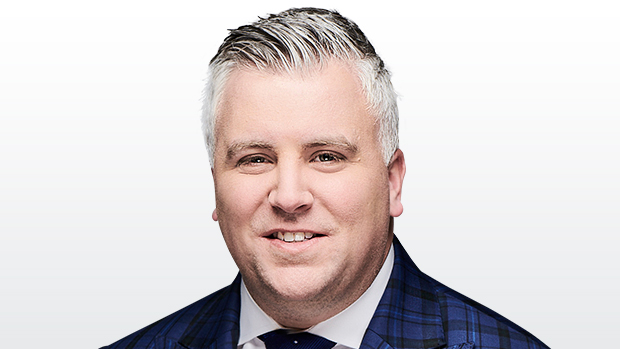 PITTSBURGH — Most years, Game 1 of the Stanley Cup final feels more like an awkward junior high school dance.
There are a few bold moves, but mostly, those three hours end up being a feeling-out process, a reconnaissance mission for future interaction between two curious species.
That had to be the expectation heading into the 2016 edition - particularly between two franchises who have met just 35 times over the last 25 years. There is no familiarity.
The Pittsburgh Penguins didn't wait for a polite introduction on Monday. There was no subtlety, no slow-playing or waiting for the perfect time to kiss.
They just got down to business and punched the San Jose Sharks in the face, scoring twice in 62 seconds in a first period of total domination to ride to a 3-2 victory in Game 1, with help from a clutch Nick Bonino game-winner in the waning minutes of regulation.
Consider the tone set. Welcome to the Steel City, San Jose. This is how the Eastern Conference gets down.
"I think that we just did a really good job of not trying to feel the game out, especially early," Sidney Crosby said. "You've got two teams who haven't seen each other in a while, it's Game 1 of the Stanley Cup final, I think that there's always nerves there. I thought we did a good job of just playing and trying to get to our game, and it gave us a big boost to get that kind of start."
The Sharks controlled most of the second period, making the second intermission almost a tale of two different games, but Pittsburgh wrestled back control for the final frame and resumed their relentless puck pursuit and possession.
"We obviously weren't prepared," Sharks forward Logan Couture said. "It doesn't take me to say that, you guys saw it yourselves. It was ugly. Tough to explain. We need to be better than that."
Game 2 is set for Wednesday night in Pittsburgh.
The Penguins are the first Eastern Conference team to win Game 1 of the Stanley Cup final since Carolina did it in 2006, when GM Jim Rutherford was also at the helm.
The winner of Game 1 of the Stanley Cup final has gone on to hoist Lord Stanley's mug nearly 78 per cent of the time (59 times in 77 series) since the NHL shifted to a best-of-seven final in 1939, according to Elias Sports Bureau. The last four consecutive Cup winners have also all taken Game 1.
With the way the Sharks responded in the second period, there was no hint that they won't be able to make it a series. The game was entirely up for grabs as it inched toward overtime, before Bonino's strike with 2:33 to play.
"There's nothing that I saw tonight that I'm going out of here thinking that we can't come out and compete and play much better on our end," Sharks coach Peter DeBoer said. "You don't deserve to win when you don't outplay the other team."
To start, the Sharks looked like a team that flew 3,700 kilometers on the plane just hours before the game, even though that wasn't the case.
"It looked like we were stuck in mud," Couture said. "This time of the year, the games are too big to have a start like that."
"I don't know what our turnover count tonight, I think it was probably a billion. It was bad."
Part of that was nerves, the Sharks said. The lights are brighter now. Only three of San Jose's 20 players had previous Stanley Cup experience. Double that many Penguins have their name etched on the Cup. That makes a difference.
Part of it was the Penguins, too. San Jose netminder Martin Jones faced 41 shots; he hadn't seen that much rubber since May 5 against Nashville. That was two rounds ago.
Game 1 was no slow dance, it was a track meet. It also didn't leave the Sharks shaking their heads. They simply knew they weren't on their game.
"It's an NHL team," Brent Burns said after collecting two assists. "They're fast. So is St. Louis. It's not like St. Louis has boots on. They're fast. They're a good team. They're here for a reason. So are we."
Now they know. Introduction made, the welcome duly noted. The handshakes don't come for a while yet, though.
"We got the 'Holy (bleep), we're here,' I think," Burns said. "Now we can play, let's show them what we can do. It was the first time you make it to the Stanley Cup finals, you dream about it for a long time. You probably used more energy the last couple days thinking about it than playing in a game. I think we'll be better."
Contact Frank Seravalli on Twitter: @frank_seravalli