Pens on brink of Stanley Cup after Game 4 victory
Evgeni Malkin's second-period goal stood as the winner as the Pittsburgh Penguins moved one win away from a Stanley Cup championship with a 3-1 victory over the San Jose Sharks in Game 4 on Monday.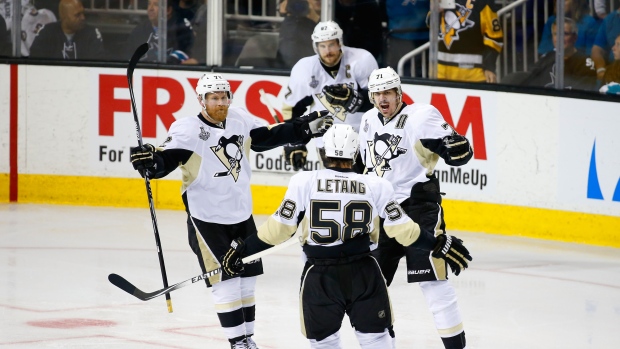 SAN JOSE, Calif. — The lane was visible only to Phil Kessel, the player who may just be the Conn Smythe favourite.
Situated from his usual spot on the left half-wall of the Pittsburgh power-play, Kessel zipped a pass beyond competing sticks and bodies to teammate Evgeni Malkin on the doorstep. The Russian centre half-swung the pass into the upper reaches of an open cage.
"I'm just trying to get it to him backdoor there," Kessel said. "Hopefully it hits him and goes in."
It was the second of two assists for Kessel on Monday night as the Pittsburgh Penguins inched to within one win of their fourth Stanley Cup with a 3-1 Game 4 victory at SAP Center.
A big-ticket trade acquisition in the summer of 2015, Kessel now has 21 points in 22 games this spring to lead all Penguins players, and 42 points in 44 career post-season games.
He is arguably the favourite for playoff MVP if the Penguins are able to hang on for their first Stanley Cup since 2009.
Pittsburgh can clinch on home-ice Thursday night.
"I love Phil's overall game, not just tonight, I've liked it through this whole playoffs," Penguins coach Mike Sullivan said. "Phil's game right now, when I watch him play, I say to myself: 'he's committed, he's committed to helping us win.'"
Kessel got the offence going for the Penguins in the opening minutes of the first frame. Breaking into the Sharks zone after a nifty pass from Malkin, Kessel dangled around defenceman Brenden Dillon and then flung a shot at Martin Jones, with the rebound skipping straight out to Ian Cole on the weak side.
The Penguins defenceman quickly fired into an open net, free of any opponent with a fresh round of Sharks just hopping onto the ice.
It was the fourth consecutive game to start the series that Pittsburgh managed the first goal. The club improved to 12-3 in the post-season on such nights.
"That's the biggest thing we have to fix," said Sharks coach Pete DeBoer. "We have to find a way to get on the board earlier in the game instead of chasing it all night."
The Sharks nearly struck right back a minute or so after Cole's goal. Coming alive some in Game 3, San Jose's top line came up with a chance when Joe Thornton fed captain Joe Pavelski entering the Penguins zone. Pavelski fired at Matt Murray who was bothered by a screen from Karlsson.
The attempt was gloved though by the Penguins goaltender, who rebounded with a strong 23-save Game 4 performance after a wobbly effort in Game 3.
Equally quiet in the early stages of the series, Malkin nearly landed his first goal against San Jose when he broke into the Sharks zone on a power play, eluded Dillon and let rip on Jones, who stopped it with his blocker.
Malkin ended up beating Jones a period later on the pass from Kessel.
It was Kessel's 11th helper of the post-season. Malkin, meanwhile, finished with his most impactful performance of the final, scoring once and adding an assist in victory.
"I thought he was really good, not just because he got on the score sheet," Sullivan said. "His overall game was really good."
Sullivan lauded Malkin's performance at both ends of the rink.
It was Kessel though who has consistently keyed the Pittsburgh attack throughout the playoffs.
He had six points in the opening round, six more in the second round and six after that in the Eastern Conference final against Tampa. His two-point performance in Monday's Game 4 victory comes on top of the goal he scored in Game 2, one that opened an eventual overtime win.
Dealt from Toronto in a July 1 blockbuster last summer, Kessel's first season with the Penguins has been steadily trending upward. He had 38 points over the final 45 games of the regular season, much of it with Carl Hagelin and Nick Bonino, with whom he's continued to thrive this post-season.
It's been the Penguins depth beyond Malkin and Crosby which has them on the verge of a Cup victory.
Malkin, Cole and Eric Fehr, who notched the 3-1 goal which iced Pittsburgh's victory, are the seventh, eighth and ninth different Penguins to score in the series.
The Sharks, conversely, got their only goal of Game 4 from Melker Karlsson, filling in for the injured Tomas Hertl on the top line.
Pavelski, who had a playoff-leading 13 goals through the opening three rounds, has yet to score or even register a point in the series. Brent Burns, Logan Couture and Patrick Marleau also have yet to find the back of the net against Pittsburgh.
San Jose still has yet to play with a lead in the series.
Kessel has come quite a way from his messy exit from Toronto, one that now has him on the verge of a Stanley Cup.
"You never imagine something like this," he said. "But to be one game away from winning is something pretty special. We're just going to have to play a really good game."