Pens' success traced to work by Rutherford
The Pittsburgh Penguins are two wins away from their first Stanley Cup Final since 2009 but as TSN Senior Hockey Reporter Frank Seravalli writes, the juggernaut on display now is a far cry from the team that Jim Rutherford began to remodel at year's end.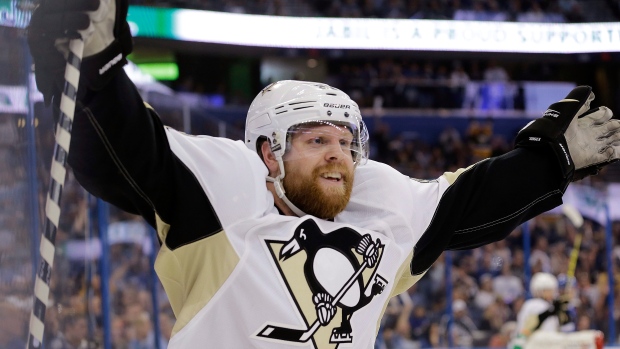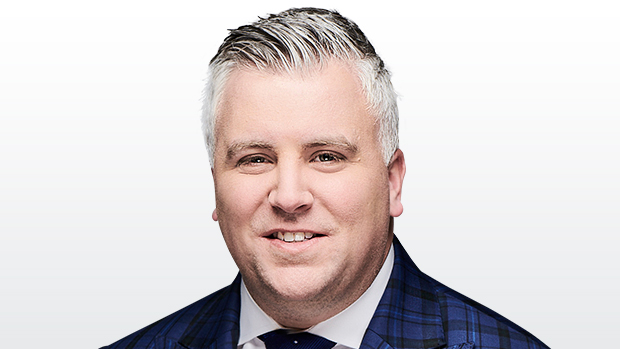 TAMPA, Fla. — One year ago, the collar was tightening around Penguins general manager Jim Rutherford's neck just one year into the job.
His Penguins squeaked into the Stanley Cup playoffs on the last day of the regular season, barely avoiding a historic collapse.
He mismanaged the salary cap, compounded by signing Christian Ehrhoff to a $4 million deal. At one point, the Penguins didn't have enough cash to call up a defenceman during a time of need.
Rutherford traded former first-round pick Simon Despres to re-acquire an undrafted and unheralded journeyman in Ben Lovejoy. He dealt a first-round pick to Edmonton for David Perron, who played all of 86 games in a Penguins uniform, which nearly gave the Oilers a few extra ping-pong balls in the Connor McDavid draft lottery.
And he was stuck with a coach in Mike Johnston, obviously his second choice, and somebody who didn't command the attention of a heady Pittsburgh locker room.
After five straight springs outside of the playoffs in Carolina, the talk was that the 67-year-old Rutherford hadn't just lost his touch, but was someone completely out of touch with 2015's NHL.
That led Rutherford, one of the most inviting and accessible managers in the game, to lash out.
He launched a well-publicized, obscenity-laden tirade on a Pittsburgh columnist in response to criticism that was mostly fair.
The date was April 20, 2015.
Thirteen months to the day on Friday, Rutherford's Penguins can be one win away from their first Stanley Cup final berth since 2009.
It was fitting, then, that on the night Rutherford was named a finalist for the NHL's GM of the Year Award, his three prized trade additions provided a ringing endorsement for his candidacy.
Phil Kessel, Carl Hagelin and Nick Bonino, Rutherford's treasure in the trash, dominated once again in Pittsburgh's 4-2 manhandling of the Tampa Bay Lightning in Game 3.
"He deserves a lot of credit," Sidney Crosby said. "He's had in mind what he wants our team to look like and how he wants us to play and showed a lot of confidence in different guys. He definitely deserves a lot of credit and I'm happy for him."
The Penguins now lead the best-of-seven Eastern Conference final by a 2-1 margin, but the way the first three lopsided games of the series shaped up, they may make quick work of last year's Eastern Conference champion.
Pittsburgh's renaissance under Rutherford may sound borderline unbelievable, not only based on the way last season ended, but even the way this campaign began.
On Dec. 12, the Penguins were on track to miss the playoffs for the first time since Crosby's rookie season. Crosby, who netted his second straight game-winner on Wednesday, was 157th in league scoring through through the first month after his worst ever start. He often seemed visibly frustrated on the ice.
Rutherford may be bold, finding value in cast-offs, but perhaps his best quality this season was to admit failure and fix it.
He fired Johnston just 110 games into his tenure and replaced him with a strong communicator in Mike Sullivan, who handed the keys to the offence back over to Crosby and Malkin.
The night of Sullivan's first game on Dec. 14, Rutherford somehow got out from under Rob Scuderi's crippling contract and dealt him to Chicago straight up for puck-mover Trevor Daley.
His crown jewel came on Jan. 16 when Rutherford traded Perron and Adam Clendening to Anaheim for Carl Hagelin. Rutherford took input from Sullivan, who coached Hagelin in New York, and pulled the trigger.
"Since I've been here, Jim is really good about trying to utilize all the resources around him to try to help him make the best decision," Sullivan said. "So if any of us have knowledge of players, we certainly try to share that so that he can make the best decisions for the organization. But ultimately, Jim's the guy who makes that call."
Even acquiring Kessel, a player Toronto didn't just say goodbye to but good riddance, has looked better and better with each game. That first-round pick Rutherford sent to the Maple Leafs may now be 29th or 30th in June's draft.
Since they were teamed up on March 13 with Malkin out, Hagelin, Bonino and Kessel - now known as the HBK Line - have scored a goal in 23 of their 28 games together.
Pittsburgh fired a staggering 48 shots at Andrei Vasilevskiy on Wednesday - the most allowed in regulation in Lightning playoff history. The HBK Line accounted for more than 75 per cent of the total shot attempts compared to their opposition while they were on the ice, leaving the Lightning and coach Jon Cooper struggling for answers.
"The way things have gone these two games, it doesn't matter who's in net," Cooper said. "You know, we could have (Ben Bishop) and (Vasilevskiy) both playing at the same time, and they might have (still) squeaked a couple in."
More impressive is that eight of the 12 forwards in Pittsburgh's lineup were not on the roster during last year's first-round loss to the Rangers.
With a few bold moves and a lot of belief, Rutherford has retooled the entire Penguins. They've blossomed into the NHL's best team and best story over the past three months, berating be damned.
"I wasn't sure what to expect," Hagelin said. "I was shocked. My team had won five in a row, my last five or six games were my best games of the season. I just wanted an opportunity to win games. It's exceeded expectations."
--
Contact Frank Seravalli on Twitter: @frank_seravalli