Pens survive Caps in OT to advance to Eastern Final
The Pittsburgh Penguins blew a three-goal lead, but still managed to win the game in overtime and eliminate the Washington Capitals Tuesday night thanks to a Nick Bonino tally. TSN Senior Hockey Reporter Frank Seravalli has more from an epic Game 6.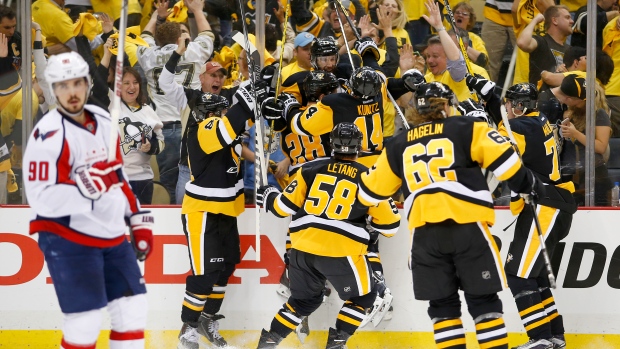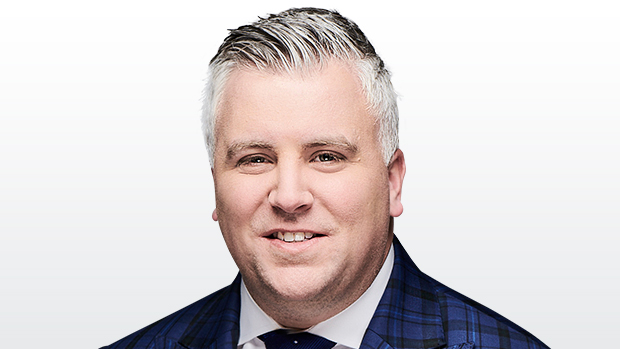 PITTSBURGH — Stunned silence.
Twenty sweat-soaked players sat in the Pittsburgh Penguins' oval shaped dressing room and stared at each other for the first five minutes of the intermission between the third period and overtime. Nary a peep was said.
They didn't know what hit them. They were 44-0-0 this season with a lead after two periods. They were ahead by two goals, with the Capitals in an elimination chokehold on home ice, and they could practically grasp the handshake line when the unthinkable happened.
"I don't think I've ever seen that," Phil Kessel said.
One. Two. Three penalties in a row for delay of game for firing pucks over the glass. Tie game. The Penguins were gagging at centre ice for all to see.
"They find a way to get that overtime win, you know anything can happen in a Game 7," Sidney Crosby said. "There was a little bit of shock."
Pittsburgh was lucky just to get to bonus hockey, considering Kris Letang was penalized after those three calls in the waning two minutes. Washington nearly completed the comeback in regulation.
"You almost have to laugh sometimes in situations like that," Crosby said. "Once you get that time to kind of let everything sink in, you realize you've still got a great opportunity. It maybe didn't feel like that considering the situation you had initially. You just have to find a way to pull together."
They did.
Nick Bonino delivered the Heimlich Maneuver when he scored six minutes into overtime for the Penguins, eliminating the Capitals in six games in their best-of-seven series with a head-spinning 4-3 win at a Consol Energy Center that was both bonkers and manic in the same game.
The Pittsburgh Penguins are now halfway home. They've checked off eight boxes on the shirts they wear underneath their equipment that say 'Just Win.' Eight to go.
"I really think they've got a shot at it," Capitals coach Barry Trotz said.
When this grueling journey began 30 days ago, Trotz felt the same about his team. He handicapped that there are maybe 10 heavyweights in the NHL who have a legitimate shot at the Stanley Cup in any given year.
"I thought we were going to be one of them," Trotz said.
Instead, Pittsburgh will host Tampa Bay in the Eastern Conference final beginning this weekend for the right to play for Lord Stanley's mug. And the Capitals squandered their fifth 100-point regular season in the last seven years alone.
The refrain is familiar now, if not haunting. Washington has not advanced past the second round since 1998. Both Alex Ovechkin and Trotz, in their combined 28 years in the NHL, have not tasted a conference final.
"Again, we lost in the second round. It sucks," Ovechkin said. "I don't know what to say, to be honest with you. Every year, lots of expectations with some great players. Something we're missing."
This handshake line stung more than the rest. Not only because the Capitals lapped the competition with 17 more points than any team in the East - and to a man, most players said this was the best team they've ever joined - but more in terms of how this series slipped away.
If Las Vegas offered a proposition that T.J. Oshie would score five goals and Ovechkin would collect seven points, while Crosby and Malkin were simultaneously held to a grand total of one goal in six contests, what would the odds have been that Pittsburgh escaped as the series winner?
Or that likely Vezina Trophy winner Braden Holtby would be outshone by a 21-year-old rookie in Matt Murray who entered the playoffs with 13 games of NHL experience?
"We need to get through this round. That's part of the deal," Trotz said. "That will always be thrown at us until we get through that."
Sometimes, in life and sport, the random remains unexplainable.
The three puck-over-glass calls in a row against one team for the second time in nearly 14,000 NHL games since the rule was instituted? The fact that the Capitals thwarted 38 of 40 shorthanded opportunities to start the playoffs, then allowed two power play goals against on the same 73-second sequence?
"The margin of error is minuscule," Justin Williams said.
Washington will have to swallow hard and own this one. They were built for the now. They added Mr. Game 7 in Williams, who came through in the clutch yet again with his 26th point in 19 career elimination games, and Oshie and Mike Richards and all of the necessary trinkets and gadgets.
Those pieces were all supposed to get Ovechkin over the hump. Few players in the history of the sport have made as much of a dent as the Great Eight and failed to go deep in the chase.
The clock is ticking.
"The shelf life in the NHL, if you're a top player, is 10, 12 years, and then when you don't go that far, the window sort of seems like it closes," Trotz said. "If you haven't got past that, it gets frustrating. It does. There's no question. I think the sense of mortality sets in. You don't know if you ever — I mean, just getting into the playoffs is so darn hard. You don't even know if you're going to get to the playoffs next year. You just don't know."
This was not on Ovechkin. He had 14 shots attempts in Game 6 alone, spent seven of the final 10 minutes of regulation on ice willing his team to overtime on the power play. He was a force of nature in the series.
Trotz doubled down and dared Pittsburgh's depth to outduel his own. He gambled and lost. It was fitting then that Bonino, Hagelin and Kessel had all four Penguins goals in the win since they were the difference all series.
"Sorry to disappoint," Crosby said, laughing when asked about that storied 2009 playoff clash. "Trust me, I'd love to have however many goals it was, 7 or 8, in this series. That's tough. You think about this series. Who would have thought three delay of game penalties in the last 10 minutes? I don't think you see many things repeat like that."
It was rare to see Crosby so introspective and unguarded as he was sitting in his stall Game 6. After two trips to the Stanley Cup final in his first four seasons, that quickly became the standard. This is just his second Eastern Conference final appearance in the seven years since.
"I think you go through different experiences and you find out it's pretty difficult to get there," Crosby said.
Crosby offered a genuine window of emotion: a sense of relief but also accomplishment of just how far the Penguins have traveled. Not five months ago, they were floundering. Coach Mike Johnston was canned and GM Jim Rutherford seemed poised to blow up the core.
Those same Penguins might have even blown up in Game 6. Ben Lovejoy called the overtime rebound a "microcosm of the second half of our season."
"Earlier on this season, we might've said 'Ah, we'll get 'em in Game 7,'" defenceman Ian Cole said. "This was us, scratching and clawing to salvage games. Never get down. Never fold."
Never a doubt.
Contact Frank Seravalli on Twitter: @frank_seravalli