Peppers' famous versatility at risk as safety in NFL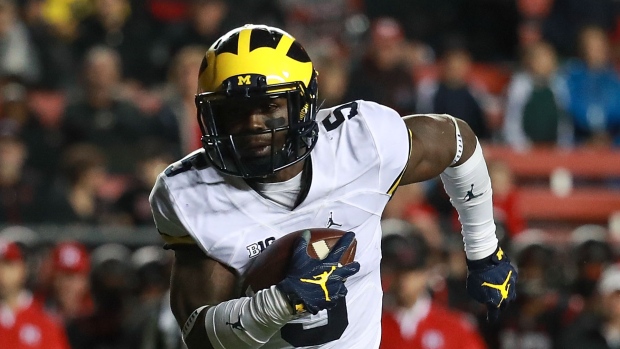 Jabrill Peppers is rarely mentioned, if ever at all, without a nod to his now famous versatility on the football field.
Granted, it's with good reason: the Michigan Wolverines Swiss Army Knife of a defender played as many as 11 positions last year. Mostly a defensive back and linebacker, Peppers' versatility also carried him to offence and special teams en route to a Heisman-candidate junior season. Peppers is one of the best college football players in recent memory because he's one of the most versatile college football players in recent memory.
But that's college, accolades to be remembered and celebrated each fall. It's spring time now, which means it's draft season and the debate becomes whether his versatility becomes a hindrance in the professional game.
Peppers was so special in college because although he wasn't the biggest, he had the strength to play linebacker; although he wasn't the fastest, he had the speed to play defensive back; and although he wasn't the most dynamic, he had enough playmaking ability to feature on offence and special teams. That's not going to fly so much in the bigger, stronger, and faster NFL.
The question with Peppers then becomes, can he be as effective a player in the NFL with his versatility quashed and typecast into just one position?
The overwhelming consensus ahead of next Thursday's draft is that Peppers' professional position will be safety. That makes the most sense size-wise for the 5'11, 213 pound prospect. And it will give him the opportunity to play to his strengths, mainly playing deep in the box, offering solid support against the run, and covering tight ends and receivers with physicality on short and intermediate runs.
Peppers could be a modernized version of the traditional strong safety. But in today's pass happy NFL, defences need their safeties to do more, and Peppers' weaknesses could be exposed in coverage.
The scouting report on Peppers suggests he's just okay as a deep safety. He may not have the speed to keep up with the true burners in the NFL one-on-one, and even his playmaking resume in college left off "ball hawk"; Peppers had just one interception during his time at Michigan.
Peppers has seen his name as high as the mid-teens in some mock drafts, while others have left him out of the first round completely. His most common landing spot is the late first round, usually between picks 24 and 30. Keep an eye on the Dallas Cowboys at No. 28 and the New Orleans Saints at No. 32. Both teams have a need at safety and the Cowboys love to make a splash on draft day, while the Saints could beat the Day 2 rush on Peppers, should he still be on the board with the last pick of the round.
The NFL Draft is like no other in pro sports because teams expect to land starters even late in the first round. As tantalizing a prospect of Peppers playing in the box, flying around making plays close to the line of scrimmage would be, his perceived weaknesses in deep coverage should quell the idea of him as a three-down starter. Peppers may belong in the second round, but his hype and potential alone should ensure he's off the board before Friday.