PGA Blog: Hughes shoots a 60, leads at Travelers
The Travelers Championship is underway with four Canadians in the field. Mackenzie Hughes had a 40-footer for a historic 59 that came up just short, he leads the field by three-shots at 10-under. Roger Sloan and Corey Conners are on the course right now. Keep up with all the latest news from Cromwell, Ct all day on TSN.ca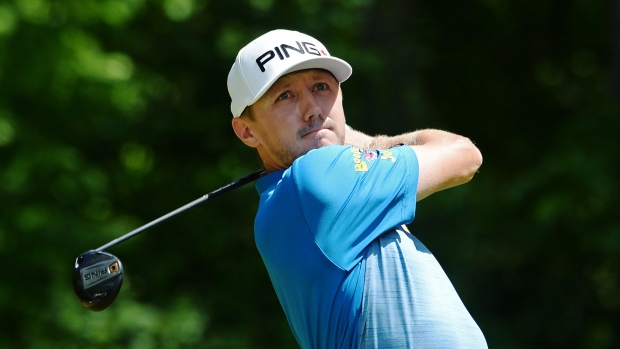 The Travelers Championship is underway with four Canadians in the field. Mackenzie Hughes had a 40-footer for a historic 59 that came up just short, he leads the field by three-shots at 10-under. Roger Sloan and Corey Conners are on the course right now. Keep up with all the latest news from Cromwell, Ct all day on TSN.ca
---
Leaderboard: 1. Mackenzie Hughes -10 (60), 2. Rory McIlroy -7 (63), T3 Phil Mickelson -6 (64), Michael Thompson (64), Tyler Duncan(64)
Canadians in the field
1. Mackenzie Hughes: -10 (60)
T14. Roger Sloan: -4 (11*)
T140. David Hearn: +3 (72)
T150. Corey Conners: +3 (7)
* Started on back-nine*
---
*All times ET*
2:21 p.m.
Roger Sloan drains a 10-foot putt for birdie to move to -4 after the opening nine holes. He shoots a 31 and sits T4 as he makes the turn.
1:09 p.m.
The 40-footer comes up short but Hughes sends home the par putt and ends his day -10 with a 60. He enters the clubhouse the clear-cut leader with a three stroke advantage over McIlroy in second.
1:05 p.m.
Hughes recovers nicely from the rough and finds himself on the green. After making a 30-footer for birdie on the last hole he will need a 40-footer on the final hole, for history.
12:59 p.m.
With a chance to become just the 11th sub-60 round in PGA TOUR history, Hughes finds the left rough with his tee-shot and will need some magic to get his birdie.
12:53 p.m.
10-UNDER: Hughes leaves himself a 30-footer for birdie on 17 and makes no mistake! Going into the final hole of the round he is -10 with a three-shot lead, needing a birdie for 59.
12:51 p.m.
A HOT START FOR SLOAN: Roger Sloan has started his round two-under through his opening three holes. The 33-year-old is looking to make the cut this week after missing it at the RBC Heritage.
12:42 p.m.
HERE WE GO AGAIN: Hughes follows up the birdie on six with his ninth of the day on seven, moving to -9. With two holes left, the Canadian needs two more birdies to finish with a 59.
12:27 p.m.
ALONE ON TOP: Did you think Hughes didn't have another birdie in him? You would've thought wrong, the Canadian misses an eagle by just two-and-a-half feet and steps up to sink the birdie putt, giving him sole possession of the lead at -8 with three holes remaining.
12:13 p.m.
While Hughes' birdie run has come to an end, he remains at -7 through 14 holes and now shares the lead with world No. 4 Rory McIlroy. Fellow Canadian Roger Sloan has started his round by finding the fairway on No. 10.
11:23 a.m.
LUCKY NUMBER SEVEN: Mackenzie Hughes is no signs of slowing down and has recorded his seventh birdie on the day. The 29-year-old is now -7 through 11 holes.
10:46 a.m.
IN THE LEAD: I'll let you guess what Hughes just did, that's right another birdie. The Canadian finishes up the back-nine with five consecutive birdies, he is now alone atop the leaderboard at -6 after posting a 29 through nine holes.
10:35 a.m.
FOUR IN A ROW: Mackenzie Hughes can't miss right now and moves to -5 with his fourth birdie in a row. Hughes sits tied atop the leaderboard with Americans Keith Mitchell and Phil Mickelson
10:17 a.m.
ANOTHER ONE: Hughes adds another birdie to his card - his third in a row - to move to -4 on the day and sits T3.
9:52 a.m.
BIRDIE BIRDIE: Mackenzie Hughes has found his touch and recorded back-to-back birdies to move to -3 through just six holes. He sits T6 just one-shot behind the leaders.
9:03 a.m.
Rory McIlroy is on fire right now, after an eagle on 13 he has picked up back-to-back birdies to move to -4 through six holes and sits T1.
8:57 p.m.
ACE ALERT: Abraham Ancer drains his tee-shot from 155-yards out on the par-3 16th to make an ace and move to -3.
8:48 a.m.
Mackenzie Hughes picks up his first birdie of the day by landing his tee-shot on the green and sinking a 30-foot putt to make a two on the par-3 11.