Phelps helps add depth to thin Blue Jays bullpen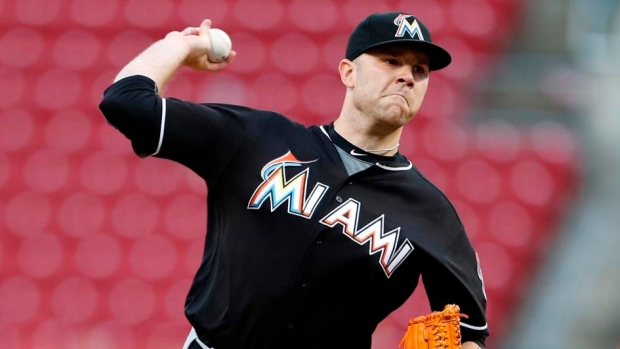 TORONTO — The cost is low but the innings could be of the high-leverage variety for David Phelps out of the Toronto Blue Jays bullpen.
Inked to a one-year, incentive-laden deal worth a guaranteed $2.5 million with a club option for 2020, according to a source, the 32-year-old right-hander likely won't be ready to go out of the gates after undergoing Tommy John surgery last March.
A typical 12 to 14 month recovery period would put Phelps on track to return within the first two months of the season.
After an up and down start to his career in the rotation with the New York Yankees and Miami Marlins, Phelps' fastball velocity spiked when shifted to the bullpen for good in 2016, helping him post a 2.28 ERA and 1.9 WAR in South Florida.
Phelps pitched to a 3.40 ERA across 55.2 bullpen innings with the Marlins and Seattle Mariners in 2017, before his elbow ligament gave out last spring.
Once healthy, Phelps will join a bullpen that currently has a number of jobs up for grabs behind closer Ken Giles and setup man Ryan Tepera.
At this point, lefty Tim Mayza and right-handers Danny Barnes, Joe Biagini and David Paulino are in the mix, while 19-year-old Rule 5 draftee Elvis Luciano needs to be handed a spot in order to be kept away from the Kansas City Royals.
While other veteran arms will be added between now and when pitchers and catchers first report to Dunedin Feb. 14, Phelps and his 10.4 K/9 career mark as a reliever will have him in line for a major role when he's ready to return to a major-league mound.
That's where the club option for 2020 comes into play.
As Phelps rounds into form over the summer, the amount of appearances he makes will determine how much that option is worth.
According to Ken Rosenthal of The Athletic, the 2020 option would be worth $1 million for fewer than 30 games in 2019, $3 million for between 30 and 39, $5 million for between 40 and 49, jumping to $7 million for more than 50 appearances and less than 40 games finished and $8 million for 50-plus appearances and more than 40 games finished.